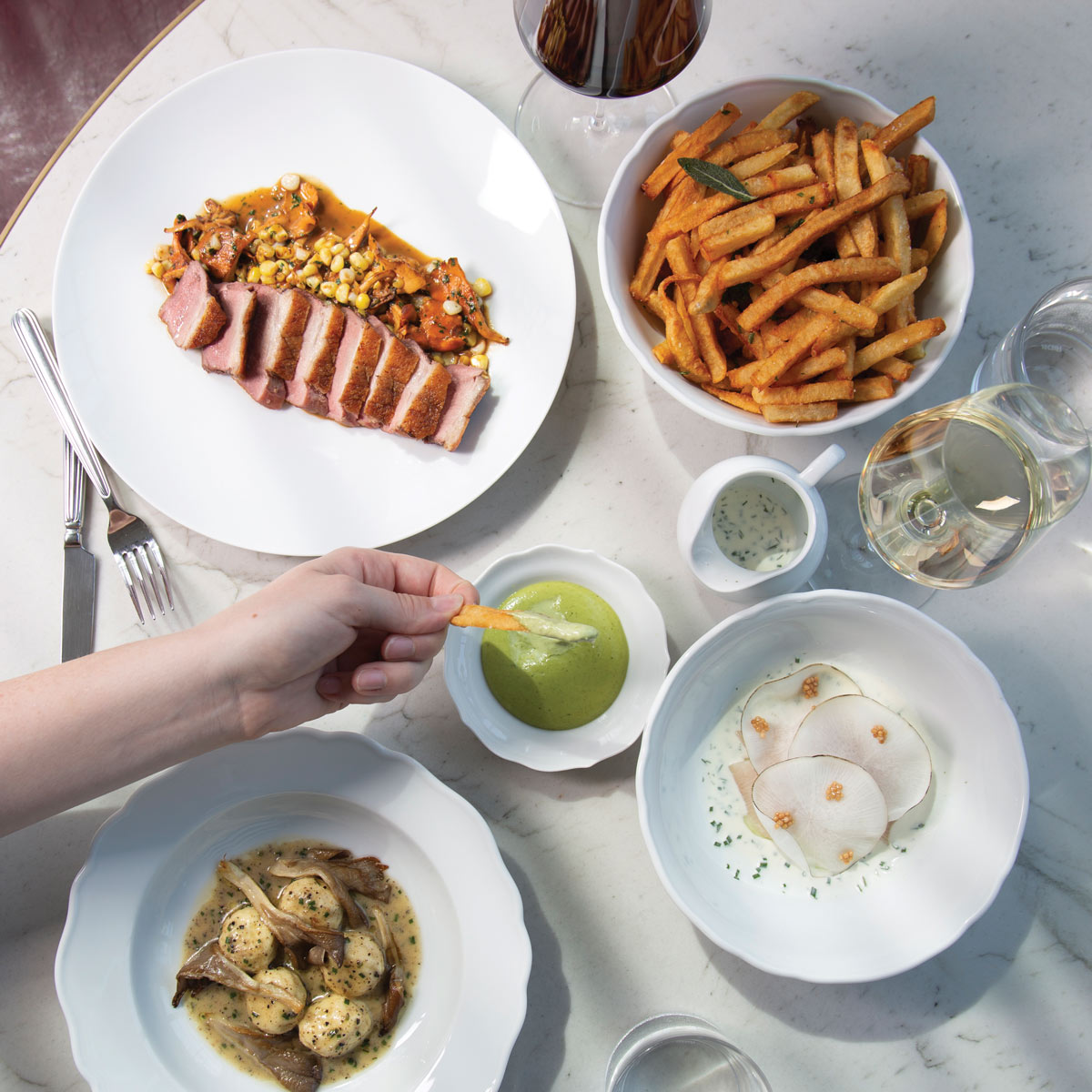 Lucian Books and Wine
Some things could go wrong, one imagines, at a restaurant named for a great artist, located in deepest Buckhead, and avowing in its very name a devotion to "books and wine": moody lighting, highfalutin clientele, food that tastes like an afterthought. Cigars, even! It is therefore to the great credit of Katie Barringer and Jordan Smelt that their cheerful, beautifully appointed, light-filled yet intimate new wine bar succeeds the way it does. Barringer's remit here is "books and culture"—a fan of the painter Lucian Freud, for whom the restaurant is named, she's responsible for the handsome array of arty titles lining one wall of the dining room. Smelt, formerly of Cakes & Ale and Bread & Butterfly, is the beverage director; he's the one fluently walking customers through the wine list (more like a wine chapbook), including some judiciously selected by-the-glass options. If the wine cellar is substantial, the larder is not—and that's fine. Designed by chef Brian Hendrickson (another Cakes & Ale alum), the tightly focused menu features a handful of small plates, a few entrees, and a bowl of french fries that you should order for the sorrel mayo alone. A dish of buttery raw hamachi and thinly sliced black radish is doused, tableside, with a vinegar-spiked buttermilk dressing, and the surprising delicacy of Hendrickson's ricotta gnudi is offset by earthy truffle and maitake mushroom in a luscious beurre monté. Butter sauce, strip streak, roast duck—there's some rich stuff here, but it is nowhere overwhelming; like his bosses, Hendrickson knows how much pleasure resides in a light touch. 3005 Peachtree Road, Buckhead

Nur Kitchen
Shay Lavi is tough to pin down. Of Turkish and Libyan descent, raised in Tel Aviv, and an Atlantan since 2015, the peripatetic chef has leveraged his soulful Mediterranean cooking to gain legions of fans, including high-profile admirers like Staplehouse's Ryan Smith. For the past couple years—since he left the well-liked downtown restaurant Rozina Bakehouse & Coffee—those fans could get their fix only by engaging Lavi's catering business, Let's Eat. But now, happily for all of us, he's back behind a restaurant stove at Nur Kitchen, a casual Mediterranean place punching well above its weight among the various BuHi heavy-
hitters. When I visited recently, a request for Nur's mezze platter was answered with a magical array of gorgeously composed small plates. Each was superlative; especially beguiling were a sour eggplant dip, whose smoky complexity reminded me a bit of mezcal, and a salad of unbelievably tender wood-fired beets with a little dill, a little za'atar, and a little—well, actually a generous amount of—olive oil. Tzatziki, baba ghanoush, a humble cherry-tomato salad—I could rave all day about these simple yet perfectly executed dishes, but I should also mention more substantial menu items, including a sandwich of fried mussels and garlicky skordalia, lamb chops with fennel butter, and a daily fish special. Most likely, you can't go wrong. Every day, as well, Nur Kitchen makes available a limited amount of chicken and lamb shawarma, which I showed up too late to order. It'll be a good reason to make the drive back out—not that I really need the excuse. 7130 Buford Highway, 678-691-3821

Poach Social
Every neighborhood deserves a reliable breakfast spot, and Summerhill's got a new contender in Poach Social, a cute little cafe in the same corner plaza as Talat Market. Owned by Ronnie Marrow and Brian Mitchell, Poach does indeed offer some of the old reliables—shrimp and grits, avocado toast, eggs Benedict, brioche French toast—along with a few creative flights of fancy, such as a watermelon and goat cheese salad with farro and quinoa, and one confirmed crowd-pleaser: a fried chicken sandwich on a brioche bun. I was intrigued by the sound of a sandwich combining eggs, bacon, and tomato jam with arugula and pickled red onion, though I found that the flavors didn't quite cohere; the sugary jam seemed to belong to a different dish altogether. But I fell in love with the One Love—a just-tart-enough, just-sweet-enough Jamaican-style sorrel drink with warm undertones from ginger and other spices. Inviting velvet chairs make Poach Social's stylish dining room a great hang, and a few tables on the front patio overlook sleepy Ormond Street. 112 Ormond Street, Summerhill, 678-974-7324

Pop-up: Kimchi Joy
If the Korean dishes served some nights lately at Ria's Bluebird have a particularly homecooked flavor to them, there's a good reason for that: They're prepared by a seven-member family under the direction of Kajo Kim—or, as she's sometimes called in Instagram posts, "our mom." The Kim parents work in construction and design, where jobs can be unsteady. "Whenever it's a slow period, we're like, Oh, man, we should open a restaurant," says Onyew Kim, the eldest of five siblings involved in Kimchi Joy, which got underway in April and now pops up about twice a month at Ria's in Grant Park.
Often focusing on Korean classics such as buhlgogi and japchae, the dinner menu follows the Kims' whims. One week, it may be a subtly spicy dahkdoritang—braised chicken with potatoes and carrots; another, bibimbap and chilled cucumber soup. Come winter, the Kims hope to focus on the preparations "where Korean food really shines," Onyew Kim says: warming dishes like dduhk mandu guk (rice cakes and dumplings in bone broth) and kimchi jjigae (kimchi stew typically made with pork belly). "I know everybody says their mom is the best cook," Kim says. "But we say that, too—and believe it to be true." @kimchijoyatl
This article appears in our August 2021 issue.