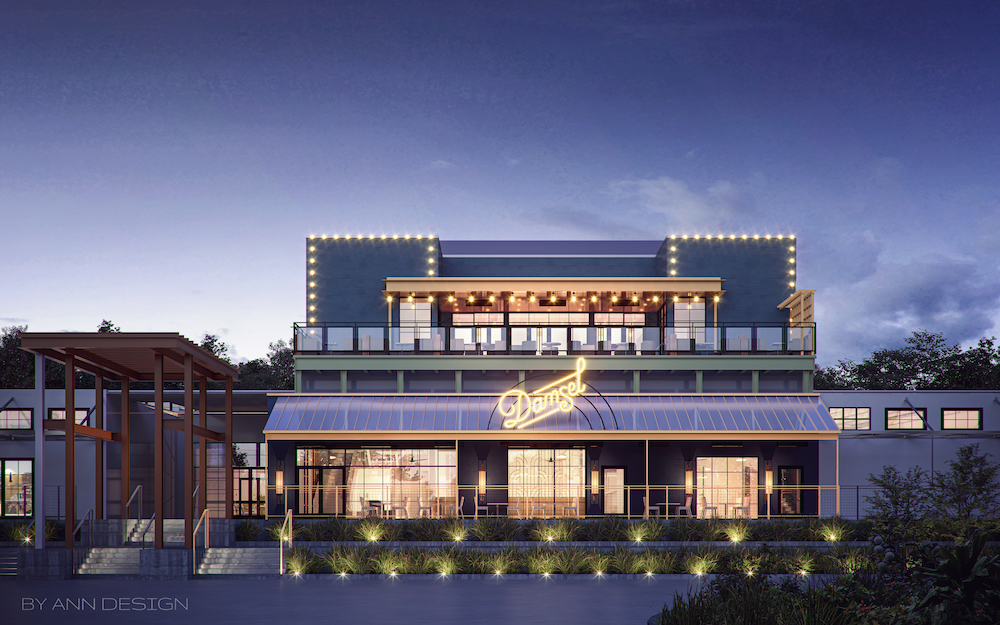 Cabaret, lounge, restaurant. Damsel—the newest creation from restaurateur Dave Green (the Select in Sandy Springs)—promises to be unlike anything in Atlanta. At 10,000 square feet, this dual-level spot on the Westside will feature three distinct areas: a dining room with a stage for live entertainment (think cabaret), a private space for exclusive dining, and a rooftop lounge with display cooking. Bars abound, and late at night, the space will play host to dancing, a la Studio 54. Is your head spinning yet?
Green recently shuttered Paces & Vine, the Vinings restaurant he operated with Tom Murphy for nine years, to concentrate on larger formats like Damsel. "My energy is focused on big things," Green says. A history major who loves to dance, Green is merging his previous passions with his restaurant work. "People want experiences and memories," he explains.
Located in the Works, Damsel is slated to open in November. Below, we take you on a tour of this massive Smith Hanes-designed establishment.
Dinner theater
Guests are greeted with an Art Deco feel—velvety, sinewy fabrics and numerous textures. The main dining room will look like a restaurant with a stage, where a group of dancers (aka damsels) will perform sexy, classy acts that harken back to the 1920s. "We're reinventing the cabaret for today's audience," Green says. "Everyone has ADHD because of their phones. We're going to start and stop the show a lot so everyone can socialize at their table."
While there will be some entrees and salads, most of the food is meant for sharing. A U-shaped bar will feature classic cocktails "done in a new way." Green references infusions, like herbs in vodka or floral tea with bourbon. Beer will be canned and bottled, including large formats for groups. Wines will mirror the style at the Select with a broad variety of New and Old World options, including 20 to 30 by the glass. 
An interactive, spiral staircase acts as the backdrop of the stage and a place to people watch, leading up to the next level.
Exclusive dining
Take an elevator up to an exclusive glass-enclosed space. Here, it's elegant and posh—007 on vacation, if you will. An annual membership fee gets you inside, where you can order from a high-end menu featuring steak, lobster, caviar, and the like. Still, these items are meant to be shared.
"We believe in social dining—you share the show, the food, the laughter. It makes for a very rich social environment," Green says.
Expect another bar, another set of cocktails utilizing fresh ingredients, and wine hand-picked by Michael Kunz.
Rooftop lounge
Craving something more casual? This open-air space will serve creative, international fare made in front of the guests. There will be another bar and a dessert cart. "It'll be food people can stand up and eat without getting messy," Green says.
Guest will essentially set up a tab and can meander from chef station to chef station sampling bites, all under the culinary direction of Julian Parker (the Select). Lounge seating will abound.
After 10 p.m.
When the clock strikes 10 and the shows end for the evening, a DJ takes over and the downstairs becomes a home for dancing. Expect music from the '70s, '80s, and '90s and perhaps a cover charge.
"It's going to be fun. There will be a lot of energy," Green says. "It's truly going to be a different kind of a night out."