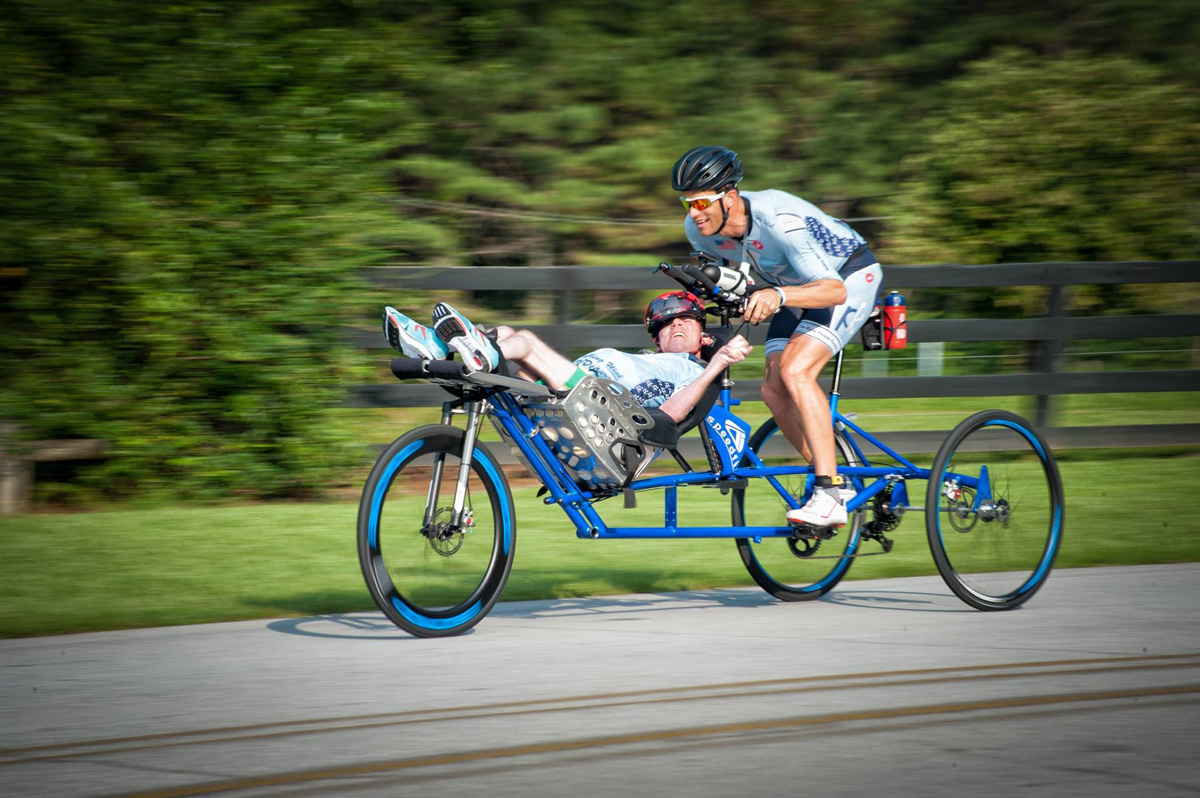 Kyle and Brent Pease are many things: brothers, Ironman triathletes and philanthropic leaders. Now, with the release of Beyond the Finish: A Story of Passion, Brotherhood, and Relentless Determination (Mascot Books, out June 18), they can add "memoir authors" to their list of achievements.
The Atlanta-based brothers—Kyle, who has cerebral palsy, is a speaker and greeter at Piedmont Hospital and Brent serves as a coach with Dynamo Multisport in Chamblee—hosted a release book release party on May 16 to celebrate. The book tells the story of what happened after Kyle, accustomed to cheering on his athletic brothers Brent and Evan from the sidelines, asked Brent, "Can people in wheelchairs do Ironman?" Brent's enthusiastic "Yes!" changed everything. The pair have since competed in races around the country, including last year's Ironman World Championship in Hawaii, using specialized bikes, wheelchairs, and kayaks. They founded the Kyle Pease Foundation in 2011 to help improve the lives of the disabled through sports.
Here, we chat with the accomplished pair about the highlights of the book and the journey.
What do you hope someone who reads Beyond the Finish will feel?
Kyle: We all encounter our own challenges, but over the past eight years, we have worked tirelessly to break down barriers for athletes with disabilities, including six years lobbying for a spot with Ironman, four years to enter the New York City Marathon, and three to compete in the Peachtree Road Race. We want to inspire others to chase after their dreams. There will be obstacles in your way, but they will only make you stronger. We're living proof.
How did you come up with the idea of writing a book?
Brent: Since [launching our foundation in] 2011, we have been on an incredible journey fulfilling the mission to create awareness and raise funds to promote success for persons with disabilities. We made it to Kona, Hawaii last October for the Ironman World Championship, and we wanted to share our journey with others. We feel our trials and tribulations are extremely relatable and that people will enjoy reading our story.
What was the writing process like?
Brent: We worked tirelessly with [our publisher] Mascot and [co-author] Todd [Civin] to share our story in a way that offers both Kyle's and my perspective. This book has been more than 30 years in the making, but the actual writing process took two years.
Can you share one of your favorite stories from the book?
Brent: [There's a story in the book] about me carrying Kyle down the stairs when we were kids in our childhood home. That stands out as one of my favorites. Kyle wanted to watch a game, so I took the liberty of taking him down the stairs on my own. I was five years old. My parents came down the stairs, and to their horror we were in the living room laughing and watching TV. With her jaw on the floor, my mom asked me why and how we were all the way downstairs. I matter-of-factly responded with, "Kyle wanted to watch TV."
You hosted 150 people at the book launch on May 16. What did it feel like for so many to come out to support your project?
Kyle: Since we decided to write the memoir, the support we've received has been overwhelming. The launch event at Big Sky in Buckhead was another example of the unbelievable encouragement we've received. We're beyond humbled and so grateful for our support network of family, friends, fans, and the triathlete community.
Read the book: Beyond the Finish is available for pre-order on Amazon, and proceeds from sales will support the Kyle Pease Foundation.