Asha Gomez
Chef Asha Gomez has an open-door policy at her Decatur home.
"My door is never locked. Neighbors walking their dogs see me in my kitchen window and ask if they can come in for some chai," she says with a smile.
Gomez, who last year turned her attention from restaurants (her former spots Cardamom Hill and Spice to Table) to private dinners, invites them in for chai and more. She often hosts lively dinner parties beneath her lush window garden at her 12-seat kitchen table, sourced from Kudzu Antiques and purchased at a deep discount due to scratches that Gomez says "add character."
On the menu? Everything from Italian to Greek to Moroccan food. Many dishes test recipes for her forthcoming second cookbook, tentatively titled Colorful: The Global World through My Kitchen. Her first cookbook, My Two Souths: Blending the Flavors of India into a Southern Kitchen, won a James Beard Award nomination in 2017.
"That book was necessary and important to me because it told my story, but I don't want to be pigeonholed as an Indian chef," she says. "When I'm cooking, it's not spicy food. I like sauteing vegetables and cooking from local ingredients sourced at the farmers market."
Still, proud signs of her heritage abound, from the large cabinet housing her signature spices to her mother's china and her beloved mortar and pestle.
"So many immigrant chefs today, including me, cook from global influences. In this tumultuous time, I want my kitchen to be a place where the community comes together and sees no borders," she explains.
What I'm cooking at home
I love roasting a bird and serving it with stuffing made from scratch, potatoes, that sort of thing. I really like wholesome, all-American meals.
Kitchen soundtrack
My son [Ethan, 13] and I listen to a lot of Bollywood, Willie Nelson, and '80s rock. If I'm by myself, it's Cesária Évora.
Favorite cooking appliance
Definitely my mortar and pestle. I can't make my chai without my spices.
Dream dinner guest
President Obama. I would love to hear his perspective on what's gone on in our country since he left office.
Go-to sipper
Before dinner, a nice, rich cab, some of which goes into what I'm cooking. After dinner, bourbon.
Justin Anthony
When a restaurateur and an interior designer get together, you know you'll envy the kitchen. But Justin Anthony of the South African–inspired True Story Brands (10 Degrees South, Cape Dutch, Yebo Beach Haus, Biltong Bar) and Kelly Wolf-Anthony of Wolf Design Group prefer to cook outside on the verdant veranda. When they purchased their Buckhead home last year, they were searching for an intown escape that felt like a retreat.
"For a long time, we had a condo in Florida and a place at Lake Lanier, and while we liked both homes, we didn't like the hassle involved in getting to them," explains Wolf-Anthony.
So, the couple ditched their vacation homes and invested in their current residence, a former hunting lodge built in 1945 turned contemporary five-bedroom, 4.5-bath, 7,000-plus-square-foot home. Michael Ladisic of Ladisic Fine Homes helped the couple realize their vision of a home equal parts urban hideaway and entertaining hub.
The residence's terrace level is devoted to entertaining, with a 1,000-bottle wine cellar and an in-home theater where the former professional soccer player now watches his adopted home team, Atlanta United. Newly installed glass windows and doors let in natural light while showcasing the backyard's lush landscaping, and guests often spill onto the veranda, where the duo built a portico that houses a firepit, a Big Green Egg, a Sub-Zero Grill, and their favorite: the Kudu, a Georgia-made grill similar to the braais (pronounced "bry-s") of Anthony's native South Africa.
What I'm cooking at home
Peri-Peri Chicken in the braai—it tastes like home.
Kitchen soundtrack
Fleetwood Mac. I love "Dreams" from the Rumours album.
Favorite cooking appliance
The Kudu grill, made in Macon, makes a great braai. It's cast iron, and there's no top or lid, so you're constantly cooking over an open flame.
Dream dinner guest
Dwayne "The Rock" Johnson.
Go-to sipper
King of Clubs, Napa Valley Cabernet. It's big, bold, and smooth with the perfect balance.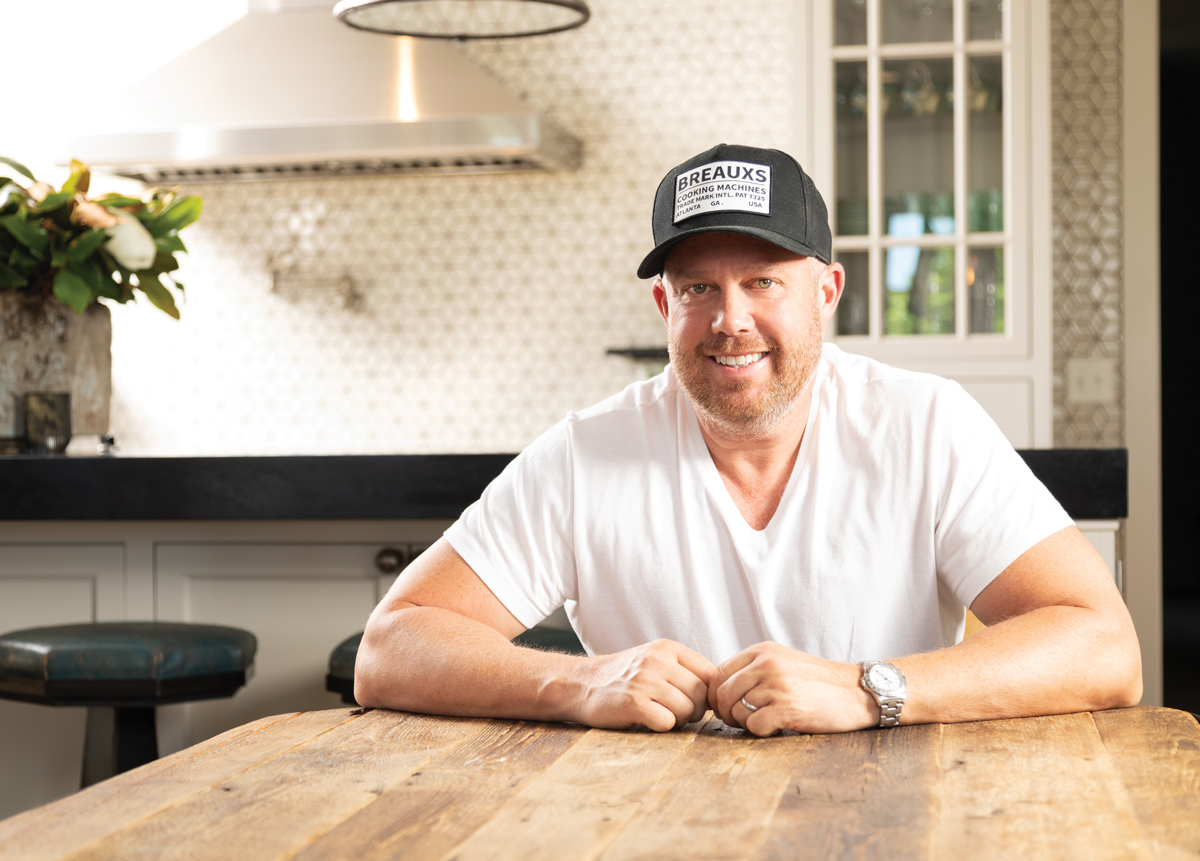 Ford Fry
When Ford Fry and his wife, Stacy, built their New Orleans–inspired home in Roswell in 2015, the kitchen was their number-one priority.
"The kitchen at our old house was terrible," jokes Fry, who also admits he hasn't had much time to cook at home while building an empire of 13 restaurants and counting (including the Optimist, St. Cecilia, and JCT Kitchen & Bar), with casual Tex-Mex spot Little Rey in Morningside and four concepts in Nashville slated to open in 2019.
Working with Smith Hanes Studio, which also designed several of his restaurants, Fry now has his dream kitchen: an airy, double-sided space outfitted with a Blue Star Platinum Series range, Wolf built-in coffee maker, Sub-Zero underground ice maker, an indoor Grillworks built into an interior chimney, two dishwashers, and a large island with plenty of space for food prep and entertaining.
Interior designer Elizabeth Ingram filled the space with farmhouse chic touches, including neutral tone-on-tone trim accented by details like custom-made blue leather bar stools and a Heath tile backsplash inspired by a similar pattern at the upscale San Francisco eatery, Locanda.
What I'm cooking at home
I don't want to be getting up and down all through dinner cooking course after course. I love making a paella in the wood hearth paired with a perfect green salad with whatever lettuces and herbs I can find at the weekend farmers markets.
Kitchen soundtrack
Willie Nelson's God's Problem Child on vinyl. There's something amazing when an 84-year-old can make an album just as good as his first.
Favorite cooking appliance
Can I get two? I've been working on a Tex-Mex book, and my Vita-Prep has gotten a workout. Also, my Blue Star Platinum Series is just as powerful as the ranges at our restaurants. Most home ranges just can't keep up.
Dream dinner guest
The Police. Yes, all three band members, because I want to hear it from their mouths
as to why they grew apart.
Go-to sipper
A slightly chilled, slightly effervescent Lambrusco. Kind of like a big-boy wine cooler.
This article appears in our Fall 2018 issue of Atlanta Magazine's HOME.