We've long referred to "Krog" to mean Krog Street Market, the historic food hall in Inman Park known for eats like Superica and Fred's Meat & Bread. But last year, when developer Asana Partners announced that the food hall plus its adjacent properties Atlanta Stove Works (the former home of Rathbun's), SPX Alley (the lively BeltLine strip including Nina & Rafi), and then-empty lots in between would be unified into one pedestrian-focused, indoor/outdoor, multi-use complex anointed "the Krog District," it was clear we could expect more retail. Now, with big, vibey brands like Patagonia and Outdoor Voices announced, Krog is aiming to become known for more than fine cheesesteaks and buttery pastries. Other newly released names include skincare wunderkind Heyday, wellness center Restore, and Specialized Bicycles.
The brands—with the exception of Patagonia, which has long had a brick-and-mortar on East Andrews Drive in Buckhead, and Restore, which is opening several locations in the city—are new to town. All are geared to an active, millennial, BeltLine-beating crowd, some with big social media followings and chic marketing.
"They're not brands you would find in a mall or a typical shopping center," says Katie Grissom, managing director for Asana. "They all add something different to the area that was missing." The goal, Grissom says, is to make Krog an 18-hour destination, not just one that revolves around mealtimes, and the project, which straddles Inman Park and the Old Fourth Ward, adds 45,000 square feet to an existing 75,000 square feet for retail, restaurant, and office space. She cites office space as a major change in the customer base in the neighborhood and the need for around-the-clock offerings.
Among the newly announced stores, the heavyweight is Patagonia, the outdoor retailer beloved by hardcore athletes and Sunday strollers alike, which plans a new 12,000-square-foot flagship with a marquee on the BeltLine in the Stove Works, with Specialized Bicycles alongside it. From there, a new 40-foot-wide pedestrian breezeway will become the "mouth" of the district, with storefronts and gathering spaces connecting the BeltLine to the food hall, a walk that previously required dodging Ubers down a stretch of narrow sidewalk on Lake Avenue. This breezeway also allows for "four-sided retail" with shops opening to the outdoors from many angles, according to Grissom, which promotes indoor/outdoor movement and gathering. In this space, find Heyday (next to the forthcoming Salty Donut), a slick but approachable skincare shop that offers products from lines with cult followings like One Love Organics and Naturopathica as well as facials (but do not call it a spa—too intimidating, the founders say). The other wellness brand announced, Restore, will provide more clinical services, like cryotherapy and IV drips.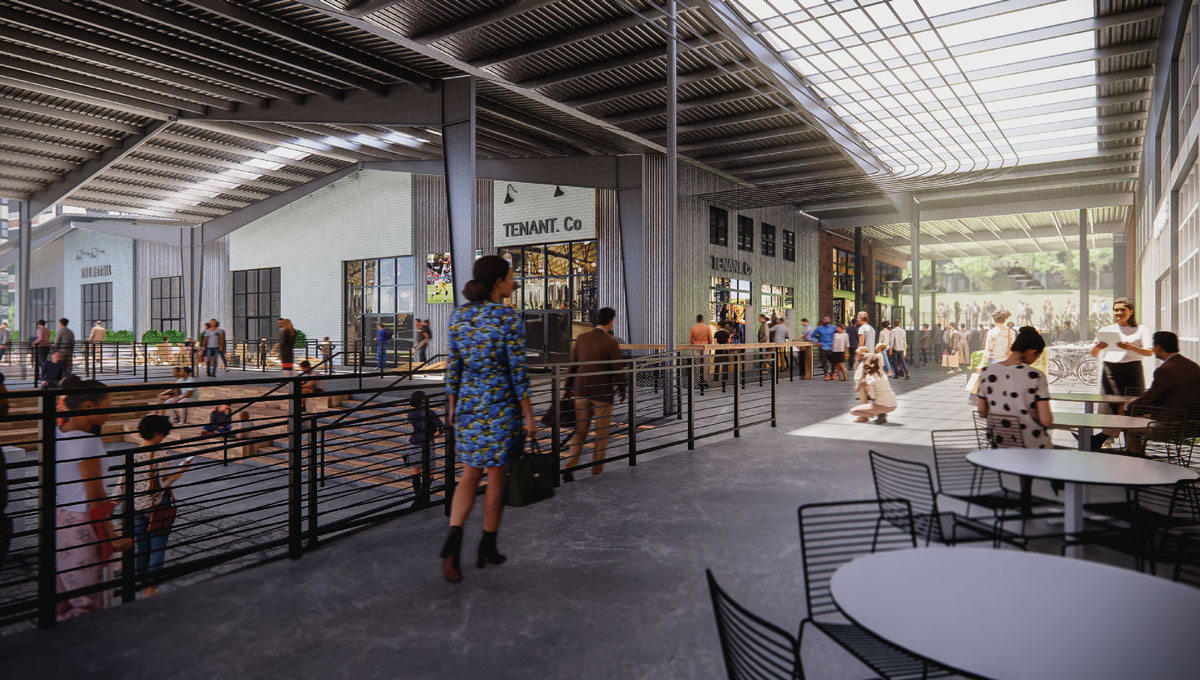 The most visible new part of the project may be what Asana is dubbing the "Gravel Building" (for BeltLine visionary Ryan Gravel), a new three-story brick building rising on the corner of Lake Avenue and Krog Street. The ground floor will be home to Outdoor Voices, the millennial activewear darling known for colorblocked leggings and perky messaging. "Atlanta has always been on our radar," says Gabrielle Conforti, CEO of Outdoor Voices, "not only because our online presence in the city is so strong, but because it's a hub for recreation." (Cue the fashion-forward, roller-skating, yoga-posing, dog-walking BeltLine warriors now.)
Back to the dodging Ubers on the Krog sidewalks: what about parking, the ever-present concern for Atlantans, even in the city's most walkable areas? The parking lot space of the erstwhile Krog Bar will become a designated drop-off circle for rideshares. Behind the food hall, a 186-space pay parking deck takes shape, as well as another new building housing more office and retail. There you'll find Restore, allowing for stealthy in-and-outs from your car for, say, red light therapy. Because that's the kind of thing you can do at the new Krog District.