August 5, 1969
Atlanta Police raid Ansley Mall Mini Cinema's screening of Andy Warhol's gay-themed Lonesome Cowboys, taking photos of the approximately 70 attendees. A manager is arrested, and the film is seized by police. The raid inspires the formation of the Georgia Gay Liberation Front.
June 1970
On the first anniversary of New York City's Stonewall Uprising in Greenwich Village, Atlanta's first Gay Pride rally, comprised of a ragtag group of about 100 people, mostly white men in jeans and T-shirts, takes place in Piedmont Park—with some bravely strolling sidewalks carrying "Equal Rights for Gays" placards. Atlanta is among a handful of cities to mark the anniversary.
July 1972
Approximately 100 Atlanta "Gay Pride Day" participants marching down Peachtree Street are greeted with "stony contempt," "disbelief," "smiles," and "flashed peace signs" by onlookers, reports the Great Speckled Bird, a long-running local underground newspaper.
June 1973
A photo published in the Atlanta Barb, one of the city's first gay newspapers, shows a female participant marching with a paper sack over her head and carrying a sign that says, "If I Showed My Face I Would Lose My Job. How Would You Like To Live Like This?" For members of Georgia's LGBTQ+ community, this danger remained until the U.S. Supreme Court granted workplace protections on June 15, 2020.
1974
Linda Bryant and Barbara Borgman open Charis Books & More in Little Five Points, one of the nation's first feminist bookstores. The word Charis, from the Greek lexicon, means grace or gift or thanks. Among the store's first author visits: Maya Angelou.
1975
The legendary 24-hour disco palace Backstreet debuts.
1976
Atlanta Mayor Maynard Jackson issues the city's first Gay Pride Day proclamation. A group of Southern Baptists tries unsuccessfully to get the proclamation revoked.
1978
Bulldogs, a tiny bar which is still the epicenter of Atlanta's Black gay party scene, opens.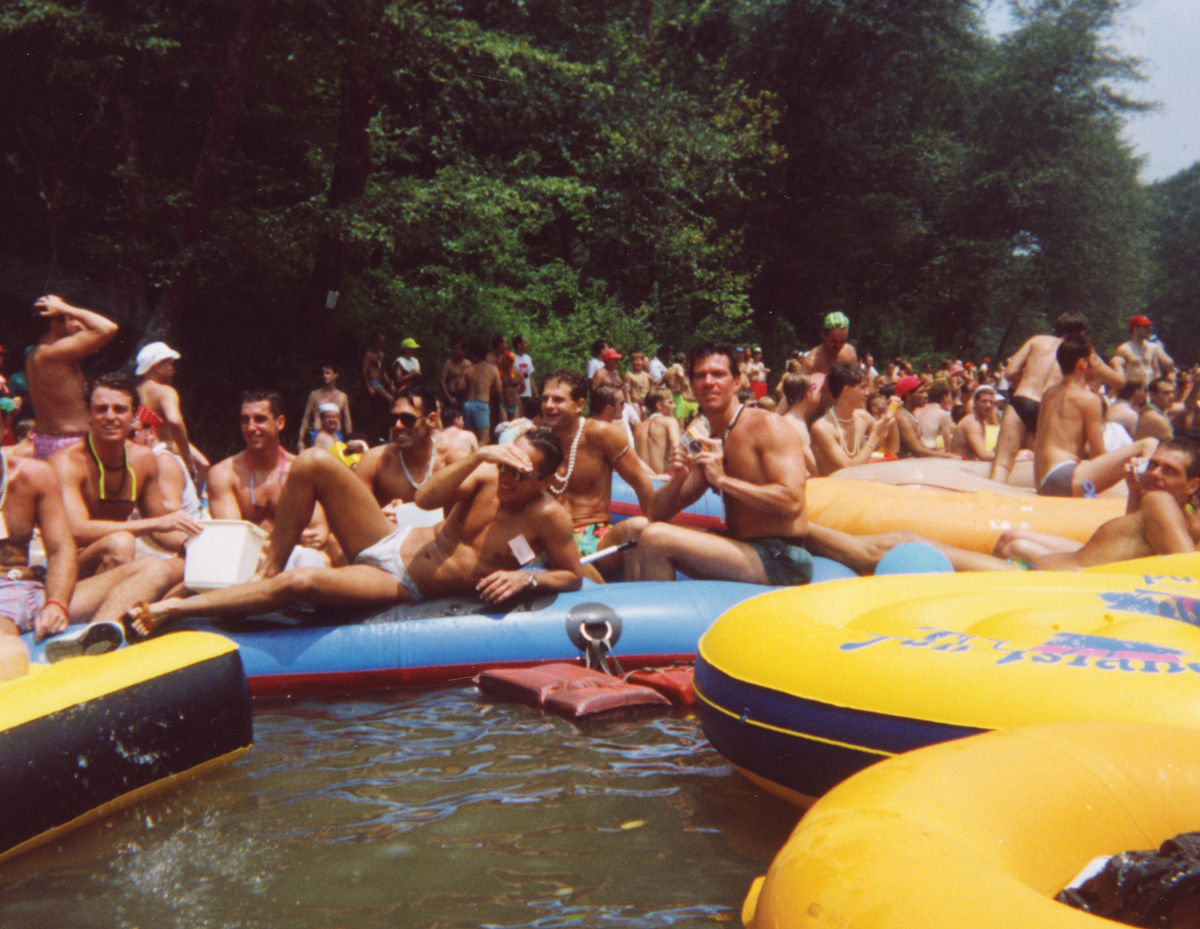 1978
Sometimes described as the granddaddy of Atlanta's gay circuit parties, the first Hotlanta Raft Race floats down the Chattahoochee River with about 200 participants. The annual summer tradition (later called the Hotlanta River Expo) lasts for a quarter century.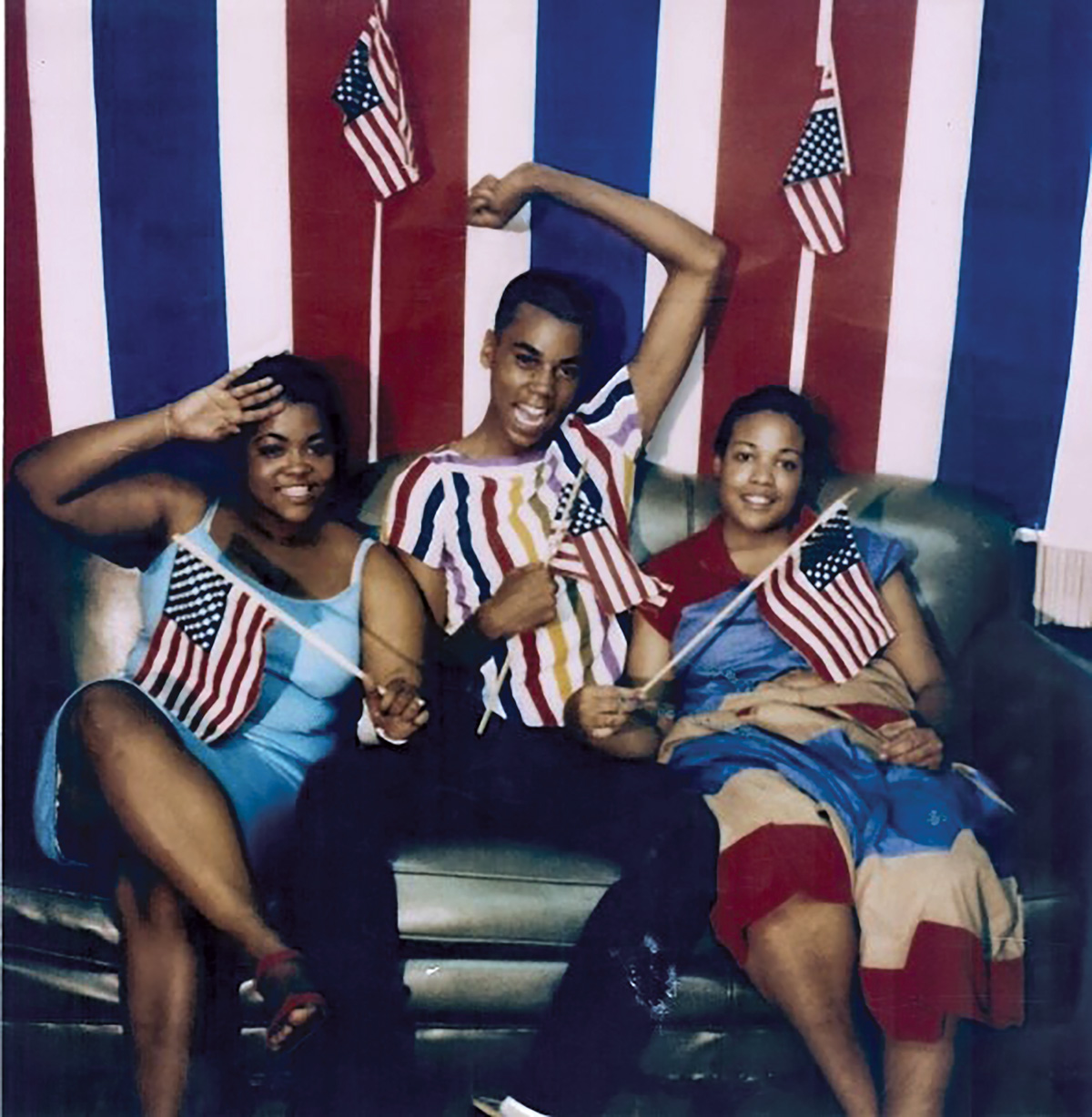 1981
Producer Dick Richards—a media pioneer whose video archives of Atlanta's queer life are now housed at Emory University—launches the low-budget Atlanta public access TV show the American Music Show, chronicling the city's underground music and drag scene. Running until 2005, the show helps to launch the career of RuPaul Charles. In his autobiography, Lettin It All Hang Out, RuPaul dedicates an entire chapter to the show and, during his 2018 Emmy acceptance speech, publicly thanks Richards, who dies of leukemia just days before the telecast.
1982
Founded by Graham Burton and originally located on Charles Street, AID Atlanta opens. Caitlin Ryan becomes the organization's first executive director. In 2020, with offices in Atlanta and Newnan offering testing, education, and prevention programs, the nonprofit has evolved into one of the most comprehensive AIDS service organizations in the Southeast.
1982
Local bartender Michael Hardwick is arrested on sodomy charges when a cop enters his apartment to serve a warrant (later ruled invalid) and finds him having sex with another man. Hardwick sues Georgia attorney general Michael Bowers, and the case makes its way to the Supreme Court, which on June 30, 1986 upholds the law in a ruling for Bowers and the state. In 1997, Bowers, then the leading Republican candidate for Georgia governor, admits to a decade-long affair. In a 1998 interview with George magazine, Bowers's mistress, Anne Davis, says, "As far as sodomy is concerned, Mike Bowers is a hypocrite." Later that year, Georgia's own Supreme Court overturns the state's anti-sodomy law, ruling that private consensual sodomy between adults is protected by state privacy rights (Powell v. State). SCOTUS reverses itself in 2003.
1984
Diamond Lil (born Phillip Forrester), a pioneering drag performer and social activist, releases a full-length album, Diamond Lil Sings Silver Grill.
1985
Emily Saliers and Amy Ray, two childhood friends and former Shamrock High School chorus members from Decatur, perform their first acoustic show as the Indigo Girls.
1985
Atlanta Mayor Andrew Young signs the first city proclamation celebrating Gay Pride Week.
1986
With support from then councilman John Lewis, Atlanta city council passes an amendment to the city charter prohibiting employment discrimination based on race, sex, religion, national origin, age, handicap, or sexual orientation. Mayor Andrew Young signs the ordinance, making Atlanta the first city in the South to pass gay rights legislation.
1987
Spearheaded by activist Rebecca Ranson, Atlanta's award-winning LGBTQ+ film festival, Out on Film, debuts. It remains one of the oldest and most attended such festivals in the country.
1988
The AIDS Survival Project has its first board meeting. The statewide nonprofit becomes a much-needed resource for community-based advocacy and HIV treatment education before closing its doors in 2008.
1988
Christina Cash and Leigh VanderEls launch the now-defunct LGBTQ+ weekly newspaper Southern Voice, which would attract 100,000 readers. Cash helps start Georgia Voice in 2010.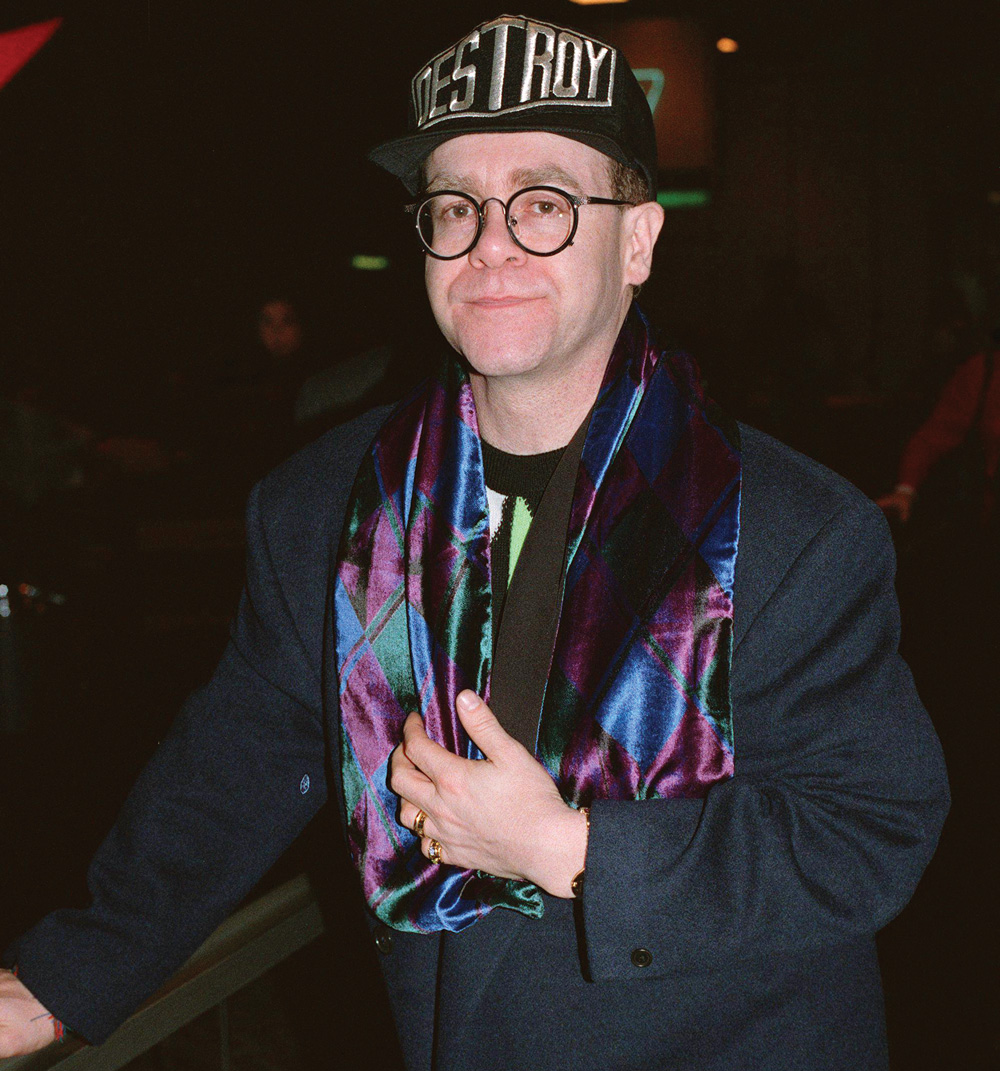 1988
Borrowing an idea from a San Francisco meals on wheels program, Michael Edwards-Pruitt rounds up some of his neighbors to cook and deliver meals to 14 friends who were dying from AIDS. Project Open Hand first operates out of  St. Bartholomew's Episcopal Church on Lavista Road. Elton John would personally deliver Project Open Hand's 25 millionth meal. Now called Open Hand Atlanta, the nonprofit has expanded its mission to cook and deliver 5,000 meals daily for disabled Atlantans. In 2020, OHA is also delivering emergency meals in response to the COVID-19 pandemic.
1988
For his work on behalf of gay rights, Congressman John Lewis is honored with the inaugural Dan Bradley Humanitarian Award, named for one of the Human Rights Campaign's founders, at the queer advocacy nonprofit's Atlanta dinner.
1989
The first Jerusalem House, located in the city's Druid Hills/Virginia-Highland area, opens to house five Atlantans with AIDS. Serving more than 600 Atlantans in 2020, the nonprofit is the oldest and largest provider of permanent housing for the city's low-income and homeless individuals and families affected by HIV/AIDS.
1990
Members of the Atlanta chapter of the AIDS Coalition To Unleash Power, or ACT UP, open and close the year with a pair of headline-grabbing protests. In January, the group marches on the state capitol to protest government inaction on the AIDS epidemic. In December, members are arrested while protesting at the CDC on behalf of women diagnosed with AIDS who then were not included in the official definition and, as a result, were excluded from government assistance.
1990
The city's first AIDS Walk (From All Walks of Life), benefiting AID Atlanta, is led by Mayor Maynard Jackson and Elton John, who would buy a penthouse here the next year and become a part-time Atlanta resident. The Indigo Girls perform to launch the march. In fall of 2020, AIDS Walk Atlanta will celebrate its 30th anniversary.
1991
Atlanta IBM computer salesman E. Lynn Harris publishes Invisible Life, a coming-of-age novel about a young, gay Black man, selling copies out of his car trunk at Black beauty salons and barber shops, before selling the rights to Anchor Books. Harris and playwright Pearl Cleage bonded early, both starting as self-published writers. Cleage says of the New York Times best-selling author, who passed in 2009, "We were both passionate about telling the stories we knew, and we both loved the process of getting those stories into the hands of readers who would recognize themselves in the pages."
1993
Marietta's Theatre in the Square becomes a national flashpoint in the culture wars after staging playwright Terrence McNally's Lips Together, Teeth Apart, which included references to homosexuality. The production helps spark Cobb County's infamous anti-gay resolution. The next year, after months of protests, the Atlanta Committee for the Olympic Games pulls the volleyball competition out of Cobb County.
1993
Outwrite Bookstore and Coffeehouse opens. Owner Philip Rafshoon recalls, "On the corner of Piedmont and 10th, Outwrite helped the intersection become the center of the Gayborhood for 16 years. Some of my favorite author signings included Olympic diver Greg Louganis's 1995 signing for his Breaking the Surface biography and Tammy Faye (Bakker) Messner's surprise 2003 appearance where she led fans in singing 'We are Blessed.'"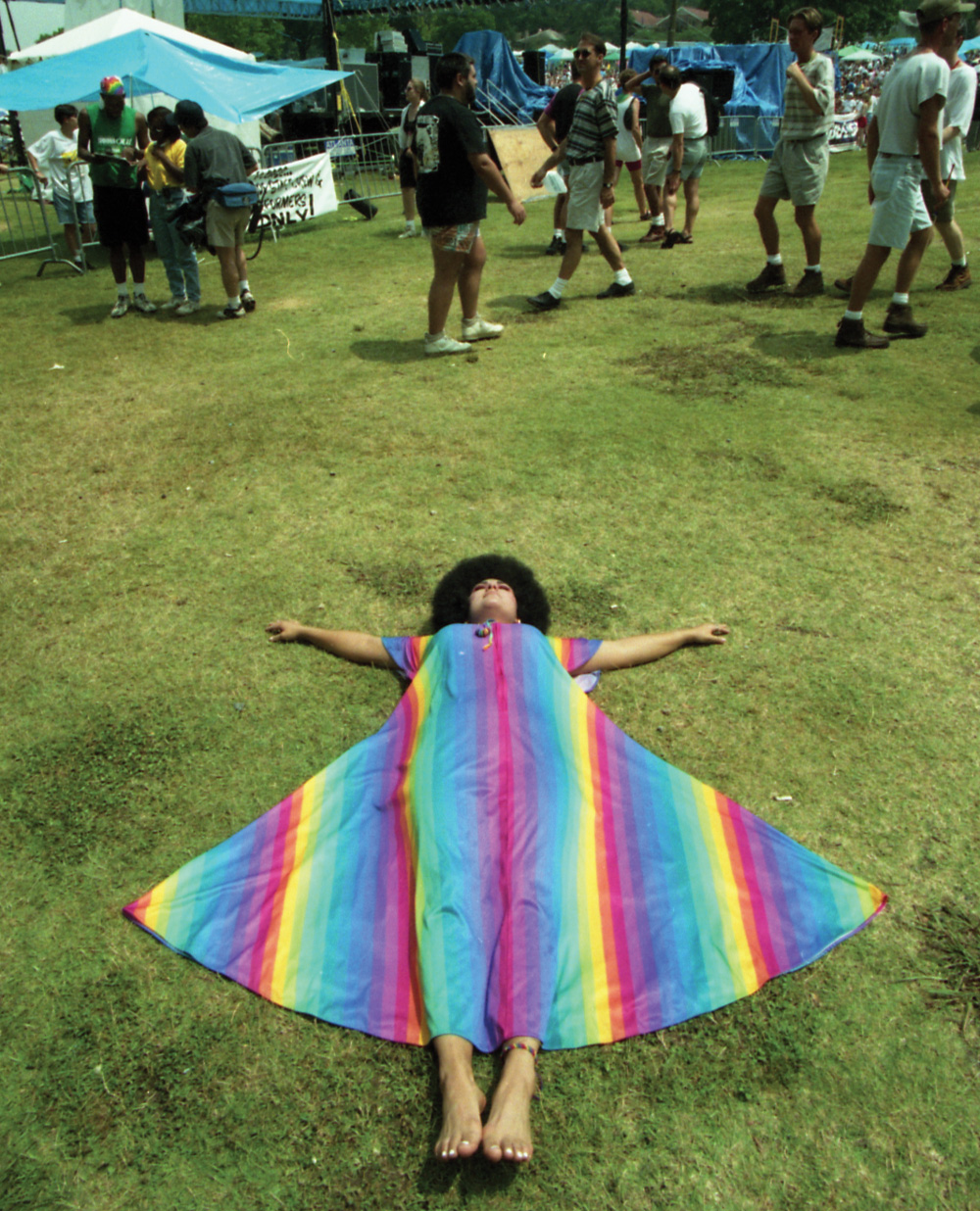 1995
The gay rights advocacy group Georgia Equality is formed. In 2020, the nonprofit turns 25, continuing to advance fairness, safety, and opportunities for LGBTQ+ citizens with an increased focus on youth, family, and trans communities.
1996
Atlanta hosts its first Black Gay Pride celebration. The Labor Day weekend celebration now routinely attracts some 10,000 attendees, making it one of the largest Black Pride events in the world.
1996
Charis Circle, a nonprofit arm of Charis Books & More, is formed to work with artists, authors, and activists from around the world to bring programming and events to feminist communities.
June 28, 1996
Coretta Scott King speaks at Atlanta Pride in Piedmont Park. She says, "We share common adversaries. The church burners and the gay bashers drink from the same poisonous well of hatred. I want to assure you that I will continue to support you in your efforts to rid our country of all forms of bigotry, racism, sexism, and homophobia."
February 21, 1997
The Otherside Lounge, a popular lesbian nightspot, is bombed. A second device is found outside in the parking lot and is detonated with a robot by police. The man responsible is Eric Robert Rudolph, who had also planted bombs at Centennial Olympic Park and a Sandy Springs abortion clinic. No one is killed at the lounge.
---
Atlanta LGBTQ+ Political Milestones
Over the last three decades, LGBTQ+ candidates have begun to win key positions in city and state leadership. Here are some of the highlights: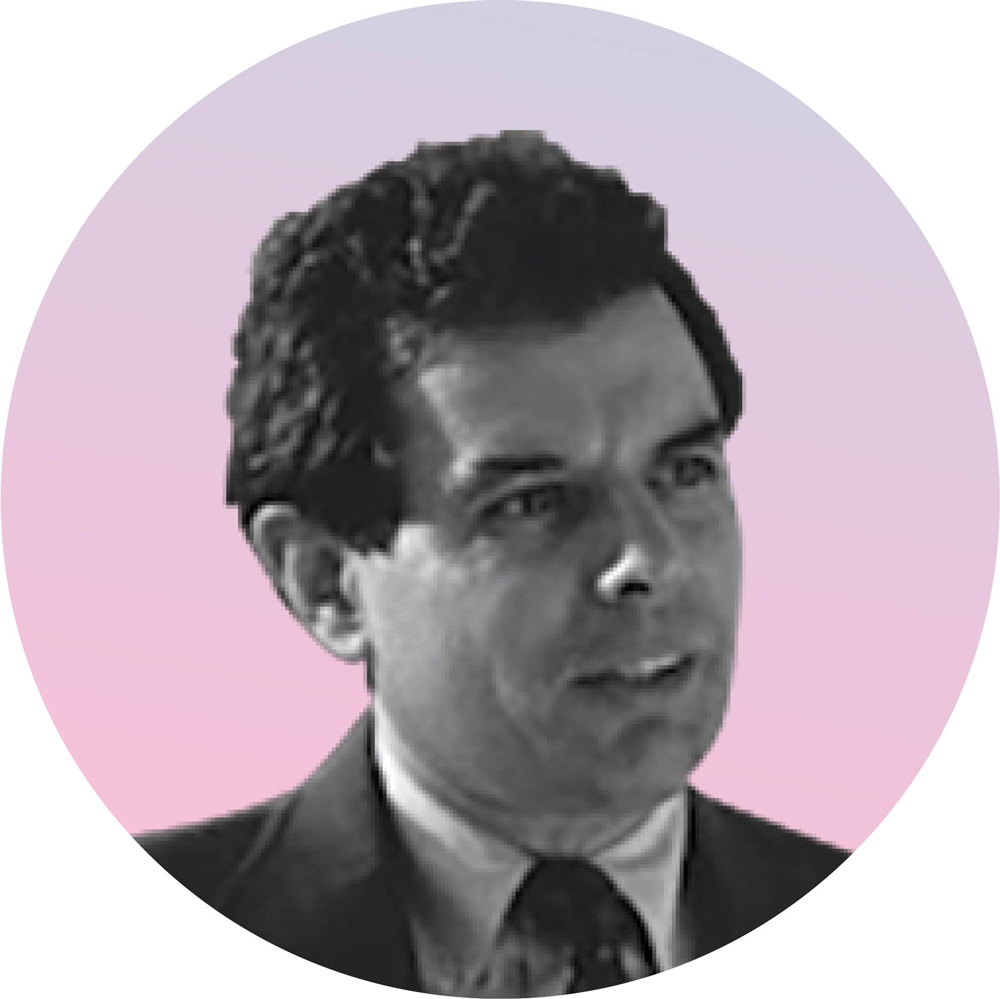 1988
Atlanta lawyer and gay activist Gil Robison runs for Georgia House District 40 in Fulton County. The seat is won by Cynthia McKinney.
1997
Cathy Woolard unseats the Atlanta City Council Sixth District's 20-year incumbent Mary Davis to become the first openly gay elected official in Georgia. She would go on to serve as council president from 2002-2004 and run for mayor in 2017.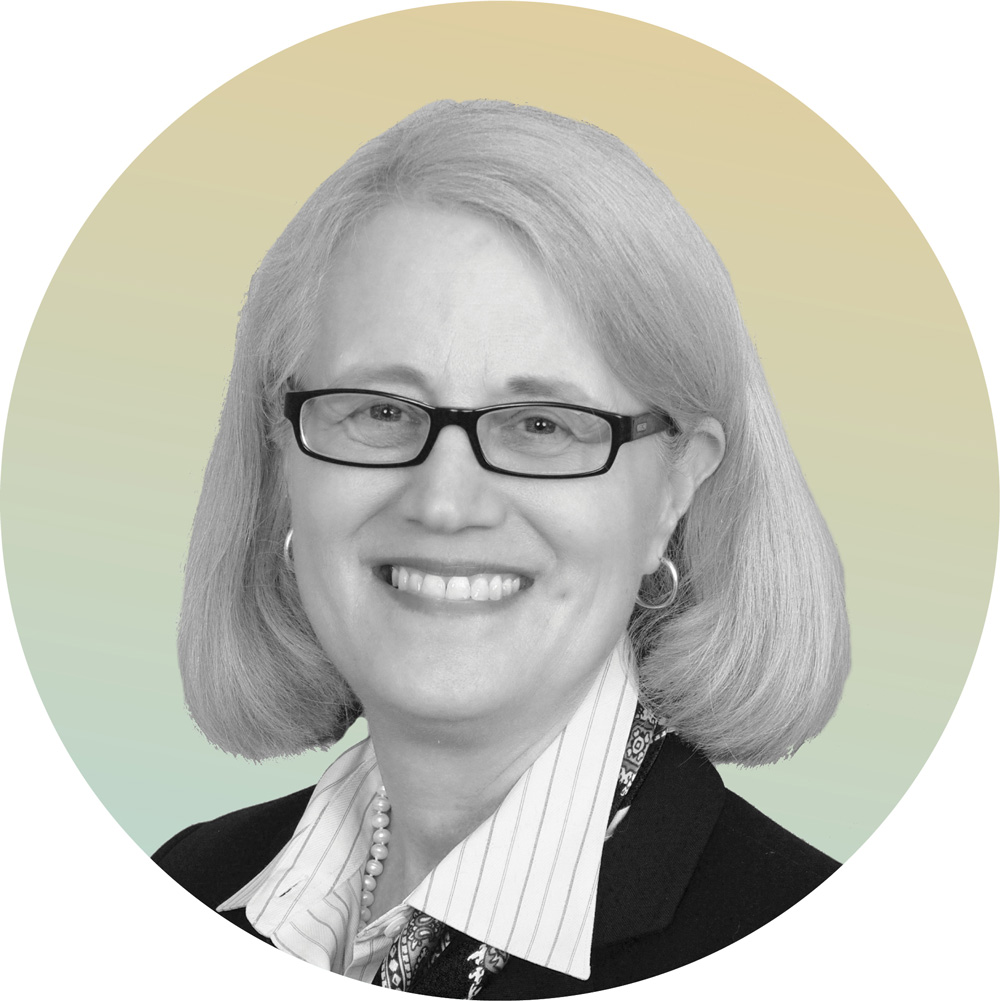 2001
On January 8, Karla Drenner becomes the first openly gay member of the Georgia House of Representatives.
2009
Alex Wan wins the District 6 Atlanta City Council race, making him the first openly gay Asian American on the council.
2016
The son of Korean immigrants, Sam Park wins a close race and becomes the first openly gay male state legislator. Park Cannon, at 24, becomes the state's youngest—and also the only queer Black female—Georgia legislator.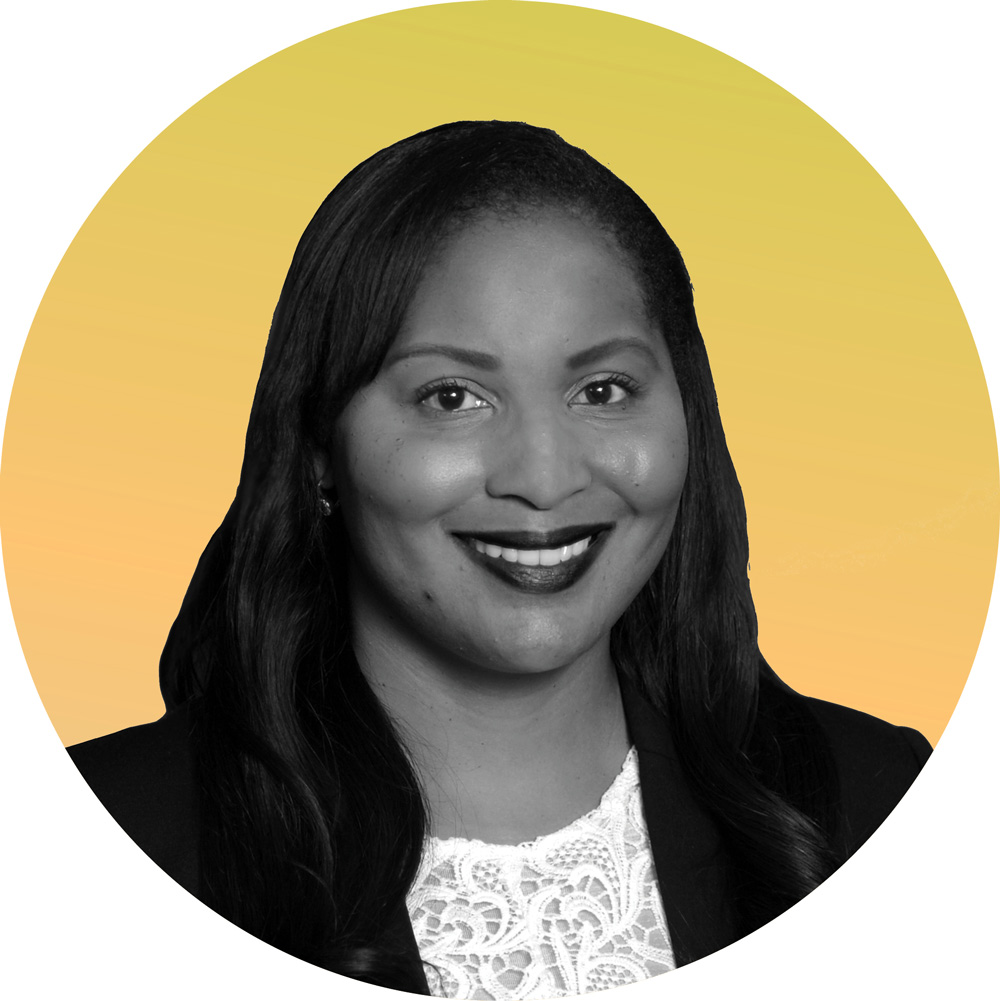 2017
On the eve of National Coming Out Day, Georgia Representative Renitta Shannon comes out on Facebook. She is the first bisexual person elected to the state legislature.
2017
Stephe Koontz is elected to Doraville City Council, becoming Georgia's first transgender elected official on a historic evening when at least six transgender candidates across the country are elected.
---
2000
Atlanta Pride turns 30. The B-52s (with three queer members Fred Schneider, Keith Strickland, and Kate Pierson) play a free show in Piedmont Park. Schneider recalls, "I'll never forget that show because the next day, there I was, on the cover of the AJC with a bare midriff, a pair of Daisy Dukes, and wearing a dance belt so nothing fell out!"
2002
Q100's Bert Show member Melissa Carter, the first out lesbian on Atlanta morning radio, is a grand marshal at the Pride parade.
Sept. 10, 2009
Two dozen Atlanta Police officers raid Midtown gay bar the Atlanta Eagle, sparking a debate about police abuse of force that continues to this day.
2010
Founded by Kirsten and Maria Palladino five years before the landmark SCOTUS decision affirming gay marriage, Equally Wed magazine debuts.
2010
After two years of shifting dates and locations due to drought, Atlanta Pride makes a controversial decision to move its Piedmont Park celebration from June to October.
2011
A group of activists led by Rick Westbrook, who would get turned away from shelters when trying to place queer teens, establishes Lost-n-Found Youth. The group remains committed to ending homelessness for LGBTQ+ and all sexual minority young people, ages 13 to 25.
May 2015
Wussy, a Southern + Queer magazine covering politics, art, and expression, launches in Atlanta. Celebrating inclusivity and body positivity, it has widespread appeal with a younger, broader LGBTQ+ audience.
June 2015
Atlanta celebrates the historic Supreme Court gay marriage decision with impromptu weddings at courthouses downtown. Celebrity chef Art Smith hosts weddings for dozens of couples at the InterContinental Hotel.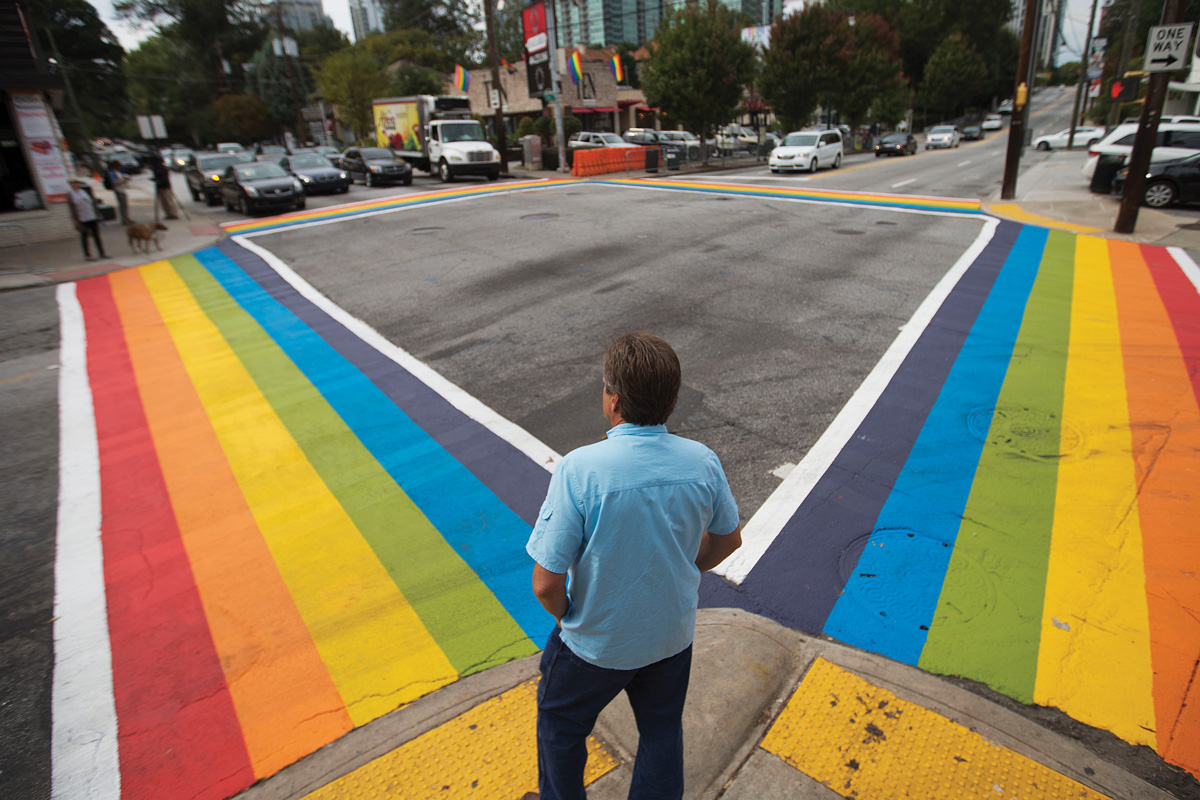 October 2015
Atlanta's Rainbow Crosswalk debuts at the intersection of 10th Street and Piedmont Avenue as part of the city's Pride celebration.
March 28, 2016
Under pressure from gay rights organizations, including Georgia Equality, and the city's business community, Governor Nathan Deal vetoes House Bill 757, a "religious liberty" bill allowing discrimination based on personal beliefs, stating the legislation did not reflect Georgia's image as "warm, friendly, and loving." (In 2018, he signs HB 159, which reforms adoption laws and includes no restrictions against same-sex couples.)
2019
The Armorettes, Atlanta's longest-running drag queen troupe, celebrate their 40th anniversary. Tony Kearney, aka Wild Cherry Sucret, says, "The Armorettes have raised well over $2.4 million for people living with HIV/AIDS. I became a member of the cast in 2000, after winning Miss Homecoming by raising $30,000 for the Boybutante AIDS Foundation in Athens, Georgia, where Wild Cherry Sucret was born."
January 2020
WSB-TV's Jorge Estevez becomes the city's first openly gay Latinx news anchor.
May 2020
The director of Emory University's creative writing program, Black gay poet Jericho Brown, wins the Pulitzer Prize for Poetry for his collection, The Tradition.
June 26, 2020
In the wake of the killing of Ahmaud Arbery, Governor Brian Kemp signs a hate crime bill passed by the Georgia Legislature. It includes protections from crimes rooted in discrimination against sexual orientation.
July 1, 2020
The Atlanta Pride Committee announces that, due to the pandemic, this October's festival will be held virtually.
July 29, 2020
A crowd gathers at 10th Street and Piedmont Avenue, as a hearse carrying the body of Congressman John Lewis stops at the city's rainbow crosswalk to commemorate his lifelong championing of LGBTQ+ rights.
This article appears in our October 2020 issue.