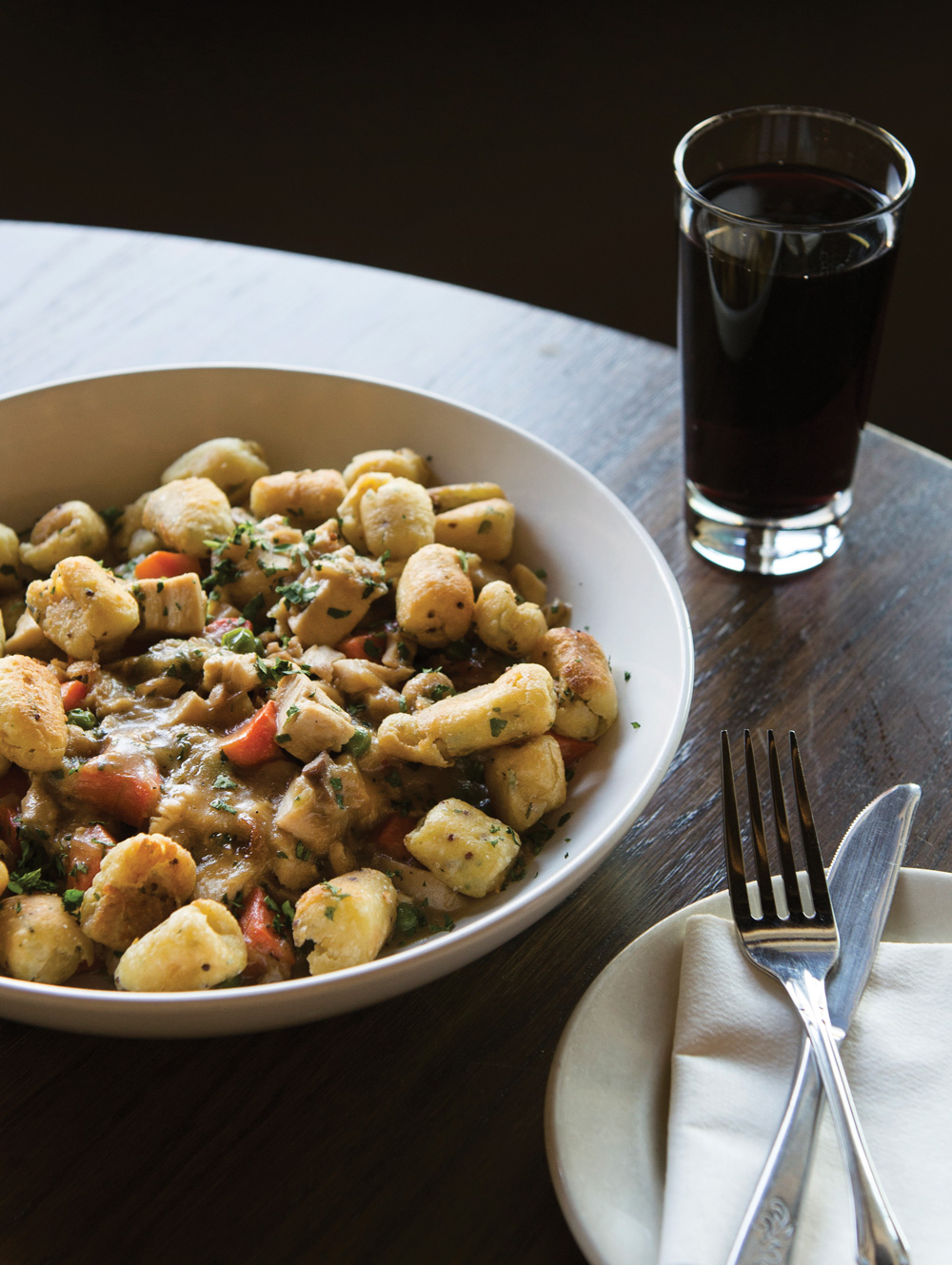 As Restaurant Eugene's pastry chef from November 2010 until July 2016, Aaron Russell dreamed up heady, sometimes challenging finishes to chef Linton Hopkins's refined Southern cuisine. You might have found a bowlful of shredded barley cake embellished with neon green cucumber gel, lacy sheets of pink peppermint, and dollops of yogurt, floating like sea foam in bright red strawberry consommé.
He learned to make these kinds of extravagant desserts while working for famous fine-dining chef Günter Seeger. Russell was his assistant pastry chef at Seeger's—until Seeger packed up for New York in 2007. Still, the skills he honed there and under his mentor, Manabu Inoue, at the Ritz-Carlton in Buckhead, earned Russell three James Beard nominations during his six years at Restaurant Eugene.
Russell and his wife, Jamie, had their own vision, though, for a low-key yet ambitious restaurant like those they encountered during their travels in France and Spain. "It didn't seem that the chefs took it very seriously, and yet the quality of everything we ate was just so high," says Russell. He was also bowled over by how ubiquitous and small these restaurants were. "There were just tons of them, tiny ones, packed close together."
In fact, Poor Hendrix, which the couple opened in East Lake's Hosea and 2nd development last November, feels like two small restaurants packed close together. Two narrow, rectangular rooms are connected at both the front entrance and at the centrally located, shared kitchen. Walk in the front door and turn right to grab a seat at the bar, where you'll find a menu of eccentric dishes that taste better than they might sound. Russell gets weird on this side of the kitchen, applying the same eclectic approach to Poor Hendrix's savory menu as he did to the desserts at Restaurant Eugene. I didn't expect skewered, grilled quail eggs, and I didn't love the idea of chopped peanuts and black olives on toast, but I was tempted to order a second round of both.
On Poor Hendrix's left side, 28 seats fill the L-shaped dining room. The chalkboard menu lists just 10 dishes—in part because the kitchen has no walk-in refrigerator, meaning Russell receives food orders daily—and changes frequently, but overall the food on this side of the restaurant is more straightforward. (It's also affordable: Nothing is over $18.) While a bar patron might be scooping up salmon tartare with Zapp's potato chips, over here, diners cut into roast chicken with mashed lentils and bacon vinaigrette or trout sautéed in brown butter and plated atop butternut squash puree. This is the kind of food that Russell cooks for himself and his friends at home.
Every time I dined at Poor Hendrix, some version of Parisian-style gnocchi—or as he calls them, "French dumplings"—took up one of the nightly menu slots. My favorite iteration came flecked with chopped tarragon, parsley, and chives; served in a pool of tomato sauce; and topped with wilting, thin shavings of Manchego cheese. It's worthy of icon status, alongside Steven Satterfield's farm egg.
To the annoyance of some of my dining partners, bar patrons cannot order from Poor Hendrix's dining room menu nor vice versa. And that means people who stick to the bar miss out on Russell's bread, soft and airy despite being made with rye flour. The chef himself hand-delivers each table's order of dinner rolls—identical to the ones he used to make for Seeger—as if to say, "Don't forget; I was a pastry chef first."
And of course, the desserts are exceptional, and decidedly simpler than the Concord grape caramels and wood sorrel pâté de fruits that he once served. At Poor Hendrix, you'll find classic chess pie and chocolate mousse. Menu listings can be deceiving, though: A description of "warm apple cake" does little to convey the effort that goes into it. Russell blends apples into the cake batter, and, once it's baked and sliced into rectangles, he fries each serving in a buttered cast-iron pan. It arrives dark as gingerbread and accompanied by whatever flavor of ice cream Russell dreams up that day. On one visit, it was poached pear. On another, it was a smooth quenelle of caramel and milk chocolate with a hint of Chinese five-spice powder. The only error as far as desserts go was a too-boozy bourbon caramel, which was served with chocolate mousse. On the whole, though, this is the rare Atlanta restaurant where I eagerly anticipated the sweet finish. Russell delivered.
Rating
★ ★ ★ ★
(Excellent)
Good to know
Poor Hendrix is named after the owners' dog, which at the time of opening was ill (hence the "poor" prefix) but has since recovered.
Vital Stats
2371 Hosea L. Williams Drive, 404-549-8756, poorhendrix.com
This article originally appeared in our May 2017 issue.