When one of the best chefs in Atlanta turns his attention to barbecue and opens a restaurant in a fast-changing neighborhood near downtown, sparks will fly. Todd Ginsberg, whose General Muir near Emory forever changed what Atlantans could expect from a Jewish deli, does something similar with Wood's Chapel BBQ: He takes an old-fashioned concept and makes it stunning and modern in a way that respects its integrity.
Together with his partners in the General Muir, Yalla!, Fred's Meat & Bread, and TGM Bread, Ginsberg now finds his empire expanding into geographically new territory. Even though he lives less than a mile away from Wood's Chapel, in Grant Park, Ginsberg until recently was unfamiliar with Summerhill, a neighborhood in the shadow of the former Turner Field that, though historically important for its streetcar line (now defunct) and bustling mom-and-pop businesses (long shuttered), had become better known over the years for botched revitalization efforts and a desolate commercial strip.
But things are changing along Georgia Avenue. The tasteful redevelopment of several historic buildings by megafirm Carter respects the scale of the neighborhood. That strip has attracted a slew of high-profile spots—Little Tart Bakeshop, Big Softie ice cream, Halfway Crooks Beer, Junior's Pizza, and the soon-to-open Little Bear by Jarrett Stieber. (Parnass Savang's Talat Market will open a few blocks south on Ormond Street.) But Wood's Chapel, named after one of the first churches built in the neighborhood after the Civil War, is Summerhill's largest restaurant by far—and serves as an anchor to a reimagined Georgia Avenue.
THE TEAM
Born in New Jersey, Todd Ginsberg came South for a gig at the Dining Room at the Ritz-Carlton Buckhead, where he worked under the dazzling Joël Antunes. From his stint a decade ago as chef at Bocado to the present, Ginsberg has concerned himself with food that tastes good rather than food that's trying to reinvent itself through feats of engineering. With the initial help of consulting pitmaster Bryan Keenan and, later, permanent pitmaster Craig Hoelzer (formerly of Fox Brothers BBQ and the General Muir), Ginsberg has conquered the technical challenges of bonafide barbecue. Chef Wilson Gourley, another General Muir alum who came to Wood's Chapel from 8Arm and does most of the work in the indoor kitchen (inventive sides, apps, and salads), completes the team.
THE FOOD
For its barbecue, Wood's Chapel starts with Riverview Farms whole hogs and certified Angus beef. Those meats are treated with proper reverence: Wood's Chapel is a purely wood-smoked joint, equipped in part with an Oyler open pit and two Texas-style Offset smokers in a spacious smokehouse at the back of the compound. The pitmaster practices whole-hog barbecue (in which the whole pig is smoked at once, as opposed to its parts), and batches of the other meats are cooked throughout the day to ensure that everything is fresh and therefore moist and tender.
In addition to offering an especially splendid sliced brisket with near-black bark, glistening racks of St. Louis ribs rubbed with white pepper and other dry spices, and heaps of rosy pulled pork topped with a fluff of chopped crunchy pork skin, Wood's Chapel distinguishes itself with the unusual barbecue options of thickly sliced smoked turkey breast and hot-smoked Scottish salmon. (A nod to Jewish delis and pescatarians.) Sandwiches include a beauteous Cue-bano with smoked pork shoulder and the restaurant's own ham, insanely rich grilled cheese with brisket, and chopped turkey awash in mayo.
For those who like sauce with their meat, there's a station set up with traditional, long-cooked BBQ Sauce with maple syrup and reduced onions that's sweet, spicy, rich, and salty; the vinaigrette-style All Purpose with smoked paprika; and, my favorite, the Hog Mop sauce based on distilled vinegar and tons of various chilies.
You'll also find creative salads, fun appetizers, and thoughtful sides such as a beet and jalapeño coleslaw, Mexican-style creamed corn with cotija cheese, and fried rice with chunks of smoked pork belly. Fresh pies, prepared by pastry chef Chris Daugherty in a central commissary for all of the group's restaurants, look as if they were made by a grandma who's spent decades perfecting recipes for banana-pudding, lemon-chess, lattice-peach, and peanut-butter varieties.
THE DRINKS
Cheerwine slushies (with or without whiskey) are the house specialty, but there's also a handful of stiff and smartly composed cocktails. The beer list covers ground that's local (Creature Comforts Tropicalia, Eventide Kolsh) and farther afield and includes some bargains on tap and in cans. While I don't see the point of drinking wine in a barbecue restaurant, those who feel differently can choose from one red, white, or pink.
THE VIBE
If the weather agrees, the place to be is the 120-seat biergarten-style patio with a cornhole rig, Adirondack chairs, and a view of the modern-looking, barn-doored smokehouse. If it doesn't, there's a dining room filled with communal picnic tables and flanked by a smaller game room outfitted with foosball and shuffleboard. Expect to stand in line at the counter (there's no table service) with young families, tattooed 'cue aficionados, and the occasional rap star.
THE VERDICT
From the sourcing of the meats to the methodology of smoking them, everything at Wood's Chapel BBQ has been researched to the nth degree by chef Todd Ginsberg and his team—yet the result is impressive less for the precision of it all than for the fun. There's no such thing as "typical" Georgia barbecue, and a place like this makes us thankful for that: Here, you can experience top-notch barbecue broadly rather than by narrow regional roots. It's a perfect neighbor to the Georgia State Panthers, who've taken up residence in the old Turner Field, and an auspicious addition to the impressive restaurant scene that's taking shape in Summerhill.
Rating
★ ★ ★ ★
(Excellent)
85 Georgia Avenue, 404-522-3000
woodschapelbbq.com
What to order
What to order (in addition to the 'cue)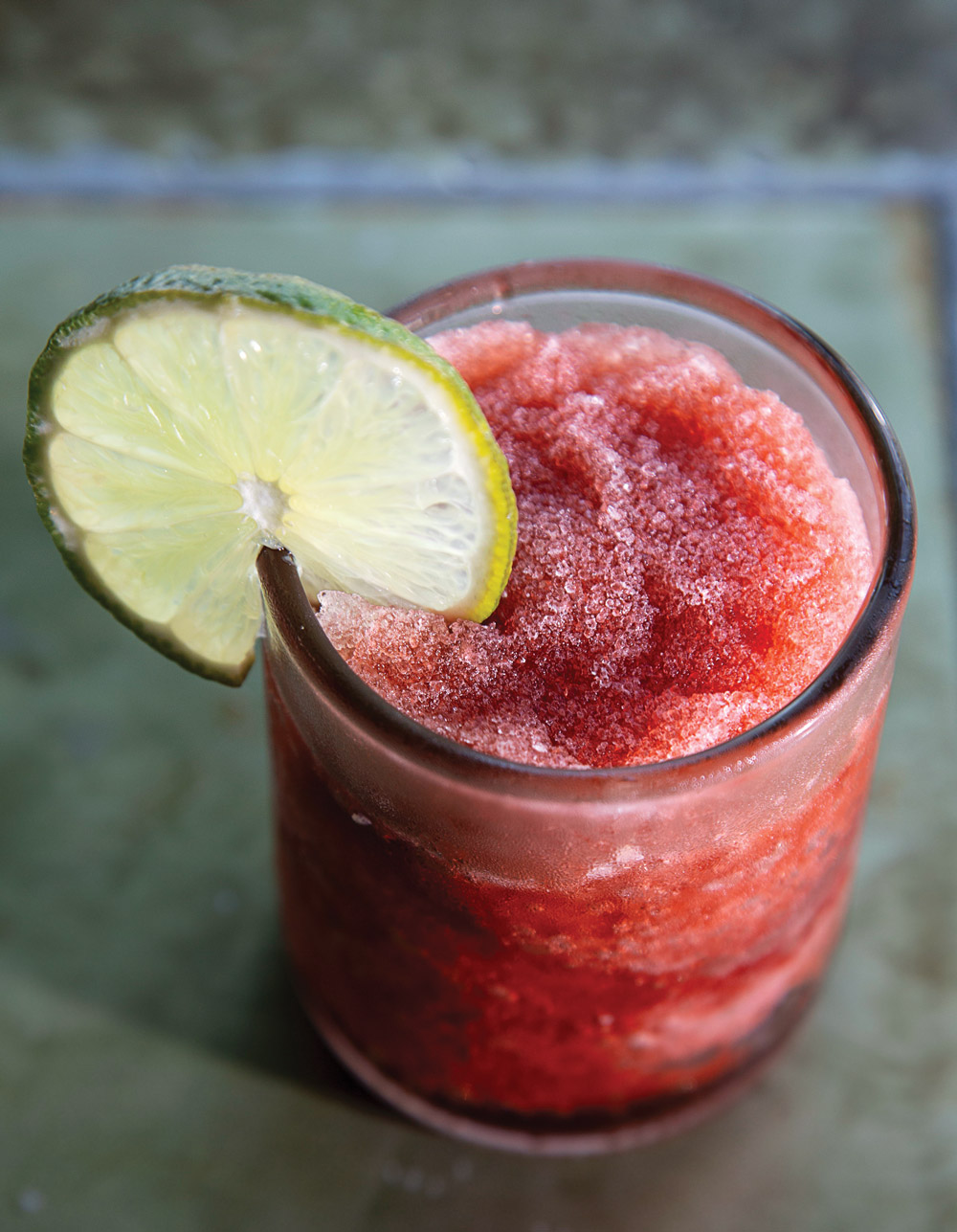 Cheerwine slushie
This sophisticated alternative to a frozen Coke comes with or without whiskey.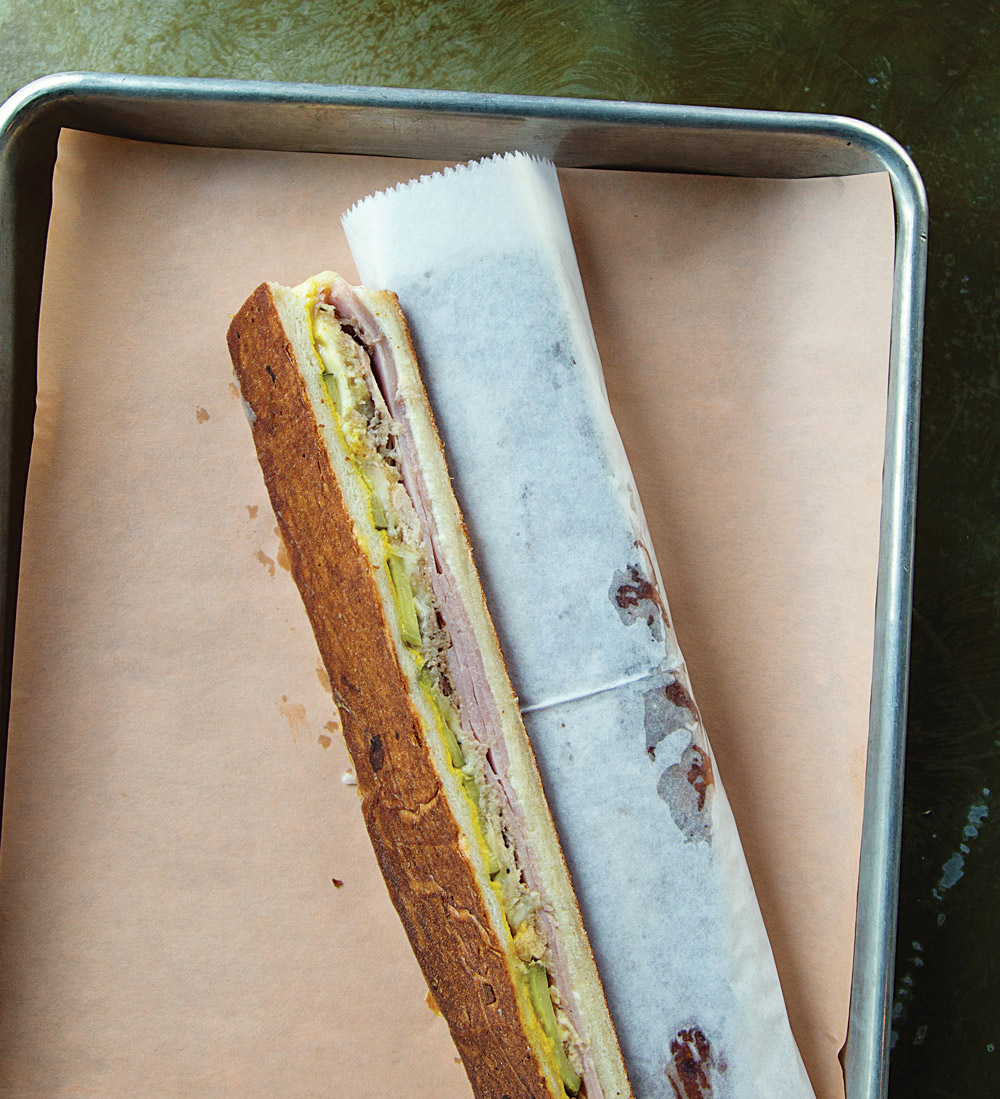 Cue-bano
It's hard to improve upon a traditional Cuban sandwich, but smoked pork shoulder and the restaurant's own ham help.
Peanut-butter pie
All the pies here look like the culmination of decades of obsessive baking. And they taste better than they look.
This article appears in our November 2019 issue.