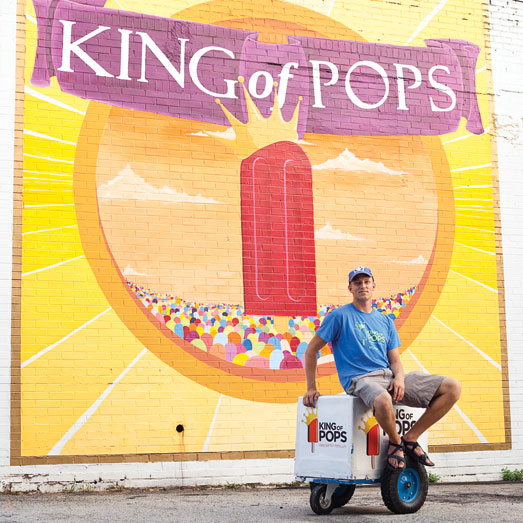 The Popsicle, a brand name owned by the Unilever corporation but often used in the vernacular, has come a long way since its chemical-flavored beginnings. It was allegedly invented in the 1900s by an eleven-year-old who left a stirrer overnight in his cup of fruit-flavored soda and found a tasty treat in the morning after a freeze. Mexican immigrants to the U.S. brought with them the culture of paletas—small-batch ice pops made from spiced fresh fruit. In the last couple of years, young entrepreneurs from all over have started producing handcrafted ice pops using organic and local ingredients in an increasingly sophisticated range of tastes.
Steven Carse, a twenty-six-year-old Atlantan of Minnesota stock who discovered paletas during a trip with his brothers, makes between 200 and 500 ice pops a day. Folks who see the blond, green-eyed Carse chilling out with his minuscule pushcart at the corner of North Avenue and North Highland Avenue have no idea how hard he works. If they saw him lugging boxes of fresh fruit and crates of Sparkman's Cream Valley dairy products into the space he rents at Inman Park's Irwin Street Market, they wouldn't hesitate to shell out $2.50 for an insanely good pop—pineapple-ginger, perhaps, or chocolate with sea salt—made by hand and sealed in a clear sleeve.
Carse's business is pretty hectic: He slices; he dices; he juices; he wrestles with an enormous immersion blender, adjusting his all-natural mixtures to taste. "I ordered my equipment the day after I got laid off from my job at a big insurance company, so I wouldn't back out," says Carse. By trial and error, he has come up with such enchanting combinations as tangerine-basil, mango-habanero, and grapefruit-mint. This month, expect flavors incorporating Georgia peaches, blueberries, and melons.
The Irwin Street Market and the Cabbagetown Market sell Carse's product, and a Twitter account and a Facebook page keep him connected to a growing crowd of ice pop enthusiasts who show up at his corner in Poncey-Highland or follow him to events and festivals. twitter.com/thekingofpops
Photograph by Chad Hess