Pastry chef Claudia Martinez, best known for her work launching the dessert program at Tiny Lou's at the Hotel Clermont, has a brand-new gig. As executive pastry chef at Miller Union, Martinez is swapping French inspirations for Southern and embracing the farm-fresh style of executive chef/owner Steven Satterfield.
"When I left Tiny Lou's in December [2020], I only wanted to work two places in Atlanta: Bacchanalia or Miller Union," Martinez says. "I'm a big fan of Steven Satterfield. He aligns with me as far as values and ethics. He has never been afraid to be vocal and raise money for causes. We want to put out good food and give back to the community."
When the Covid-19 pandemic hit, Martinez started Café Claudia, a pastry pop-up that donated a portion of the proceeds to causes like Black Lives Matter and Free99Fridge. After Tiny Lou's operations separated from Indigo Road Hospitality late last year, Martinez originally planned to move to Charleston, South Carolina, with the restaurant group. But the opportunity at Miller Union changed her mind.
"Atlanta is the place I have a platform," she says. "I want to stay here, build my brand, learn from Steven, and continue Café Claudia pop-ups."
Her next pop-up will be held at 8Arm in late March. In the meantime, she's busy revamping Miller Union's pastry program. We spoke to her to learn more. 
How are your Miller Union desserts different from those you created at Tiny Lou's?
It's a different side of town and a different clientele. I'm getting to know what people here want to see from me. I'm trying to do at least one savory or adventurous item and one that leans more classic.
Tiny Lou's was playful, fun, and out there, in a historic hotel, so the desserts reflected that. These are more based on nostalgia and southern influence, focusing on presentation and highlighting local ingredients. I still use savory ingredients and tropical flavors, but instead of French, the food has more Southern roots. The dairy is the highest quality—it's crazy the difference it makes in the cream or mousse.
What can people expect?
I'm keeping the ice cream sandwiches Miller Union is known for. I just made one that's dulce de leche with candied coconut ice cream. I'm using Venezuelan Valrhona chocolate for my take on Ferrer Rocher candy. It's chocolate mousse, hazelnut ganache, passion fruit, and cocoa streusel. It's a richer dessert that really comes together with the acidity. There's also a chocolate salted caramel tart. It's classic with grapefruit and bourbon brown sugar ice cream.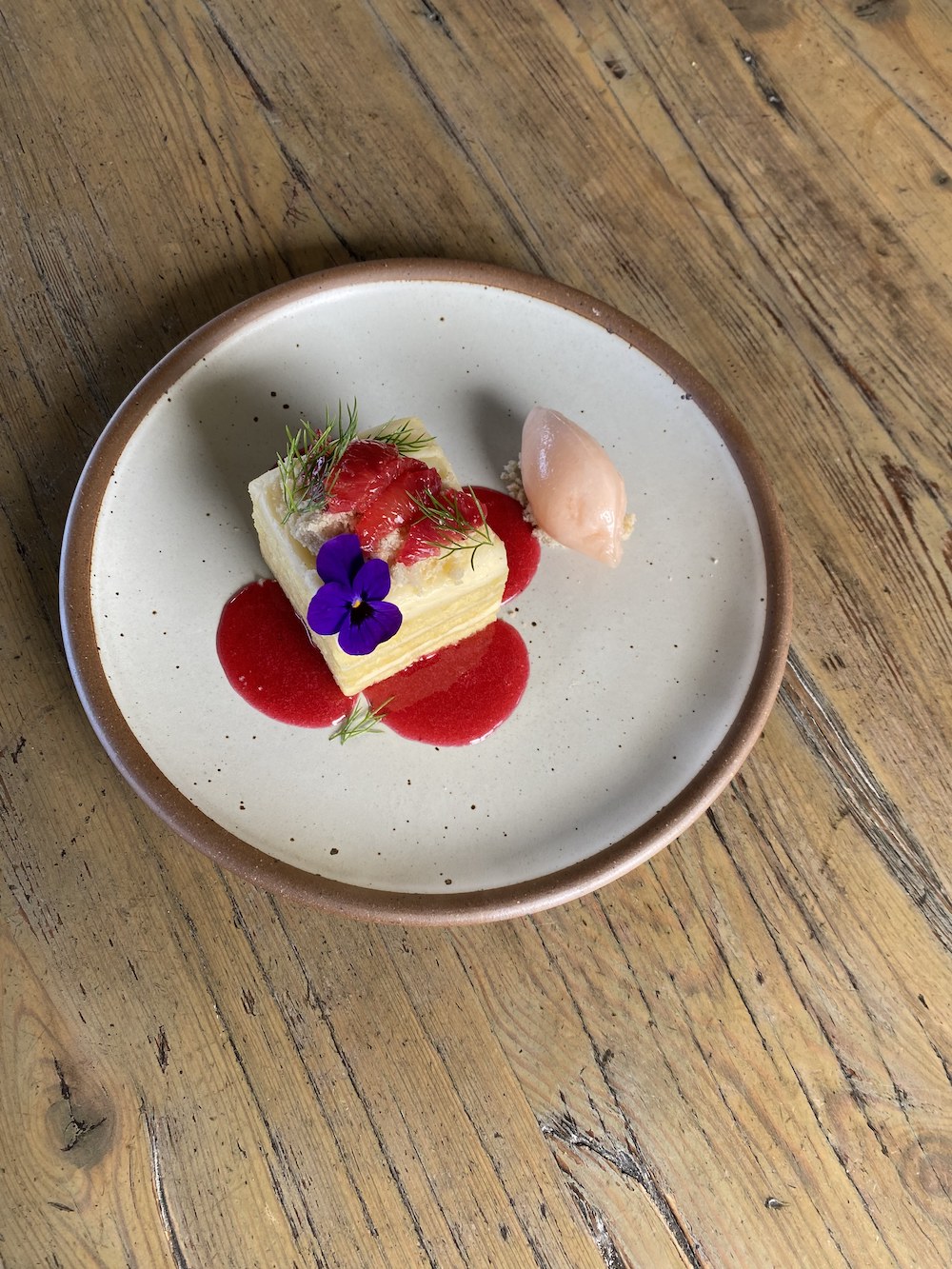 How often are you changing the dessert menu?
I change about one item every two weeks based on what we're getting from farms and what's selling the most. Things change with the seasons, and I'm focusing on cross-utilizing products from the main menu.
What have you learned working with Steven Satterfield so far?
I learned how much this restaurant is zero waste. Food waste is an issue we don't always talk about. I'm learning a lot about composting, using trim, and using extra food for the family meal. Instead of throwing away the trim of a cake, we'll dehydrate it or turn it into powder.