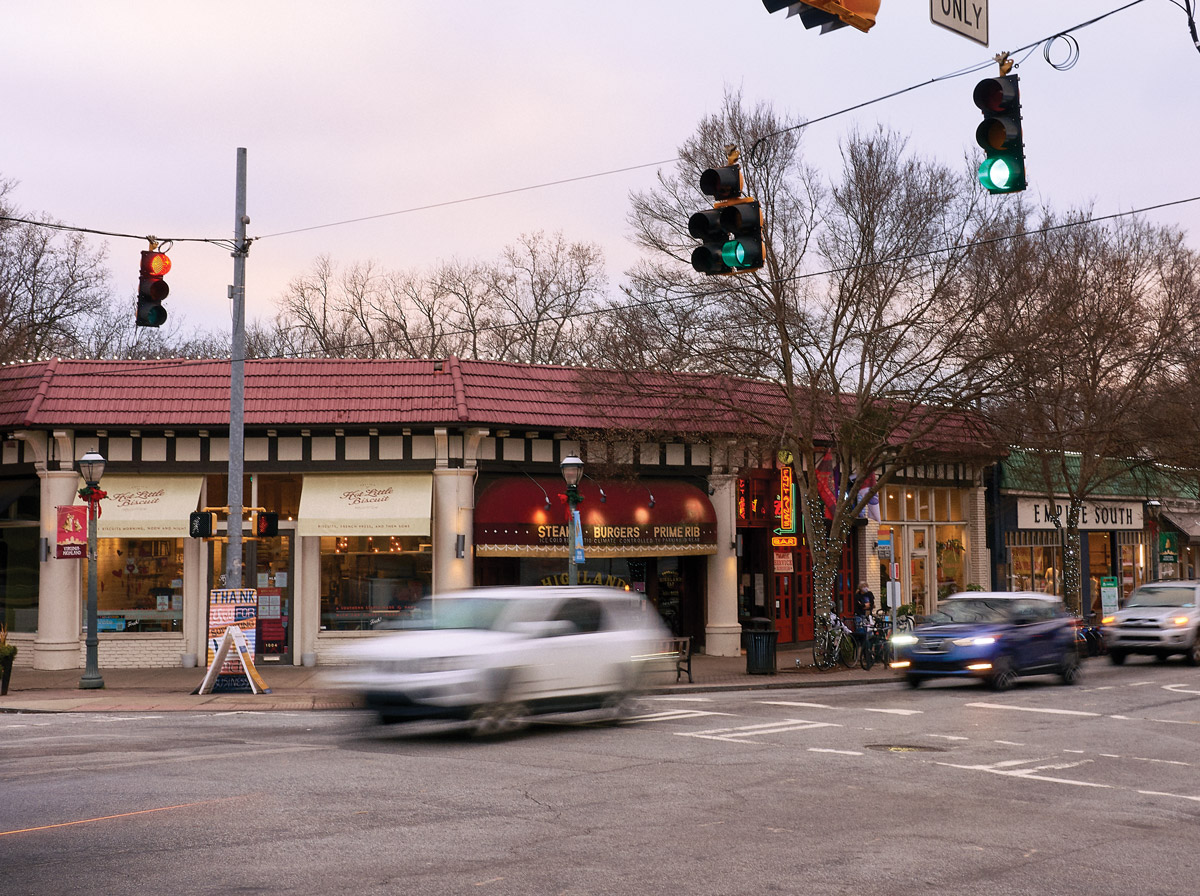 When Tom Murphy opened his namesake restaurant in Virginia-Highland in 1980, the area was ripe with new restaurateurs. The neighborhood had fought off the Georgia Highway Department—which had planned to plow an interstate right through its heart—and home values were soaring. The Dessert Place and Capo's Cafe had joined stalwarts like Atkins Park, George's, and Moe's and Joe's as neighborhood hotspots. The original Taco Mac had opened the year before, foregoing the expense of a new sign in return for a better kitchen.
Longtime Atlantans may remember Capo's owner John Capozzoli roaming the dining room—occasionally with a joint tucked behind his ear—stopping to chat with regulars as they feasted on fettuccine Alfredo and his signature chicken diablo. Down the street, at the Dessert Place, cofounders Sheryl Meddin and Bennett Frisch baked moist carrot cake and addictive cheesecake brownies.
"What I loved about the area was that all the operators were single-unit operators like me," Murphy says. "They were present. They really put their heart and soul into it, making it fun, intimate, accessible, and tasty."
Virginia-Highland actually encompasses more than a dozen original neighborhoods developed during the early 1900s along the city's Nine-Mile Circle trolley line. In the 1980s and '90s, the area helped inspire a new appreciation for Atlanta's walkable, urban communities. Featuring bungalows built close to lot lines and a diversity of dining and shopping establishments, it boasted a vibrancy that attracted a new generation of young professionals and families.
"Virginia-Highland always had this small-town feel," says Murphy. "You knew your neighbors. It was the place to be."
But during the past 10 years, as Inman Park, Old Fourth Ward, and other communities have been revitalized, competition for businesses and consumers has increased. National players like Jamestown, which developed Ponce City Market, moved in along the polished new Atlanta BeltLine. It was hard for the Highlands, with its homegrown mix of landlords and aging sidewalks, to compete.
"Virginia-Highland just got stale; it needed a refresh," says Gene Kansas, a cultural developer and founder of Gene Kansas Commercial Real Estate. "Atlantans wanted current places to go on dates and take their children. [Virginia-Highland] didn't have what they wanted and needed, so the community went elsewhere."
Longstanding places like Everybody's Pizza, Goin' Coastal seafood, Bill Hallman boutique, and Hand in Hand pub closed their doors, while others like Moe's and Joe's (founded in 1947), Surin of Thailand (1990), Highland Tap (1989), and La Tavola Trattoria—which replaced Capo's in 1999—held on. Annual events like Summerfest and the winter Tour of Homes remained popular, but the area's commercial districts began to languish.
Architectural planner and local resident Katie Voelpel helped launch Beautify VaHi in 2018. The group started with simple facelifts like new flower planters, but as businesses shut down during the pandemic, they recognized a unique opportunity to reinvigorate the mix of tenants. They changed their name to the Virginia Highland District Association (VHD) and posted a Change.org petition to garner support for attracting "some of the best names in retail and dining" to "recharge" the neighborhood. It attracted 1,800 signatures.
"Our goal is to create an itinerary throughout the district, so you have more than one thing to do when you come [here]," says Voelpel, who is also helping to spearhead events like movie nights, a porchfest, farmers markets, and food truck Fridays.
Kansas, whose company is leading preservation of the circa 1925 Va-Hi building, home to longtime favorite Paolo's Gelato, supports VHD's mission. "It's about how businesses complement each other and the neighborhood," he says.
His firm commissioned a mural of a peach tree—conceived by design studio Proper and installed by the Loss Prevention collective—on the side of the building facing the neighborhood's namesake intersection. Kansas says he has fielded more than 600 calls about leasing space. So far, Kinship Butcher & Sundry and Pizza by the Slice have signed on for Goin' Coastal's former spot. Other eateries, such as Morelli's Gourmet Ice Cream and Farm Burger, have opened nearby.
Kinship, slated to open soon, will feature locally sourced meats and cheeses, dry goods, produce, wine, and a coffee bar. Led by Myles Moody, who worked at Restaurant Eugene and Eleven Madison Park, and Rachael Pack, a sommelier, Kinship is designed to be "a throwback to the idyllic butcher shop of yesteryear," Pack says. "It's a mom-and-pop shop that throws us into the community and lets us meet people on a more human level."
Moody says the pair were drawn to the character, charm, and warmth of the building. "We don't want it to feel commercial—we want it to feel lived in," he says.
Kansas recruited Anthony Spina, who started O4W Pizza and helped launch Nina & Rafi, to open Pizza by the Slice—selling him on the neighborhood's charm and walkability.
Even though Robby Kukler's company, Fifth Group Restaurants, owns La Tavola Trattoria across the street, he recognizes more competition can be a good thing. "The pizza place is definitely needed," he says. "It gives people a reason to come visit the area and reminds them of the great options here."
This article appears in our March 2021 issue.