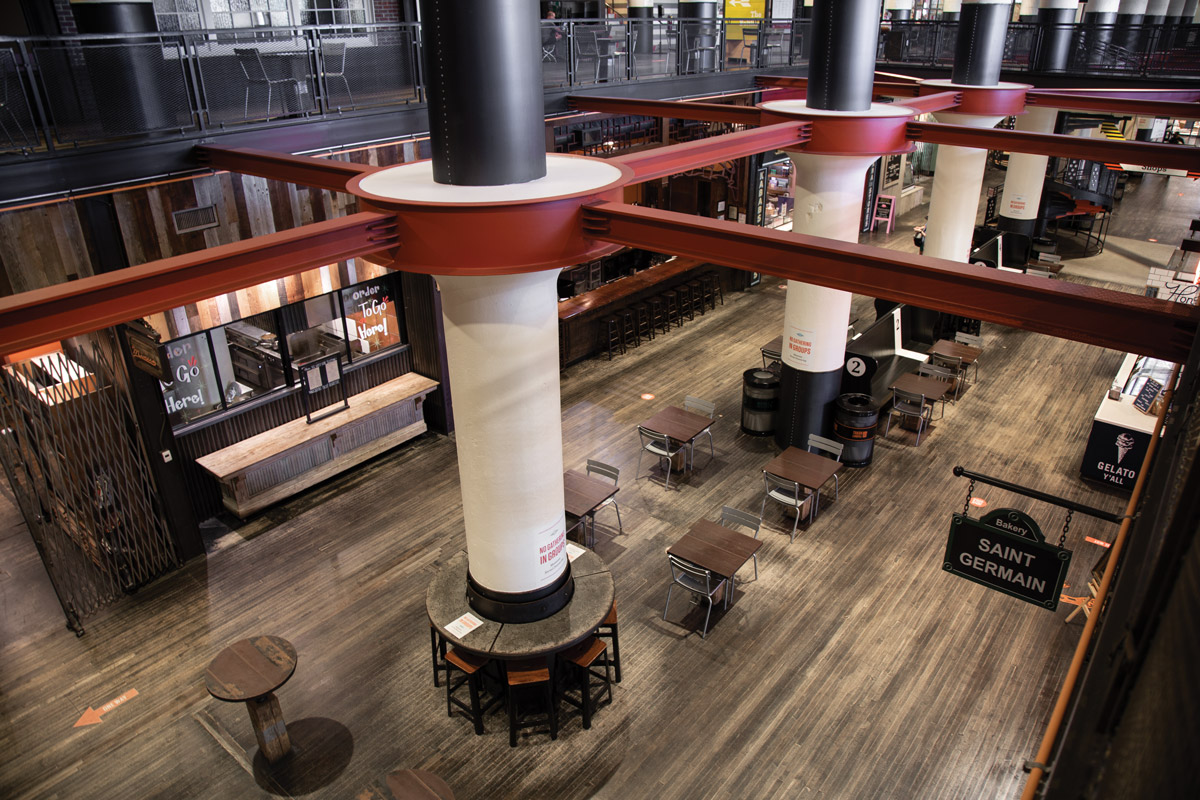 Over the past five years, food halls have become integral to the city's dining scene, a place where a group of noncommittal eaters easily can gather regardless of where they fall on the picky-to-adventurous spectrum. At Ponce City Market, your options include tonkotsu ramen, a smoked-tofu Cubano, and bucatini carbonara. At Krog Street Market, you can graze on Zhong-style dumplings, a classic burger stack, or grilled-pork banh mi. At Marietta Square Market, you might vacillate between a Maine lobster roll, wood-fired Neapolitan pizza, and half-rack of baby back ribs. No reservation necessary.
Of course, when the pandemic hit, food halls were forced to rethink, at least temporarily, the viability of eating communally and congregating indoors. The transition to takeout hasn't been easy. Even though each stall prepares food in a way that's meant to be transported—typically, only from counter to food-court table—that hasn't necessarily translated to brisk to-go business.
"These markets weren't made for takeout," says Grand Champion BBQ co-owner Robert Owens, who has a stall at Marietta Square Market in addition to four free-standing locations. "Marietta Square Market is more of a social hangout—not as much a place you think to pick up from."
Owens started offering delivery via Postmates in April to help boost revenue. But the Marietta Square Market location, which only had been open about a year when the entire 18,500-square-foot facility temporarily closed for dine-in during the beginning of the pandemic, has seen the biggest decrease in sales of all his locations. "It gets a little better every week, but business is still way down, especially compared to what it was last summer," he says.
"People are in their homes, tightening down and trying to get through this," says Todd Ginsberg, who co-owns Fred's Meat & Bread and Yalla stalls at Krog Street Market, as well as stand-alone restaurants the General Muir at Emory Point and Wood's Chapel BBQ in Summerhill. "We run on such tight margins. A lot of restaurants are not going to make it."
Ginsberg speaks from experience. His mini–food hall at Tech Square, the Canteen, which housed second locations of Fred's and Yalla, closed in March due to stay-at-home orders and never reopened. "The consistent business there was from students, faculty, and nearby businesses," he says. "When everyone went remote, we looked to assistance from our landlord." When that assistance didn't materialize, Ginsberg and his partners shuttered the Canteen.
At Krog Street Market, Ginsberg's two stalls have seen a 70 percent decline in business compared to prepandemic, he says. "Krog had called to us because it was off the BeltLine—a place for people to walk around, shop, grab lunch and a beer in an air-conditioned space," Ginsberg says. "A lot of those things were affected by COVID-19." Despite the loss of walk-up customers at Krog, Ginsberg says he's fortunate that online ordering, takeout, and delivery have kept Fred's and Yalla afloat.
Asana Partners, which owns Krog Street Market, declined an interview request. Ed Lee, a principal at Capital Properties Group and partner in Marietta Square Market, says the food hall, which closed for a couple months, offered rent assistance to its vendors. "The landlord has been a help," says Owens, who also was able to get a PPP loan for Grand Champion BBQ. "I have enough faith that we'll find a solution to this." Jamestown, the real estate and investment firm that launched Ponce City Market, offered its vendors resources to set up mobile ordering and contactless payment options and to increase social media reach. Jamestown also offered financial assistance to businesses on an as-needed basis. "Some is rent abatement, some is rent deferral, some is a loan to help people change their spaces while waiting on PPP dollars," Jamestown president Michael Phillips says. By the time Ponce City Market's food hall reopened to customers in late May, Jamestown had increased outdoor seating options and equipped many of its stalls with acrylic shields.
"Every day is a struggle," says Tal Baum, owner of Bellina Alimentari at Ponce City Market. "But Jamestown has been an amazing partner through all of this."
Baum says she's seen a major decrease in foot traffic at Ponce City Market, yet she says sales at Bellina are slightly higher than at her non–food hall restaurants, Rina (located in a commercial strip across the BeltLine from PCM) and Aziza (in Westside Provisions District).
To cut labor costs at his Ponce City Market restaurant, El Super Pan, Hector Santiago trimmed his number of menu items by 40 percent. He says the cost of personal protective equipment and disposable containers and utensils has further cut into El Super Pan's profits, at a time when revenue has been down 20 to 50 percent compared to before the pandemic.
But business at Ponce City Market is slowly picking up. "For us, being in a food hall helps," Santiago says. "Ponce is a very popular place, and even when there is not a lot of [foot] traffic, there is more traffic than elsewhere."
Santiago also owns a second El Super Pan location at the Battery (where business is down 50 percent) and El Burro Pollo in the new Collective food hall at Coda in Tech Square. The stall had only been open for a few weeks when it closed at the end of March. Coda and Santiago are planning to host Thursday pop-ups throughout the fall to bring customers back to the area. "We're just trying to survive," Santiago says.
Will food halls fully rebound? Andrew Zimmern, host of Bizarre Foods and What's Eating America, and Robert Montwaid, of the Gansevoort Market food court in Manhattan's Meatpacking District, are betting on a full recovery. Their 22,000-square-foot Chattahoochee Food Works debuts this fall in northwest Atlanta, with the first nine of an eventual 31 stalls set to open soon, including vendors specializing in South African street food, Lebanese barbecue, and homestyle Thai. Zimmern said in an August interview that the food hall concept has taken on new urgency: "The events of the last six months have underscored the necessity to provide low-barrier entry to business for food entrepreneurs."
Zimmern and Montwaid point out that, as they await an economic rebound from the pandemic, the flexible nature of a food hall allows reconfiguration for challenging times, with indoor and outdoor seating more spread out now—and, when the pandemic finally recedes, more packed-in later. (There are similar, adaptable plans for the revamped Colony Square food hall in Midtown, set to open next year with digital ordering, contactless pickup, and movable seating.)
"The great thing about the space and site is we could probably seat 1,000 people—the market is bordered on three sides with outside space," Montwaid said in August. "We'll be able to open safely and keep social distancing in place."
This article appears in our November 2020 issue.