Every year it can get harder and harder to impress that special someone. Make a reservation at one of these spots for Valentine's Day, and you can't go wrong. 
Adalina
Craving Italian? Chef Joshua Hopkins has created a prix fixe meal for two for $75 on February 14. The menu includes lobster risotto, hangar steak, and chocolate panna cotta. 4403 Northside Parkway, 470-851-1031
AIX 
Chef Nick Leahy's new restaurant is offering a four-course meal plus dessert for $75 per person. Options include steak tartare au poivre and grilled petit lamb chops, with wine pairings available for an additional $45 per person. 956 Brady Avenue, 770-838-3501
The Alden
This new-ish Chamblee spot by chef Jared Hucks is serving a Cupid's Menu for two people for $150. Options include Katama Bay oysters with hackleback caviar, Maine lobster, sea urchin carbonara, and porterhouse au poivre. 5070 Peachtree Boulevard, 678-395-6982
Atlas
Pump up the romance with dinner at Atlas at the St. Regis Hotel. Expect a four-course prix fixe for $150 per person, plus wine pairings. Options include lobster en croute, dover sole almandine, and for dessert, dark chocolate raspberry mousse, lemon raspberry mousse, vanilla sable, and pistachio sponge cake. 88 West Paces Ferry Road Northwest, 404-600-6471
The Brasserie at Bazati
This new BeltLine-adjacent French brasserie will offer a special menu for $90 per person. It includes saddle lamb, halibut en papillote, salt-crusted beets with goat cheese, and chocolate truffle. 550 Somerset Terace Northeast, 404-795-8342
Cape Dutch
Holiday specials at this Morningside South African restaurant include lobster and crab meat salad, veal tomahawk with truffles, and chocolate cake with Grand Marnier chocolate and a raspberry glaze. 1782 Cheshire Bridge Road, 404-343-0313
Casa Cielo
Chef Juan Ruiz's Valentine's menu includes lamb chops with blackberry sauce and chimichurri, and salmón prehispánico wrapped in plantain leaf and tortilla dough. The five-course meal costs $40 per person. 6125 Roswell Road, 404-549-9411
C. Ellet's
Dine in style at Linton Hopkins's steakhouse. For Valentine's Day, it will offer a four-course prix fixe menu featuring clam chowder, a seafood platter, a cowboy cut 24-ounce Allen Brothers steak, and an ice cream sundae. The cost is $175 for two people. 2605 Circle 75 Parkway, 678-996-5344
Del Frisco's Double Eagle Steakhouse
In addition to the regular menu of seafood and prime cuts, Double Eagle will offer two menu specials celebrating love. Available February 14-17, diners can savor an 8-ounce filet mignon with butter-poached lobster tail, seared jumbo sea scallop, and grilled asparagus with yuzu hollandaise for $49. For dessert, there's dark chocolate cheesecake with chocolate dipped strawberries and warm Godiva chocolate sauce for $12.50. 236 Perimeter Center Parkway Northeast, 770-274-0309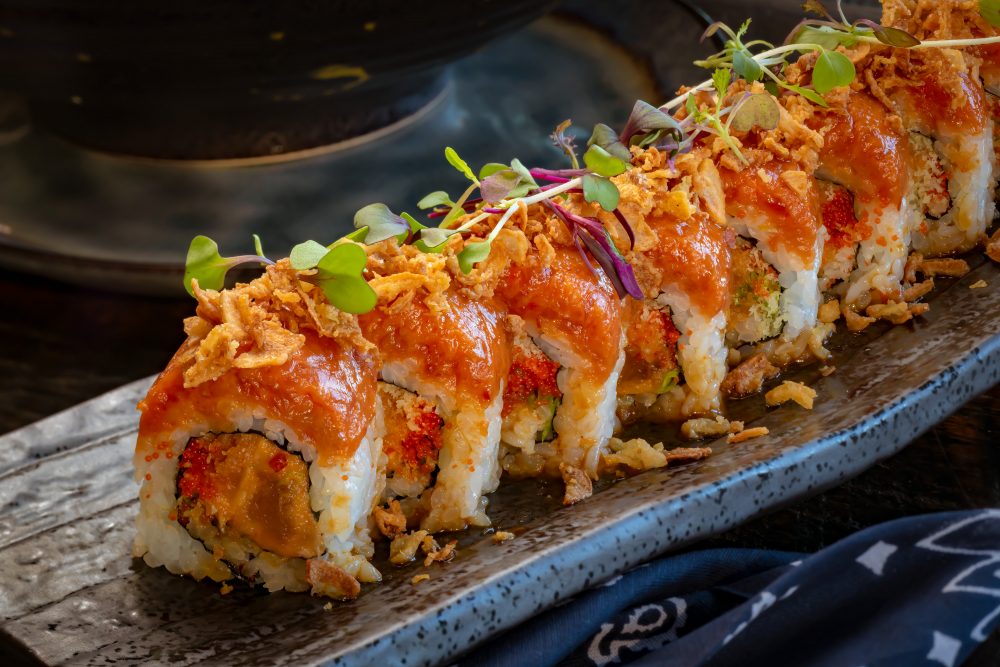 Fudo
Celebrate with sushi at the recently opened Fudo. Couples can fill up with a three-course meal with dumplings, Brussels sprouts, rolls, and more, for $30 per person. 5070 Peachtree Boulevard, Chamblee, 678-691-7088
Hobnob Neighborhood Tavern
For a more casual celebration, Hobnob's three locations are each serving different Valentine's specials, in addition to the regular menu. The Midtown location offers one heart-shaped pizza for two, a bottle of wine, a shared appetizer, and dessert for $49. Locations in Midtown, Brookhaven, and Perimeter.
JCT Kitchen
Romance your partner Southern-style with four courses created by executive chef Brian Horn. For $65 per person, dine on crab brioche, bouillabase, bone-in short rib, and more. Wine pairings are available, too. 1198 Howell Mill Road, 404-355-2252
Nakato
Ideal for groups, Nakato is offering a Valentine's special complete with a server dressed in a kimono, sparkling wine or sake pairings, and sushi, sashimi, and traditional Japanese dishes. The cost is $150 per person. 1776 Cheshire Bridge Road Northeast, 404-873-6582
Osteria Mattone
Ryan Pernice's Italian restaurant will celebrate love with a three-course menu available February 13-15. For $15, diners can fill up on calamari a la griglia, pollo saltimbocca, and more. 1095 Canton Street, 678-878-3378
The Optimist
Executive chef Josh Coker is preparing a four-course coastal menu for $80 per person. Wine pairings cost an additional $30 per person. Dishes include lobster bisque, seafood gumbo, duck fat-poached swordfish, and chocolate mocha cheesecake. 914 Howell Mill Road, 404-477-6260 
Park Tavern
Rock out to Yacht Rock Schooner and an evening of silly love songs on February 15. Tickets are $15 in advance and $20 at the door. 500 10th Street Northeast, 404-249-0001
Piastra
At this Marietta Italian restaurant, you can enjoy a special prix fixe meal with your choice of soup or salad, entree, and dessert for $50 per person from February 13-17. Options include lobster risotto, braised venison medallions, and golden beet bisque. Wine pairings can be added for $30 per person. 45 West Park Square, Marietta, 770-425-9300 
Revival
Kevin Gillepsie's Southern restaurant in Decatur is offering a four-course meal for $75 per person, with entrees such as seared crab cake, smoked quail, and braised lamb shank ragout. Reservations are required, and you can add a wine pairing for an additional $25. 129 Church Street, Decatur, 470-225-6770
Restaurant Eugene
Feed your love by embarking on a culinary adventure together for $125 per person at this Buckhead favorite. Restaurant Eugene is serving a four-course meal complete with cobia cured in mulled cabernet, pickled garden flowers, duck liver poached with dried cherry and coffee consommé, and dry-aged squab. 2277 Peachtree Road, 404-355-0321
Southern Art
The Intercontinental Buckhead hotel's restaurant is offering a three-course meal for $65 per person. Menu options include Sweet Jesus Maryland Oysters, goat cheese and butternut squash-stuffed ravioli and Death by Velvet cake. Chef David Bartlett is also preparing a special tasting menu all weekend. 3315 Peachtree Road Northeast, 404-946-9070
Urban Tree Cidery
Get a jump-start on the holiday with a Doughnut Dollies pop-up at Urban Tree Cidery. On Feburary 9 and 10 from 12:30 p.m. to 6:30 p.m., Urban Tree will offer a complimentary, mini doughnut "flight" with the purchase of its custom Doughnut Dollies cider flight. Plus, get a free doughnut with the purchase of Urban Tree's new Hot Buttered R&B cocktail. 1465 Howell Mill Road Northwest, 404-855-5546
Varuni Napoli
In addition to heart-shaped pizza (available upon request), Varuni Napoli is offering dinner for two from 5 p.m. to 10 p.m. on February 14. For $60, diners can enjoy a white pizza with buffalo mozzarella, Creminelli salame piccante, oven-roasted asparagus, fried potatoes, and creamy burrata, plus two cannoli and a bottle of Prosecco. 1540 Monroe Drive Northeast, 404-709-2690
Whiskey Blue
For the nontraditional, Whiskey Blue at the W Atlanta Buckhead hotel is hosting its annual "Red Light Green Light" party on February 9 at 9 p.m. Guests dress in the appropriate color signaling their relationship status—green is single, red is taken. 3377 Peachtree Road Northeast, 678-500-3190
The White Bull
Pat Pascarella's Decatur restaurant may be known best on social media for its polenta parties, but its Valentine's prix fixe is sure to impress. Dine on sunchoke soup, lamb tartare, tortellini with burrata, and more. 23 East Court Square, Decatur, 404-600-5649
Yebo Ski Haus
Can't get out to the slopes this year? Yebo Ski Haus offers a place to cozy up without a plane ticket. On February 14, enjoy a three-course meal for $50 per person. Options include crab cakes, arctic char, and chocolate mousse for dessert. 111 West Paces Ferry Road Northwest, 404-869-1992