Get ready, Marietta: a spiffed-up Avenue East Cobb is coming your way later this year.  North American Properties, the developers behind popular renovations like Atlantic Station and Colony Square, have released renderings of their new plans for the struggling outdoor shopping center. The redesign will feature a public plaza, complete with a fully-equipped stage and LED screen for movie nights, and surrounded by a shaded garden area for dining and relaxing. Some parking will be replaced by new "jewel-box" buildings, housing fresh retailers and restaurants. The new buildings will serve as wings to the central plaza area, which will be anchored by at least one chef-inspired restaurant with plenty of outdoor space. "The vision is all about creating a backyard feel," said Nick Lombardo, development manager for North American Properties. "It's for folks in the community to enjoy getting outside."
When it opened in 1999, Avenue East Cobb, with its pedestrian-friendly walkways and outdoor spaces, was part of a new trend in commercial property that rejected the traditional indoor mall. Cavernous interior space and food courts were out; single-story retailers, interspersed with restaurants and connected by quaint pseudo-streets, were in. Avenue East Cobb became a lively shopping hub in Cobb County, attracting visitors with high-end retailers like Pottery Barn, Banana Republic, and the popular Hand & Stone spa.
But nothing stays new forever, and changing consumer trends have clouded the future for retail centers like Avenue East Cobb. The rise of online shopping, turbocharged during the Covid-19 pandemic, has caused an existential crisis for brick-and-mortar stores, along with the retail centers that house them. A 2020 study found about 1,000 traditional indoor malls still left in the United States, but estimated 25 percent would close over the next 3-5 years. A recent UBS Bank report projected that, by 2027, up to 50,000 retail stores could shutter.
Within such grim prognostications, however, lies opportunity. Developers like North American Properties are reimagining brick-and-mortar shopping centers, tailoring them to a new set of consumer demands and desires. "It's about taking a property that's already well-known and loved in the community," said Britni Johnson, NAP's director of public relations. "It just needs a little bit more love to bring it back into relevance, and make sure that it stays relevant for the next generation."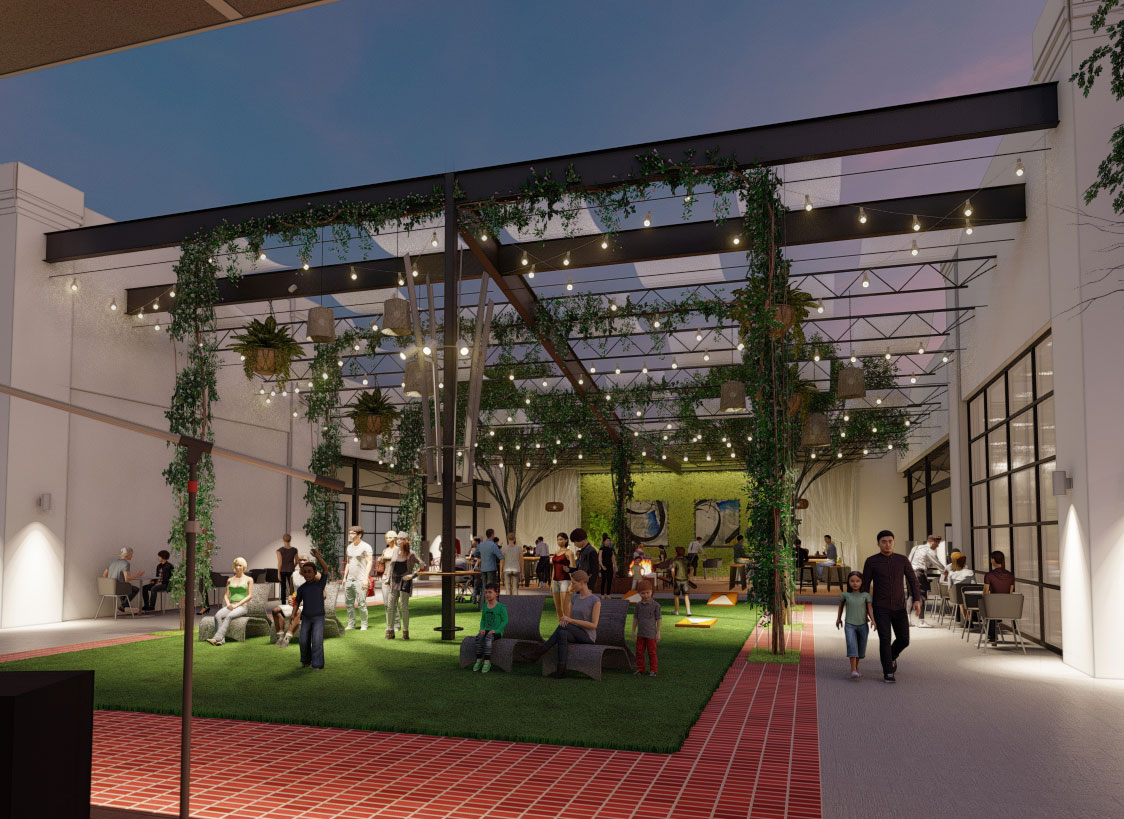 At Avenue East Cobb, that means creating dedicated event space, which gives nearby residents more reasons to visit beyond shopping. "People come out in droves for [holiday events]," said Lombardo. "And when everyone's hanging out in a parking lot, you realize you need to provide a platform for these gatherings and community events."The plaza, once completed, will host movie screenings, yoga classes, live music, and kid-centric events like magician performances. Adjacent restaurants will open up into shared outdoor seating and a fire-pit, creating a centralized hangout destination any day of the week. "It's about giving people somewhere to hang out without having to leave East Cobb to find something to do," explained Johnson.
To create the central plaza, developers will demolish part of one building, and appropriate some existing parking to build two small new buildings on either side. These "jewel-box buildings"—so-called for their smaller scale and emphasis on glass—will connect the property for a more cohesive design. "We want the central plaza to be where all the energy is and where folks come and gather," explained Lombardo.
The property is open during redevelopment, and many of the existing retailers will remain, including the popular Hand & Stone, which is expanding into a new on-site location. Newly introduced retailers and restaurants include Warby Parker and Vanilla Cafe, while Lululemon, Evereve, New York Butcher Shop, and Tempurpedic will all open soon. Lombardo said they expect to fully complete the project in August 2023.
North American Properties' plans for Avenue East Cobb reflect their redesigns of other Atlanta properties, which have created dedicated gathering areas around a cluster of smaller retailers and eateries. Atlantic Station, completed in 2010, quickly became a social hub of Atlanta's west side, drawing about 9 million visitors each year with popular events like an ice-skating rink and museum exhibits. Colony Square, which fully re-opened in 2021, has a whopping 40,000 feet of green-space and a spacious "food hall"—a modern spin on the mall food courts of yesteryear. The success of these redevelopments is a testament to NAP's understanding of modern consumer habits: people may love the new convenience of shopping online, but gathering with friends and family will always be in style.
"People today can sit at their computer and buy anything they want," explained Lombardo. "So the way we have to differentiate is to really create an experience for the folks who are on our property."