For Eric Simpkins, frozen drinks bring back childhood memories of Red Lobster. That's where Simpkins, the managing partner and beverage director of Big Citizen (the group that owns Bon Ton, The Lawrence, and Wonderkid) and his parents would occasionally go for dinner and his mom, who was not a big drinker, would order a Piña Colada alongside those beloved Cheddar Bay Biscuits. Simpkins would order himself a nonalcoholic version of the drink and share a special sense of revelry with his parents. It was also his first introduction to the world of cocktails.
"The Piña Colada definitely has that association for me, with fun and [specialness]. It's almost a spectacle, having the drink with the pineapple and the umbrella," he says.
In recent years, frozen cocktails have earned a reputation for being chemical-laced, one-note sugar bombs, thanks in part to mass-produced drink mixes with ingredients like sorbitan monostearate and Red 40. But well-balanced frozen cocktail isn't complicated, and in recent years bartenders at places like Bon Ton and the Painted Duck have gotten creative with blended drinks.
Simpkins still has a soft spot for the Piña Colada. "The coconut and rum combination is a great palate to experiment with other flavors and influences," he says. He often incorporates orange blossom water and ginger into his own versions.
The only equipment you need to whip up your own frozen cocktail is a blender. For best results, Simpkins says to make sure your ingredients fresh. Most importantly, acidity in the form of fresh lemon and lime juices will balance your drink and prevent it from being saccharine. No spirit is off limits when it comes to blended drinks; you can even make a frozen Penicillin, which uses Scotch as a base. "It's just about knowing how to balance strong flavors with other strong flavors, like brightening [really spicy ginger] with lemon and tempering it with honey," says Simpkins.
Grab your blender, some ice, and a paper umbrella. Here are seven recipes by Atlanta bartenders to try at home this summer. (Getting caught in the rain is optional.)
Yoda Colada
from Eric Simpkins, Big Citizen
Serves 1
Ingredients
1.5 ounces white rum, (preferably Agricole rum for a funkier, fun take)
2 ounces Coco Lopez coconut cream
1 ounce pineapple juice
1 ounce white grape juice
¼ ounce lime juice
1 teaspoon culinary grade matcha powder
2 cups ice
Combine ingredients in blender. Blend for 5-10 seconds or until smooth. (Add more ice before blending for a thicker, almost spoonable, but less sweet texture.)
To make a nonalcoholic version of this drink, Simpkins suggests substituting matcha for unsweetened green tea or more juice to maintain the volume.
---
Frozen Espresso Martini
from Angela Guthmiller, beverage director, Lyla Lila
Serves 1
Ingredients
1 ounce espresso or concentrated cold brew
1 ounce vodka
¾ ounce Faretti Decadent Biscotti Chocolate liqueur (or coffee liqueur)
¾ ounce Irish cream liqueur
¼ ounce simple syrup
1 cup ice
Blend, pour into martini glass. Garnish with espresso beans, a floater of ¼ ounce chocolate biscotti liqueur, and "an orange twist, if you are feeling fancy," Guthmiller says.
---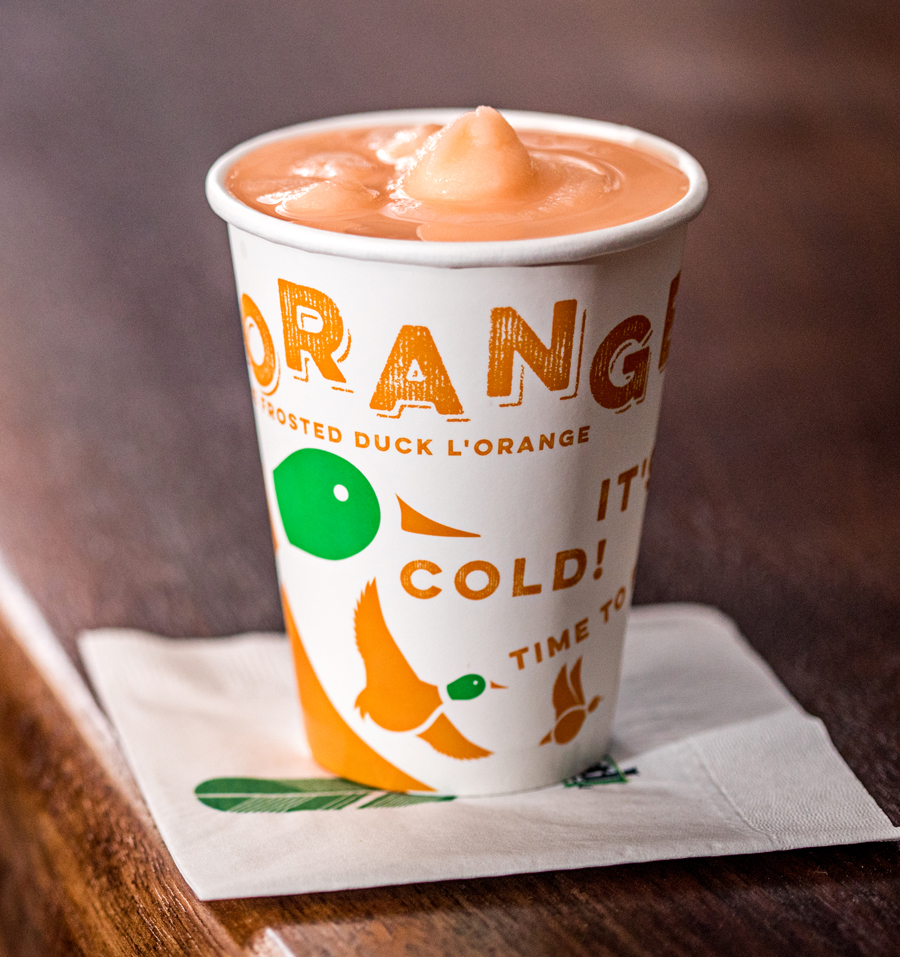 Duck L'Orange
from Trip Sandifer, beverage manager, The Painted Duck
Serves 2
"The key to replicating a frozen drink from a slushie machine at home is twofold: cut the water in all of the ingredients where you can, as you're going to have to add ice to freeze it. And make sure your blender is a bad mofo," Sandifer says. "The reduction here accomplishes the former for the home bartender."
Ingredients
4 ounces vodka
2 ounces lemon
2 ounces coconut cream (or 3 ounces coconut milk)
6 ounces orange soda reduction (directions below)
1 teaspoon vanilla (or just use vanilla vodka)
Orange soda reduction
Take a 12 ounce can of your favorite orange soda, add a half tablespoon of sugar, and simmer until it's reduced about 50 percent. Cool before adding to the mix.
Directions
Blend ingredients with a hearty amount of ice until smooth.
---
Sweet Ting
from Breon Reynolds, bar manager, Rock Steady
Serves 2
Ingredients
2 ounces coconut rum
2 ounces white rum
4 ounces frozen strawberries
4 ounces pineapple juice
4 ounces cream of coconut
2 mangoes, chopped
1 banana, chopped
1.5 cups crushed ice
Pineapple chunks and strawberry slices (for garnish)
In a blender combine strawberries, mangoes, banana, white rum and coconut rum. Blend to puree, strain, and transfer to a pitcher.
Clean and wash the blender. Add pineapple juice, cream of coconut, and ice. Blend until smooth.
Divide strawberry, mango, banana rum puree among 2 serving glasses. Slowly pour pineapple coconut mixture into the glass. The mixture will evenly swirl with the white mixture. Garnish with strawberry and pineapple.
---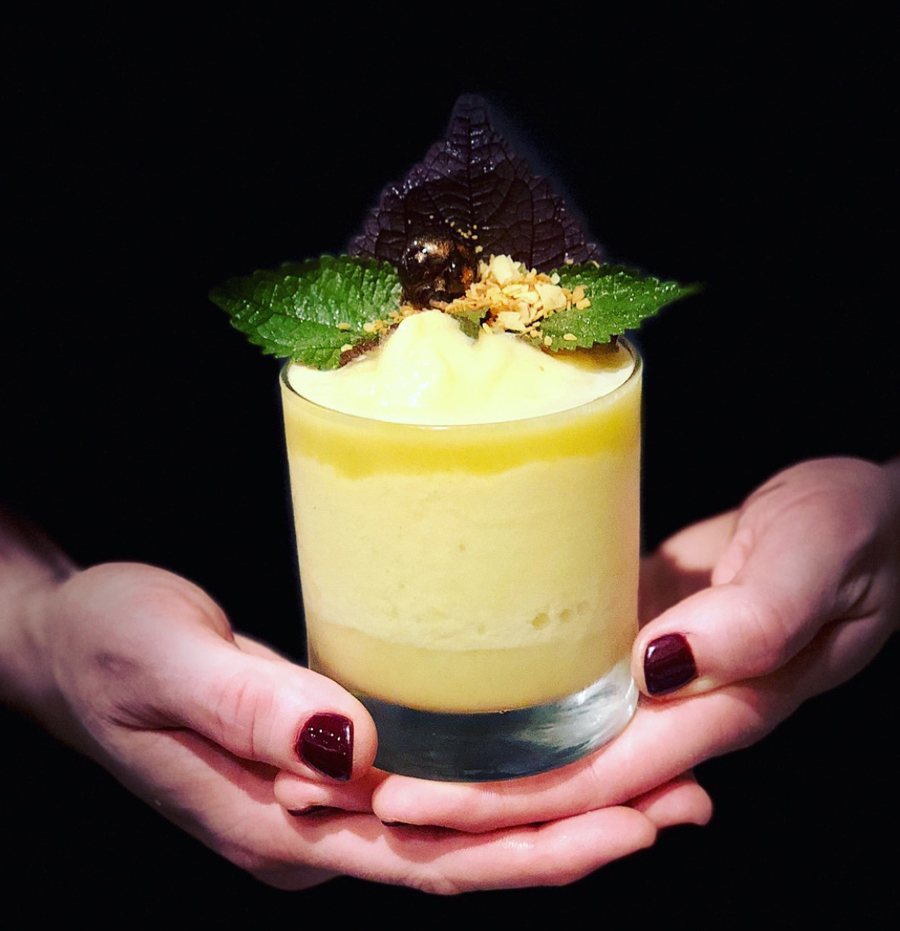 Curried Colada
from Mercedes O'Brien, founder, Sippn at Home
Mercedes O'Brien recently left her post as beverage director of Cold Beer and launched Sippn at Home, a cocktail kit service. This is one of her favorite summertime drinks, she says, and while it involves a little more prep work, the result is worth it. (Ginger juice can be found at Arden's Garden if you want to save a little time.)
Ingredients
1 ¾ ounces Plantation 3 Stars white rum
1 ½ oz curried Coco Lopez (recipe below)
1 ounce fresh pineapple juice
¾ ounce fresh lime juice
¼ ounce ginger juice
½ cup frozen pineapple pieces
1 cup ice
Curried Coco Lopez
1 15 ounce can Coco Lopez
2 teaspoons madras curry powder
Combine ingredients into blender, and blend on low until curry is well incorporated. Store in airtight container for up to two weeks.
Curried Coconut Flakes
1 cup unsweetened coconut flakes
2 teaspoons madras curry powder
Combine all ingredients into a small bowl and mix to incorporate. Spread on a nonstick pad lined baking sheet. Toast in 300 degree oven until golden brown, stirring midway through to evenly cook. Let cool.
Directions
Add all of the drink ingredients into a blender, and blend until thick and creamy (add more ice if needed). Pour into a tall glass and garnish with mint blossom, Amarena cherry, straw, and curried coconut flakes.
---
Tahini Honey Milkshake (nonalcoholic)
from Rina
Serves 1
Ingredients
1 cup whole milk
3 scoops vanilla ice cream
1 tablespoon honey
2 tablespoon raw tahini
Garnish
1 teaspoon granulated honey
1 teaspoon sesame seeds
2 chopped dates
Combine ingredients in blender and pour into chilled serving glass. Sprinkle with sesame seeds and garnish with granulated honey and chopped dates.
---
Frozen Ticonderoga Cup
from Ticonderoga Club
Serves 2 
Ingredients
1.5 ounces Jose Ramon cream Sherry
2 ounces pineapple syrup
1 ounce fresh lemon juice
1 ounce Plantation 5yr Rum
.75 ounce Brandy Sainte Louise
Combine all ingredients and blend until smooth. Garnish with a big spring of mint.