East Atlanta Village, better known for its music and drinking scenes than for its ambitious gastronomy, has often stumbled on the road to revitalization. Early believers in the potential of the neighborhood as a culinary destination—including chef Nicolas Bour, of the former Iris, and chef Robert Phalen, who cofounded Holy Taco in the space Iris vacated—saw their expectations crushed. Iris closed in 2005 after just two years, and, in 2014, Phalen left Holy Taco after six years, claiming that his partners had complained of his boundary-pushing menu: "People don't get it. They wanted it dumbed down." But there have been signs of hope. Chefs Nhan Le and the late Angus Brown opened Octopus Bar in 2011 and proved with their experimental, late night–only menu that people (some of them, anyway) were in fact starting to get it. In the ensuing years, Argosy has seen success with its arty beer pub sensibility, and Gaja has resonated with lovers of progressive Korean food. But something was missing, and that something is Banshee. Launched by a group of locals who've figured out how to effectively break the restaurant-industry rules, this is the neighborhood's most sophisticated spot: a tiny, highly original operation that transcends genres and remains in tune with its offbeat surroundings.
THE TEAM
A native of Moultrie in south Georgia, chef Nolan Wynn caught his first break when celebrity chef Hugh Acheson gave him a chance in the kitchen at Five & Ten in Athens. In lieu of culinary school, Wynn completed his education under pasta-maker extraordinaire Drew Belline at Ford Fry's No. 246 in Decatur and later took a sous-chef job at Fry's King + Duke in Buckhead. Wynn's partners in Banshee—Faielle Stocco and Katie McDonald behind the bar and Peter Chvala as general manager—bring their own industry experience; all of them worked for Fry's empire except for McDonald, who was a manager at the Wrecking Bar Brewpub. Rather than craft a restaurant in the mold of the successful ones that reared them, however, the crew built a place that feels all their own.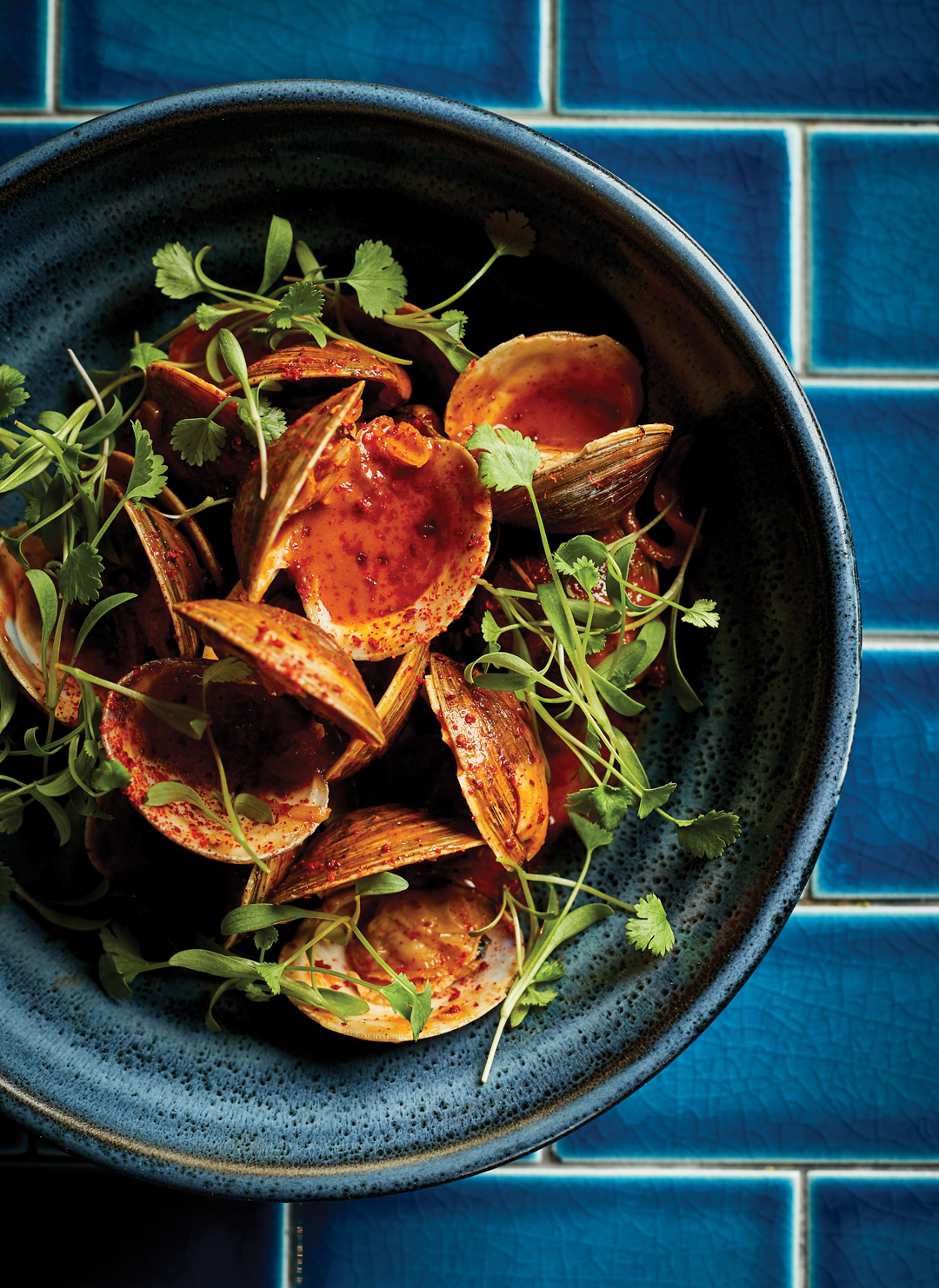 THE FOOD
The most impressive thing about Banshee's fairly brief menu is the staggering proportion of dishes unique to the chef—an accomplishment that earned Wynn a Best New Chef award from this magazine in December. Who before Wynn has served warm Native American fry bread with pepperoni butter and scallions as a form of exalted bread service? Drag morsels of the light, puffy disk through the delightfully porky condiment and try (if you can) to save some of the spread to slather on the daring smoked mackerel with olive crumbles or the mild flounder with sunchokes and creamy bagna cauda. That stuff is gold.
Wynn says he likes "a bit of chaos on the plate," telling his crew to make the food look "like it fell on the plate, but pretty." That shows in a thick slab of iceberg lettuce showered with grilled plums, gorgonzola, and cashews, or a plate of ghostly pale Belgian endives against blood-red beets seasoned with sumac. Housemade herbed tagliarini and Sapelo Island clams are cooked together with guajillo chilis and bottarga, then plated separately to encourage diners to spear a clam with their fork and twirl it into the pasta. Lion's mane and oyster mushrooms with pistachio and kale are prepared Bolognese-style and served over fresh farfalle. Burnt orange gingerbread baptized with Fernet-Branca is a bitter-sour symphony and the highlight of the dessert menu.
Even brunch, which often feels uninspired at even the best restaurants, gets special treatment here. Banshee's unusual offerings—breakfast sausage terrine, hand-cut noodles in lamb broth, fennel sausage carbonara with shishitos and sage gremolata, puff pastry apple tartine with mascarpone, coffee caramel, and hazelnuts—are the antithesis to brunch monotony.
THE DRINKS
McDonald, a self-avowed Fernet nerd, knows how to tame amaro, which often can be too aggressive, adding no more than a hint to warm her cool drinks. Her singular, exquisitely pleasurable creations include the Blackest Heart (rye, Cynar, Averna, and Borghetti) and the Stately Hag (reposado tequila, Cocchi Americano, Strega, lemon, and thyme). As for Banshee's wine list, it resembles the dinner menu: short, smart, and eclectic.
THE VIBE
Designer Elizabeth Ingram, whose knack for moody vintage decor is on full display at Golden Eagle in Reynoldstown, transformed an empty shell formerly occupied by the bar My Sister's Room into a visually and acoustically sophisticated universe. Heavy, floor-to-ceiling, royal blue velvet drapes separate the bar (with its William Morris–style stencils and sexy rose-gold light fixtures) from the dining room (where schoolhouse-style furniture is placed against exposed brick walls). There are little moments of beauty all over the space: a lightbox made of glass tubes here, a spot of pink neon art there, and tiny pictures in gold frames scattered throughout. It's a serene scene for East Atlanta, but it still embodies the village's youthful energy.
THE VERDICT
Banshee no doubt elevates East Atlanta Village's reputation as a dining destination—a reputation that has been slow to take shape, despite several attempts by distinguished chefs. Yet Banshee still feels very much of the Village, which is to say irreverent, chill, and clearly the product of a cohesive, creative vision. This is a restaurant that exists on its own terms, and those terms work exceedingly well. Perhaps most impressive of all, the chef already has produced an inordinate number of one-of-a-kind dishes—as well as the most original condiment ever to emerge from an Atlanta kitchen.
Rating
★ ★ ★ ★
(Excellent)
Vital stats
1271 Glenwood Avenue,
470-428-2034
banshee-atl.com
This article appears in our February 2019 issue.