I'm tired. I'm sore. I'm gassy.
That, I'm told, is expected.
For three days, I have been stretched, scanned, pushed, and pampered. I've been stripped of salt, sugar, and most red meat. And I've eaten enough fruits and vegetables to make me a methane machine, which, according to staffers at the Pritikin Longevity Center in Doral, Florida, is commonplace.
Call it a side effect of the Pritikin Program. Devised by engineer Nathan Pritikin after he was diagnosed with heart disease in 1957 and told, basically, to sit and wait to die, it's a hardcore, back-to-basics approach to eating and exercise. Those who want to immerse themselves in it come here, the Trump National Doral Miami, where the program occupies a wing of the resort's spa. Advocates extol Pritikin's seemingly magical results: Some participants quit taking blood pressure medications within days, and 70 percent end their diabetes medications in three weeks, with an average weight loss of eleven pounds.
The program, however, is singularly strict. "Nathan Pritikin used to say, 'If it tastes good, it isn't good for you,'" says director of nutrition Kimberly Gomer. The diet rigidly restricts salt and sugar ("Poisons!" one attendee admonishes), but I'm told recipes have improved over the years. Some. My taste buds beg for more seasoning. All around me in the formal dining area, people at beautifully set tables splash hot sauce and copious amounts of salt-free spice blends on their food.
The diet allows fish once a day, chicken once a week. It limits red meat—if you must—to one small serving a month. It also takes "eat your vegetables" to the extreme: five cups a day. Plus four servings of fruit. It shuns white bread and pasta, butter, and as much as possible, oil. You may drink real coffee at breakfast, but only two cups. After dinner, they serve a hot grain substitute. It tastes like, well, hot grain. I recall a Woody Allen line: "Sure you can live to be 100, if you give up everything that makes you want to."
Sarah Steves, a participant from San Antonio, tells me: "You do feel that way at the beginning. But after a while, the food is so good." Her husband Steve agrees emphatically as he blobs hot sauce on his vegetables.
A stay here generally lasts one to two weeks. Me? I've dipped my salt-loving toe in with a three-day "Taste of Pritikin" program to see what this whole thing is about. It began with a "DEXA Body Composition Scan" that mapped my fat by body region. This revealed my mirror isn't a liar and I do in fact have love handles, and, I note, a large concentration of fat between my ears. When fitness director Scott Danberg tells me that's my brain, I silently wonder if it should be larger.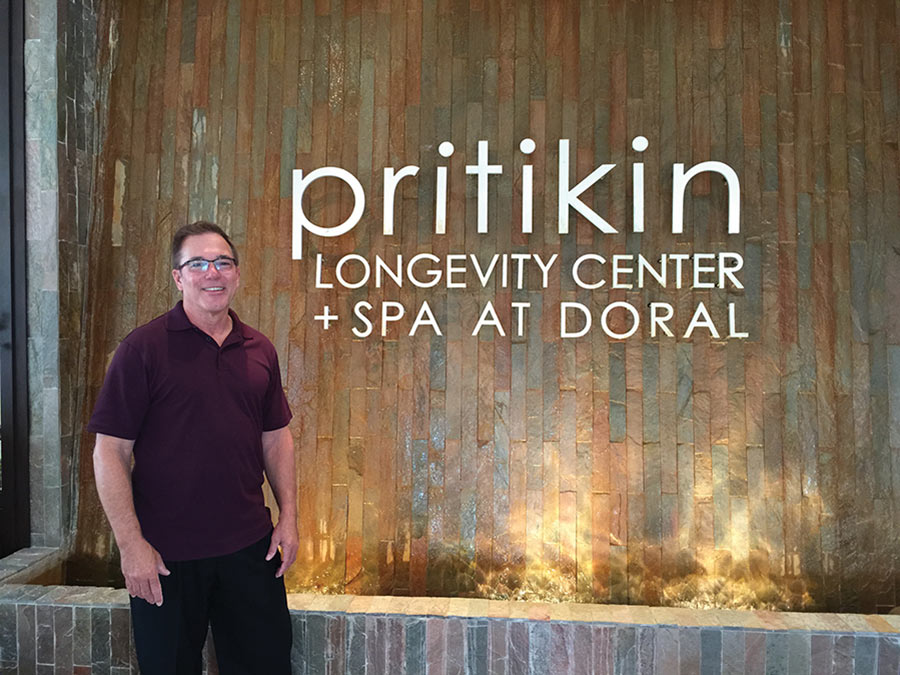 You may have seen Danberg before, on the U.S. discus team at the 2012 London Paralympic Games. He's a walking Pritikin ad. I'd guess he's in his late thirties. He's fifty-two.
The program calls for ninety minutes of exercise a day. My condensed schedule is a little more intense: I have five to seven daily exercise sessions—from aerobics to Zumba—mercifully broken into forty-five-minute blocks. Most memorable is the water workout, which includes a synchronized "blooming flower" exercise straight from a Busby Berkeley movie. Instructor Jeffrey Berson reminds us: "Smile! You have eighty muscles in your face. You have to exercise those, too." When I'm not working out, I'm attending lectures. To me, they feel like a "Scared Straight" program for food and fitness: "Do this, to live!"
People usually come here after a health scare. Many come again, often with people they care about. Mary Lee Jennings, age seventy-three, brought her daughter as a fiftieth birthday present. "To live long and well, that's a gift we want to give to our children," she says.
Joan Thorne-Gifford agrees. She first came a year ago after getting a pacemaker at age seventy-nine. She was so weak she couldn't stand. Now she's up and active and has brought her fifty-four-year-old daughter to join in. "I want her to see how important it is to take care of herself," Thorne-Gifford says.
After just three days, I've noticed some positive changes. A nagging ache in my hands has disappeared. My pants are loose. When I get home, I head straight for my bathroom scale: I checked in weighing 187.7 pounds; I checked out weighing 183.1.
Now if I can just have some salt.
Pritikin Longevity Center, 888-254-1462