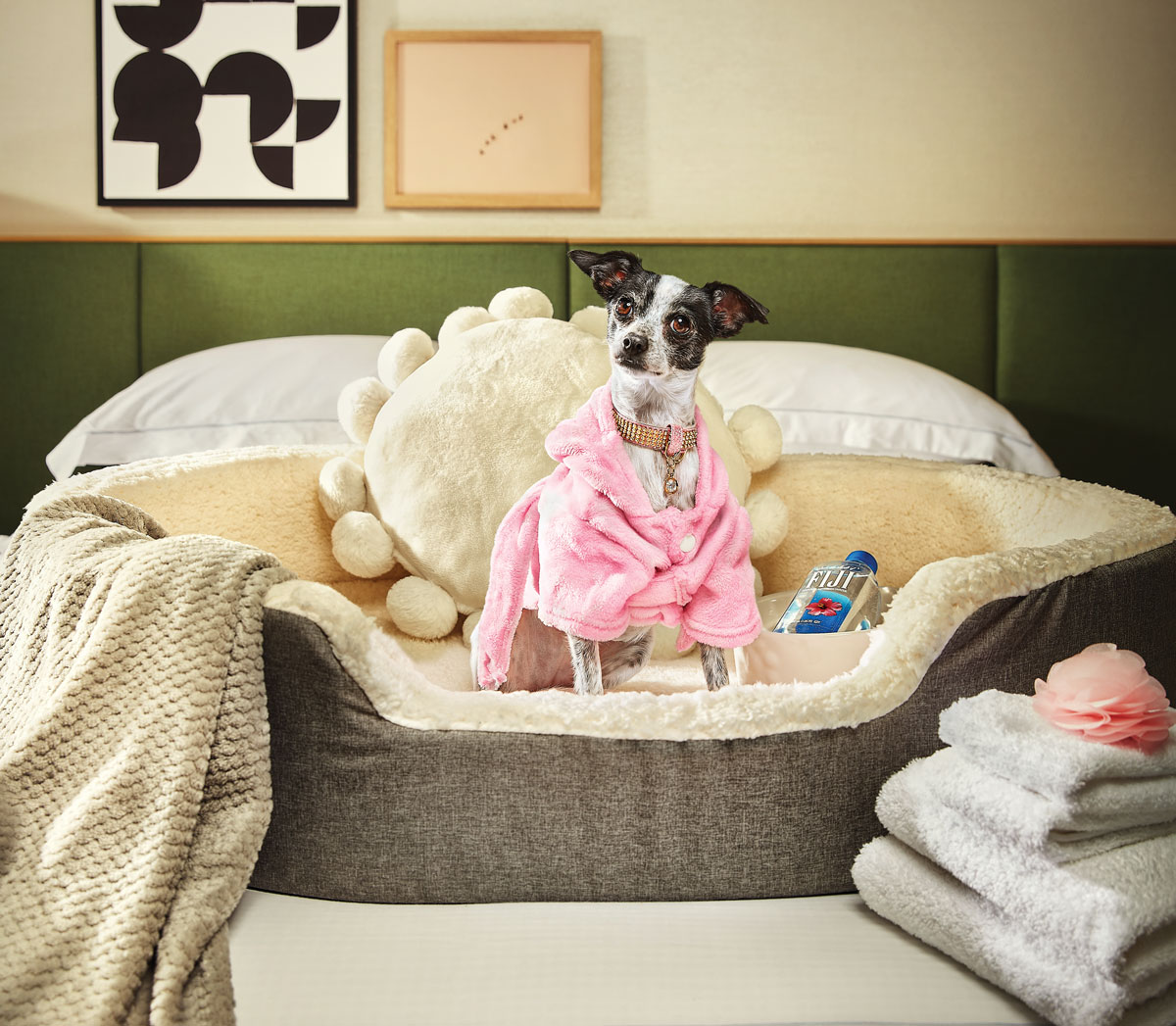 Hotels
Four Seasons
For a $100 cleaning fee, dogs 35 pounds and under and cats are welcome at this luxurious Midtown property. Canine guests enjoy a complimentary biscuit upon check-in, baked by the hotel's culinary team, as well as in-room food and water bowls. Walk to a nearby pet-friendly patio at Cypress Street Pint & Plate, Joy Cafe, Park Tavern, or Publico.
Hotel Clermont
Located in a renovated 1920s building above Atlanta's iconic strip club, this playful retro hotel welcomes all dogs, with a two-pet limit and a $50 per pet fee. The Ponce de Leon Avenue location is close to Freedom Park, the Eastside BeltLine, Historic Fourth Ward Park, and dog-friendly dining spots like the Local and El Ponce.
The Kimpton Sylvan
Like all Kimpton properties, the Sylvan—an adaptive reuse of a 1950s-era building in the heart of Buckhead—welcomes dogs, cats, turtles, ferrets, and other animal companions to its 217 guest rooms, with no added fees. Pets enjoy plush beds that are washed between guests, along with food and water bowls and snacks. Grab drinks or dinner with your pup on the patios of the hotel's midcentury-inspired supper club, the Betty, or the garden-themed Willow Bar.
Restaurants
Hampton + Hudson
In addition to an expansive pet-friendly patio with water dishes and treats for pups, this Inman Quarter restaurant hosts occasional Sunday "Doggie Mingles." From 3 to 5 p.m., pet owners can socialize over a round of beers and bar snacks. Try the $9 signature "Puppy Love Cocktail," whose ingredients change but impact remains the same: A portion of proceeds benefits local animal charities such as Doggies on the Catwalk, Paws Atlanta, and Angels Among Us Pet Rescue.
Joy Cafe
Animal-loving executive chef and co-owner Joy Beber creates hearty fare for humans and dogs alike at her casual Southern spot just two blocks from Piedmont Park. Humans can dine on classics like fried chicken and shrimp and grits while dogs feast on burgers, grilled chicken breast, peanut-butter biscuits, and Beber's "Pupsicles," made with frozen chicken broth and free of garlic, onions, and other dog allergens. Water bowls are also available for dogs on the restaurant's 1,800-square-foot patio.
Ladybird Grove & Mess Hall
Adjacent to the Eastside BeltLine Trail, the restaurant's 4,000-square-foot outdoor space is the perfect playground for humans and dogs alike. Clusters of beach chairs and park benches shaded by large yellow umbrellas are a good place to gather or cool off after strolling the BeltLine. Water bowls are available for the pups.
Lucky's Burger and Brew
Named for owners Ernie and Diane Geyer's beloved golden retriever, Lucky, this restaurant welcomes pets to the outdoor spaces of its locations in Brookhaven and Roswell. Lucky's offers a variety of burgers inspired by dog breeds, including the Bluetick Hound: your choice of beef, turkey, chicken, or black beans topped with blue cheese and applewood-smoked bacon. Dogs enjoy water dishes and lots of affection from the pet-loving staff.
Noni's
Come for the giant bowls of pasta, plates of garlic fries, sandwiches (tip: get the muffaletta), and other Italian comfort food and stay for the chill vibe at the dog-friendly outdoor courtyard. With a large fountain, ample shade from strategically placed greenery, and fencing to buffer the space from outdoor noise and traffic, it's a welcome oasis from the chaos that is Edgewood Avenue.
Publico Atlanta
Settle into this sprawling grassy patio in Midtown, which serves up Latin-inspired small plates for two-legged visitors and sweet and savory treats for four-legged ones. Options on the VIP ("Very Important Puppy") menu include a peanut butter–bacon biscuit with blueberry yogurt frosting and a seafood casserole with tilapia, sweet potato, red pepper, and bok choy. With 100 percent of proceeds benefiting the Atlanta Humane Society, why not pick up a few quart-sized meals for the road?
Coffee Shops
Gilly Brew Bar
Part cafe, part bar, part community hub, this Stone Mountain shop serves a range of cold brews, pour-overs, and lattes as well as creative housemade elixirs like the bold and bright Tea Tonic, made with lavender/black tea, bitters, tonic, simple syrup, and grapefruit peel. The back patio of the two-story historic building is pet friendly and less than a mile from local parks and walking trails.
ParkGrounds
Access to a fenced-in dog park is included with any purchase from this Reynoldstown coffee shop, which offers coffee, tea, seasonal boozy slushies, and other cocktails plus all-day sandwiches and breakfast favorites like burritos, bowls, bagels, and hashes. The mulch-covered park is outfitted with umbrellas and water bowls to keep everyone cool.
Perk-N-Pooch
Part dog-grooming spot, part cafe, Perk is a fun place to clean up your pup or indulge in a cold snack after a hike at the nearby Cochran Shoals Trail or Morgan Falls Overlook Park. Appointments are required for both DIY scrubs ($20) and professional services such as express washes, "Fluff-N-Buff" (bath with brushing), and nail trims. The beverage menu includes coffees, teas, craft sodas, milkshakes, smoothies, and "pupcups"—icy treats made especially for dogs.
Rev Coffee
Fuel up for a walk on the nearby Silver Comet Trail at Smyrna's garage-turned-cafe. Grab an iced coffee or tea and a breakfast burrito, muffin, or croissant inside, then find a seat on the patio, which has large umbrellas to shield you and your pup from the heat.
Bars & breweries
Brick Store Pub
Brick Store recently upgraded its outdoor spaces, with pet-friendly seating available both in front of the pub and in a courtyard beer garden outfitted with a bar, topiaries, umbrellas, and ample seating, plus water bowls and free treats for pups. No seating? No problem. Grab a beer or cocktail to go and wander with it (and your dog) around scenic Decatur Square.
Eventide Brewing
While dogs are always welcomed with water bowls and treats on this spacious Grant Park patio, customers who bring their pups to the Doggone Good Happy Hour—held from 4 to 6 p.m. Wednesday through Friday—can enjoy $4 pints of brews like the citrusy "The A" IPA. Snack on pretzels, popcorn, push-pops, and King of Pops treats, available for both humans and pups. The brewery also sells $15 branded dog collars.
Fire Maker Brewing Company
Dogs are welcome at this latest addition to the Westside brewery scene. Try the Chattahoch-Tea, a double dry-hopped lactose IPA, or the Bad Beaches Only, a sessionable summertime lager, while your pup hits the water bowls. Your pet can rep the brewery with a Fire Maker dog bandana.
Dog Parks and Trails
Fetch Park
Old Fourth Ward's off-leash dog park provides mud-free turf for pups to roam, plus shaded seating, free wifi, large-screen televisions, and an Airstream bar serving up coffee, cocktails, and other drinks. The daily drop-in rate is $10 per dog with monthly memberships and unlimited visits starting at $30. Outposts in Alpharetta, Buckhead, and Underwood Hills are set to open later this year.
Morningside Nature Preserve
This 33-acre greenspace tucked off Lenox Road is a hidden gem. The wooded preserve features two miles of walking paths, with trailheads at Wellbourne Road and the Georgia Power Substation on Lenox Road connected by a suspension bridge over South Fork Peachtree Creek. Dubbed the "dog beach" by locals, its shallow, sandy waters are ideal for dogs to wade or swim in on the hottest summer days.
Piedmont Park
At the city's largest greenspace, dogs can run freely only at its three-acre off-leash park, with separate enclosures for small (less than 30 pounds) and large pups. Come early to avoid crowds.
Shopping Districts
Halcyon
Head to this outdoor shopping center in Forsyth for "Yappy Hour," held from 4 to 6 p.m. on Tuesdays from March to October. Mix and mingle with other pet owners on the Village Green, where pups will receive free treats and swag. Looking for your forever friend? The community hosts weekly dog adoptions with Furkids Animal Rescue & Shelters.
The Works
While not allowed inside, there is lots of space for dogs at the 80-acre campus in Underwood Hills. In addition to a large covered patio, there are tables, benches, and seating scattered outside, including a stage for live music.
This article appears in our August 2021 issue.