When tech investor Robert F.  Smith pledged to pay off the student loan debt of Morehouse College's entire 2019 graduating class earlier this summer, he threw a spotlight on the enormity of the student loan debt that many college graduates shoulder. In Georgia alone, at least 1.5 million residents—that's about 14 percent of the state population—carry at least some student debt. Together, they're in hock to higher learning for some $58.7 billion, according to the U.S. Department of Education's Office of Federal Student Aid
We set out to break down what it costs to attend some of Georgia's top schools—and how much of those price tags is paid from the pockets of students. Of course, calculating the true price of college is far more nuanced than just looking at the tuition and fee costs institutions advertise on their websites. To help boil things down, College Factual, an online database that provides context to the numbers on students and graduates' bills, has tabulated an annual net price for thousands of schools, and we've organized the data to help underline the sometimes stark disconnects between the sticker value and the bona fide cost of colleges in Georgia.
In some cases, the annual net price hardly resembles the tuition price the school advertises. At Agnes Scott College, Georgia's foremost women's college, for instance, the cost of tuition and fees for the 2017-2018 academic year was clocked at $39,960. The average annual net price, which factors in fees and expenses and subtracts scholarships and grants, is almost $11,000 cheaper than that—$29,028, to be exact. The disparity there stems in part from the fact that virtually all Agnes Scott freshmen are offered financial aid—predominantly from scholarships and grants—averaging $35,657 per person for freshman year. And with every incoming student receiving financial aid of some sort, it's difficult to think of scholarships and grants as rewards, says College Factual CEO Bill Phelan.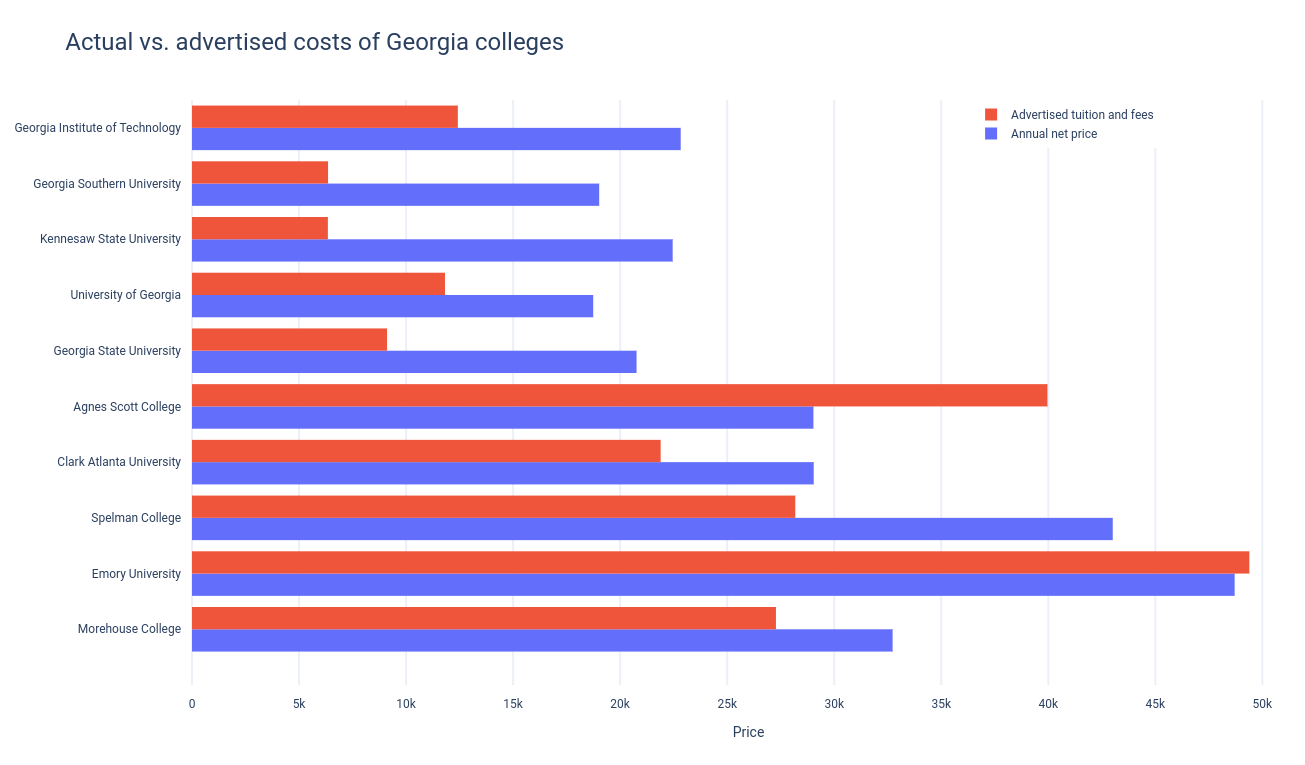 "It's always more flowery to talk about 'scholarships and grants' because that's the nomenclature, but, fundamentally, these are just discounts," Phelan tells Atlanta magazine. "We find a lot of the schools around the country play this game, where they mark up the tuition really high, and when you see that Agnes Scott College, for example, awards each one of its freshmen $24,000 [in scholarships], that means it's discounting [tuition]. It's kind of a marketing gimmick."
On the other hand, Kennesaw State University, which has the cheapest 2017-2018 in-state tuition ($6,347) of any of the 10 schools we studied, actually costs $22,453 annually, according to College Factual's data, which comes from the U.S. Department of Education and private sources. That higher number accounts for student fees, room and board, and all other expenses after financial aid has been subtracted.
But perhaps the most striking data point that emerges when crunching these numbers is the amount of loans students take out to help pay for a four-year education. At the private schools we studied—Morehouse College, Spelman College, Clark Atlanta University, Emory University, and Agnes Scott College—about 21 percent of the tab for four years of schooling is being paid through student loans. For public schools—Georgia State University, the University of Georgia, Kennesaw State University, Georgia Southern University, and the Georgia Institute of Technology—almost 31 percent of an undergraduate degree is paid for with loans.
The average student who earns a degree from one of these 10 schools—public or private—is graduating with more than $27,000 of student loan debt. It's yet unclear how much Robert F. Smith's gift to Morehouse grads will cost the billionaire philanthropist, but some estimates have put the number in the tens of millions—possibly as high as $40 million. And that's for a graduating class with just about 400 students.
"We have no way of knowing who's paying along the way, but we surveyed students at a number of different colleges a few years back and found that virtually nobody's paying their loans along the way," Phelan says. "They think of that as cheap money, and since they don't have interest accruing during this period of time, we couldn't find anyone who's trying to pay it during the school year(s)."
The below charts and blurbs provide further insight to the hefty burden that student loans play in graduates' post-college lives, as well as paint a clear(ish) picture of how much schooling really costs.
When sifting through this data, it's important to note that, contrary to popular belief, student loans are not considered financial aid. "[Student loans] have never been financial aid," Phelan says. "[Calling loans financial aid] is something schools often get away with, but if you were a car dealer selling a car, and you treated a car loan as financial aid, you'd probably go to prison. Or at least the Consumer Financial Protection Bureau would be chasing you."
University System of Georgia schools (in-state prices only)
Georgia State University
2017 undergraduate population (not including Georgia Perimeter College): 25,228
2017-18 tuition and fees: $9,112
Annual net price (including student fees, room and board, and all other expenses minus scholarships and grants): $20,766
Spring 2019 graduates: 2,455 undergrads
Percent of first-year students on financial aid (not student loans): 89
Average student loan debt: $23,380
University of Georgia
Student body: 27,951
2017-18 tuition and fees: $11,818
Annual net price: $18,742
Spring 2019 graduates: 5,697 undergrads
Percent of first-year students on financial aid (not student loans): 90
Average student loan debt: $23,700
Kennesaw State University
2017 undergraduate population: 32,166
2017-18 tuition and fees: $6,347
Annual net price: $22,453
Spring 2019 graduates: 3,400 grads and undergrads
Percent of first-year students on financial aid (including student loans): 83
Average student loan debt: $24,240
Georgia Southern University
2017 undergraduate population: 18,005
2017-18 tuition and fees: $6,356
Annual net price: $19,021
Spring 2019 graduates: 3,200 undergrads
Percent of first-year students on financial aid (not student loans): 80
Average student loan debt: $25,020
Georgia Institute of Technology
2017 undergraduate population: 15,489
2017-18 tuition and fees: $12,418
Annual net price: $22,829
Spring 2019 graduates: 2,230 undergrads
Percent of first-year students on financial aid (not student loans): 65
Average student loan debt: $33,476
Georgia Independent College Association schools
Morehouse College
2017 undergraduate population: 2,108
2017-18 tuition and fees: $27,278
Annual net price: $32,727
Spring 2019 graduates: 396 grads and undergrads
Percent of first-year students on financial aid (not student loans): 86
Average student loan debt: $30,472
Emory University
2017 undergraduate population: 6,861
2017-18 tuition and fees: $49,392
Annual net price: $48,705
Spring 2019 graduates: 2,494 undergrads
Percent of first-year students on financial aid (not student loans): 51
Average student loan debt: $25,752
Spelman College
2017 undergraduate population: 2,215
2017-18 tuition and fees: $28,181
Annual net price: $43,011
2019 graduates: 474 grads and undergrads
Percent of first-year students on financial aid (not student loans): 80
Average student loan debt: $32,216
Clark Atlanta University
2017 undergraduate population: 3,093
2017-18 tuition and fees: $21,892
Annual net price: $29,042
Spring 2019 graduates: 562 undergrads
Percent of first-year students on financial aid (not student loans): 87
Average student loan debt: $29,468
Agnes Scott College
2017 undergraduate population: 927
2017-18 tuition and fees: $39,960
Annual net price: $29,028
Spring 2019 graduates: 217 undergrads
Percent of first-year students on financial aid (not student loans): 100
Average student loan debt: $29,636