Compared to the taco stands and chicken joints of his Texas childhood, Ford Fry's new restaurant, in a former tattoo parlor overlooking the gnarly intersection of Piedmont and Cheshire Bridge roads, is a big-deal production—the Hummer version of a rusty taco truck.
Little Rey is Fry's 16th restaurant in an empire that includes JCT Kitchen, the Optimist, No. 246, St. Cecilia, and King + Duke. Simpler than Superica and the El Felix, his other Tex-Mex blockbusters, this fast-casual spot primarily serves wood-roasted chicken, tacos, and margaritas on tap. Who knew what kind of people would show up in a neighborhood better known for sketchy strip clubs than gastronomy? Apparently Fry did. Ansley and Morningside families came rushing in, followed by a crush of outliers.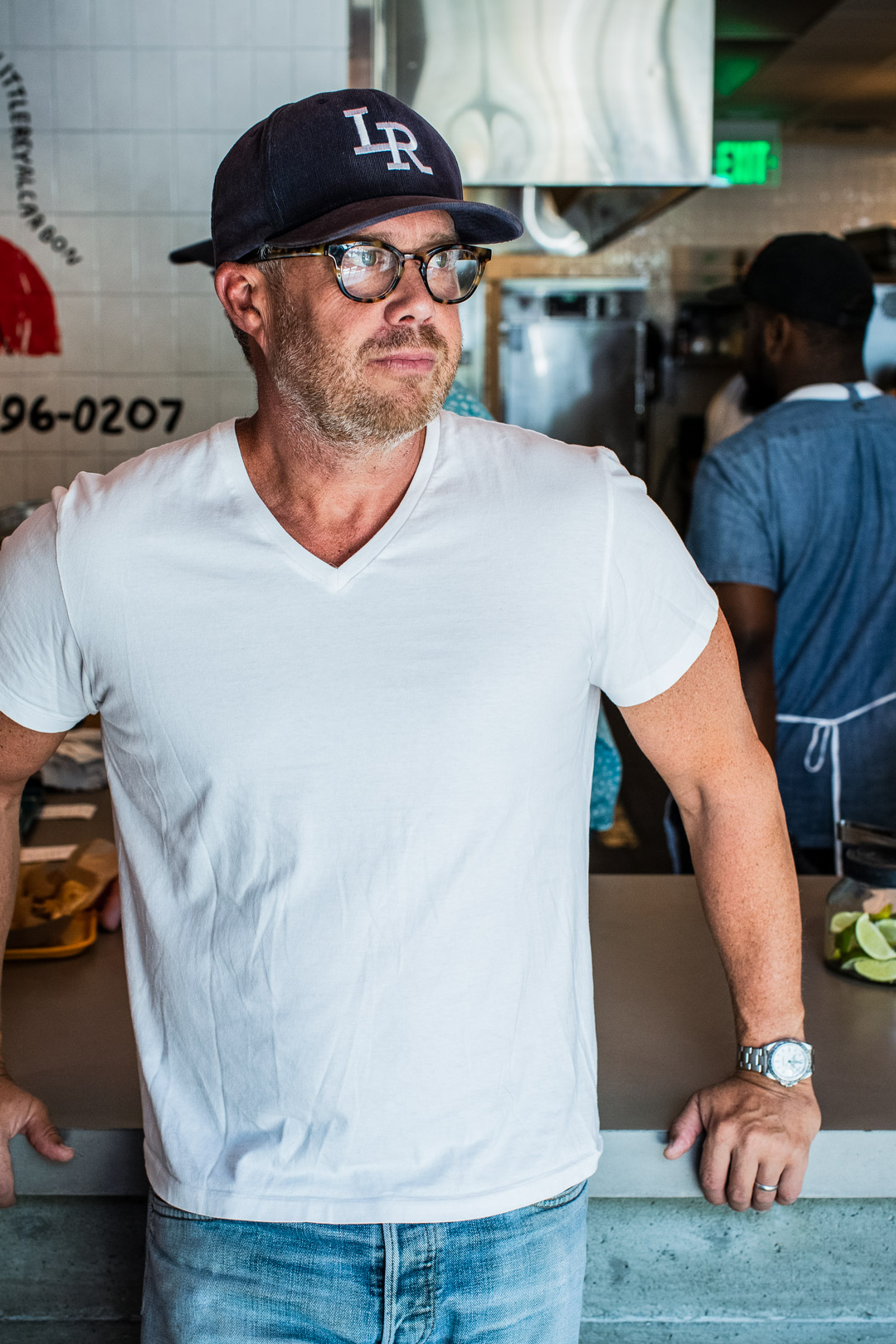 THE TEAM
Fry, a Houston native who grew up as the not–especially academically oriented kid in a family of doctors and businesspeople, first appeared on Atlanta's radar in the late '90s, when he became the corporate chef for Eatzi's Buckhead, the ahead-of-its-time gourmet grocery. With plenty of capital and an uncanny sense of which neighborhoods were ready for conquest, he went on to open one splashy and successful restaurant after another. Why Little Rey? "I wanted to cook over wood, and I thought the neighborhood needed help," he told me, beaming about a $2.5 million investment that is already doing twice as much business as anticipated.
THE FOOD
There are many ways to cook pollo al carbon on both sides of the border. The chicken, typically grilled over charcoal, is wood-roasted at Little Rey, which uses natural birds—spatchcocked, brined aggressively for four hours, then marinated for 24 more with citrus and achiote. They're cooked on racks in a custom-made, fully enclosed wood-burning contraption backed by a formidable exhaust hood. Throughout the day, the chicken, juicy and rosy from the smoke, is served family style, hacked into burnished and fragrant pieces, with tortillas, smoked onions, charred jalapeños, cilantro rice, and rancho beans.
The breakfast tacos, served on supple, homemade flour tortillas, are easily the best in town, filled with sliced skirt steak, potatoes, chorizo, and/or poblano pepper layered over migas (eggs scrambled with crumbled tortilla chips) and twice-fried beans. From huevos rancheros to pancakes with buttermilk syrup, the breakfast menu is deeply comforting.
Starting at 11 a.m., diners can gorge on chicken al carbon, regular lunch tacos (such as ones stuffed with Oaxacan cheese, mushrooms, and poblano peppers, or slow-smoked brisket and tomatillo) served on corn tortillas, or fancier al carbon tacos served on the house flour tortillas and available "rico style," with grilled jalapeños and chili con queso. Among the sides, the creamy esquites-style corn off the cob with mayo and crumbled cotija is a big hit, but others, including the "super greens" with radish, pumpkin seeds, and lime vinaigrette, are merely trendy and ultimately boring. While the various house salsas in squeeze bottles (including a smashing creamy garlic one) are spot on, the weirdly seasoned, pinkish queso is not. And the arroz con pollo is a bland aggregate of chopped chicken and cilantro rice topped with super greens.
THE DRINKS
The chemical-tasting, relatively weak margaritas are served on tap out of plastic cups. There are no options for those who appreciate a fine tequila, and the margarita choices are limited to frozen or on the rocks; big or small; and with grapefruit juice or not. One of the biggest problems with counter service—the fact that nobody wants to stand in line to get a second drink—has been resolved with a separate, dedicated drink counter. The selection of beers, including some on draft, and wines (many canned) is better than decent.
THE VIBE
Loud and fun, the mood is modern-day Texas roadhouse—spectacularly organized to get you in and out with a minimum of fuss. You pour your own water (sparkling or still), grab your own salsa and cutlery, and find your own niche in a large, sun-soaked room that's cheerfully and stylishly adorned with primitive art, Mexican festival masks, and touches of neon. The patio out front, edged with string lights, is perched high enough above the street to be desirable.
THE VERDICT
Don't worry about the lines or the chaotic parking lot: Everything moves quickly in this high-style, fast-casual joint done right. The wood-roasted chicken is king, but the tacos (particularly the breakfast ones and the giant steak al carbon on a superb flour tortilla) also are worth the trip.
Rating
★ ★ ★ ★
(Very Good)
1878 Piedmont Avenue NE, 770-796-0207
littlerey.com
What to order
Pollo al carbon
It's the specialty of the house . . . er, roadhouse.
Soft-serve
The rotating flavors include chocolate, banana, and churros.
Bacon breakfast taco
Yes, you have to drive to the dreaded intersection of Cheshire Bridge and Piedmont for the best breakfast taco in town.
This article appears in our October 2019 issue.