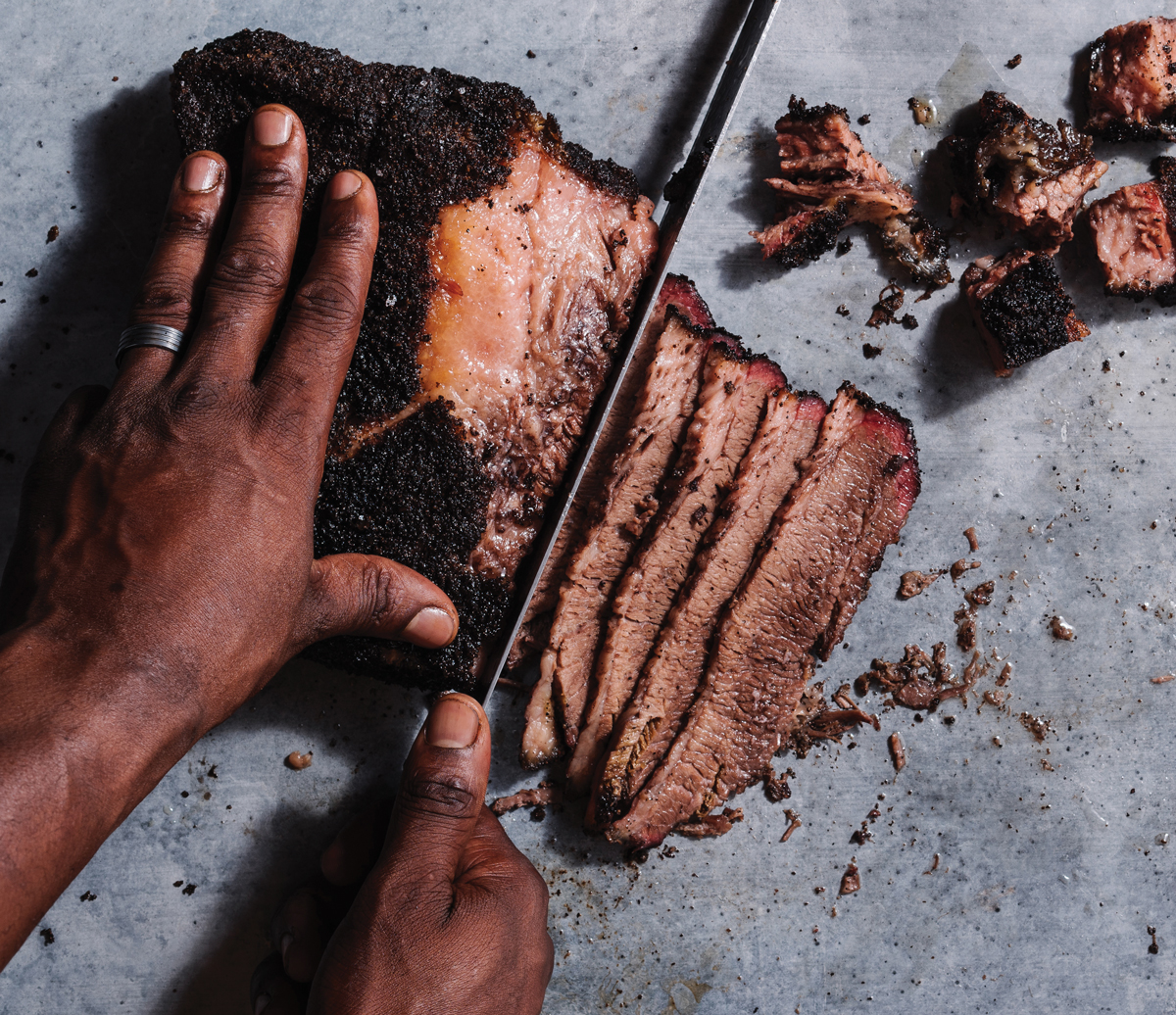 In light of the pandemic, be sure to check a restaurant's Instagram or website for its most up-to-date info on dine-in, patio, takeout, and delivery options.
Anna's BBQ
You can feel the love the moment you step into Anna's BBQ, an old school–style barbecue spot in the middle of fast-gentrifying Kirkwood. The sprawling menu can be overwhelming, but the pulled pork, served as a platter, a sandwich, or in "Anna's Favorite" (a sandwich topped with slaw), is a good start. The pork is juicy and well-seasoned and scattered with a just-right, sweet-and-hot sauce. The collards are appealingly briny, the mac and cheese adequately decadent (if a little salty). Pro tip: The portions of meat served with the lunch meals might feel a little scrawny for more carnivorous diners; spring for the dinner platter. 1976 Hosea L. Williams Drive, Kirkwood, 404-963-6976
B's Cracklin' BBQ
Every cloud has a silver lining, even the cloud of smoke that began billowing from the roof of B's Cracklin' last year, when a fire consumed Atlanta's best barbecue restaurant. For better or worse, smoke and fire are integral to pitmaster/proprietor Bryan Furman's success. In 2015, his first location in Savannah also burned down, and the amount of support he received back then allowed him to reopen in four months. Of course, both smoke and fire are critical to preparing his masterful, pecan wood–smoked ribs (cut from heritage-breed hogs raised in Georgia and South Carolina) and brisket. While Furman and his wife and co-owner, Nikki, still have a new location in the works, they opened a B's Cracklin' outpost in October in the new, BeltLine-adjacent Kroger on Ponce. Now, you can get your B's fix at the same time you try to score toilet paper. 725 Ponce de Leon Avenue, Old Fourth Ward, no phone
Busy Bee Cafe
Atlanta would be a lesser town without Busy Bee, which provided sustenance to Civil Rights leaders, including Martin Luther King Jr. Since 1947, the woman-owned institution has reliably served heaping helpings of soul food: smothered pork chops, oxtails, fried chicken, collards, and cornbread dressing. Old-school politicos and R&B stars alike continue to file into the tight quarters on the outskirts of Atlanta's HBCU complex, seeking lunch or early dinner. You can't find a more delicious serving of history. 810 Martin Luther King Drive, AUC, 404-525-9212
Chicken + Beer
There is no better restaurant co-owned by a rapper and named for a seminal album—especially if, like the intro track from Ludacris's Chicken-n-Beer, you prefer your comfort food "Southern Fried." That the restaurant is located in the airport is just one more reason to show up to Hartsfield-Jackson early. Ludacris and his partner, restaurant group Jackmont Hospitality, don't peddle "airport wings" (the flavorless variety created solely to sustain a captive, security-cleared audience); these whole wings rival those you'll find at any restaurant in Atlanta, the world's wing capital. If or when Luda and company decide to expand the franchise beyond Hartsfield-Jackson, and members of the general public have an easier time getting hold of the short-rib mac and cheese, it will be even clearer that this food holds its own against restaurants far beyond Concourse D. Hartsfield-Jackson International Airport, Concourse D, Gate 5, 404-209-3905
Daddy D'z the BBQ Joynt
Christianah Coker-Jackson bought Daddy D'z in 2018 from the restaurant's founder, Ron Newman. The iconic barbecue spot on fast-gentrifying Memorial Drive received not just a fresh coat of paint but a continued commitment to the neighborhood's longtime residents. "As a business owner, you can see that maybe there's a possibility of increased business with all this development," Coker-Jackson told Atlanta earlier this year. "But as a Black woman, I see gentrification as a way to displace African Americans, because these were our neighborhoods, and we've been pushed out of them." Yes, there are tons of restaurants on Memorial Drive now, where there used to be few. But don't overlook Daddy D'z. The tender, smoked ribs are as perfect as ever. 264 Memorial Drive, Grant Park, 404-222-0206
Desta Ethiopian Kitchen
Desta is one of three Ethiopian restaurants at the corner of Briarcliff and Clairmont roads—including the stylish and formidable newcomer Feedel Bistro. Despite the competition, it's still among the best places in town to scoop up kitfo (raw, minced beef seasoned with chili powder and spiced butter) and miser (red lentils stewed with cayenne, onion, garlic, and ginger) using soft, spongy, fermented injera bread. The menu, which allows you to make decisions based on how daring you are, demystifies Ethiopian cuisine, and the tree that rises up from the middle of the covered patio and through its roof makes you forget you're in the middle of an asphalt sea. A second location recently opened in Emory Point. 3086 Briarcliff Road, North Druid Hills, 404-929-0011, and 1520 Avenue Place, Emory, 404-835-2748
Feedel Bistro
As the newest of three (yes, three) Ethiopian restaurants at the intersection of Briarcliff and Clairmont roads, Feedel Bistro signifies the size and strength of Atlanta's Ethiopian community—but it also faces a challenge. How does it differentiate itself from its next-door neighbor, the no-frills and long-reliable Bahel, and its across-the-street one, the acclaimed Desta? For starters, Feedel Bistro is technically Ethiopian and Eritrean (the cuisines of the bordering countries are similar). A bigger difference is Feedel Bistro's stylish dining room, all decked out with distressed shiplap walls and black rattan pendants. The space is tasteful and curated, and so is the concise menu, which has fewer options than Desta's or Bahel's and is a little easier to navigate. The supremely comforting "mom's special," gomen be'siga, combines cubes of tender lamb and velvety collards in a mildly spiced butter sauce. The kitfo—a beef dish traditionally served raw but also available here lightly sauteed or fully cooked—is evidence of the kitchen's delicate balance with spice (the meat is neither overwhelmed nor underseasoned) and its deft knifework (the raw beef version is perfectly minced). Whatever you do, order the vegetarian sampler platter of spiced red lentils, brown lentils, yellow split peas, collards, cabbage, and house salad. It's one of the best vegan meals around and a worthy addition to the spread, even at a table of carnivores. 3125 Briarcliff Road, North Druid Hills, 404-963-2905
Lake & Oak
Chef Todd Richards, who launched Richards Southern Fried at Krog Street Market and serves as culinary director at Jackmont Hospitality (One Flew South, Chicken + Beer), finally brings his mastery of barbecue to the masses. Lake & Oak, on a quiet East Lake corner formerly inhabited by Greater Good BBQ, arrived without much forewarning—but that didn't stop the crowds from lining up (if only to pick up their takeout orders). Lake & Oak's ribs have just the right amount of smoke and tug, the brisket is downright buttery, but I was no less impressed with the briny collard greens (no sign of mush in these leafy beauties) and the collard fried rice, punched up with slivers of ginger. 2358 Hosea L. Williams Drive, East Lake, 404-205-5913
Merkerson's Fish Market
Few things feel more Southern than a fish fry. You can locate some of the best by following a sign advertising one at a local church—but if that doesn't pan out, you'll find a similarly iconic Atlanta experience at the somewhat decrepit-looking, old-fashioned Merkerson's Fish Market, a longtime fixture on Ralph David Abernathy Boulevard. Merkerson's offers fresh porgys, sheepheads, snappers, mullets, and catfish whole at the counter, which you can cook yourself. Better yet, have them fried on the spot while you sit on one of the benches, waiting for your order to be called. A scant $7 will buy you three pieces of deftly fried flounder, two thin slices of wheat bread, some fries, and a few jalapeño hushpuppies. The hot sauce waits for you at the counter. The whiting fish sandwich, priced as low as $3.49, trumps anything you could ever purchase at a fast-food restaurant. Eat your fish burning-hot at a long folding table overlooking a broken Pac-Man machine or in your car with the windows open. 740 Ralph David Abernathy Boulevard, West End, 404-758-9079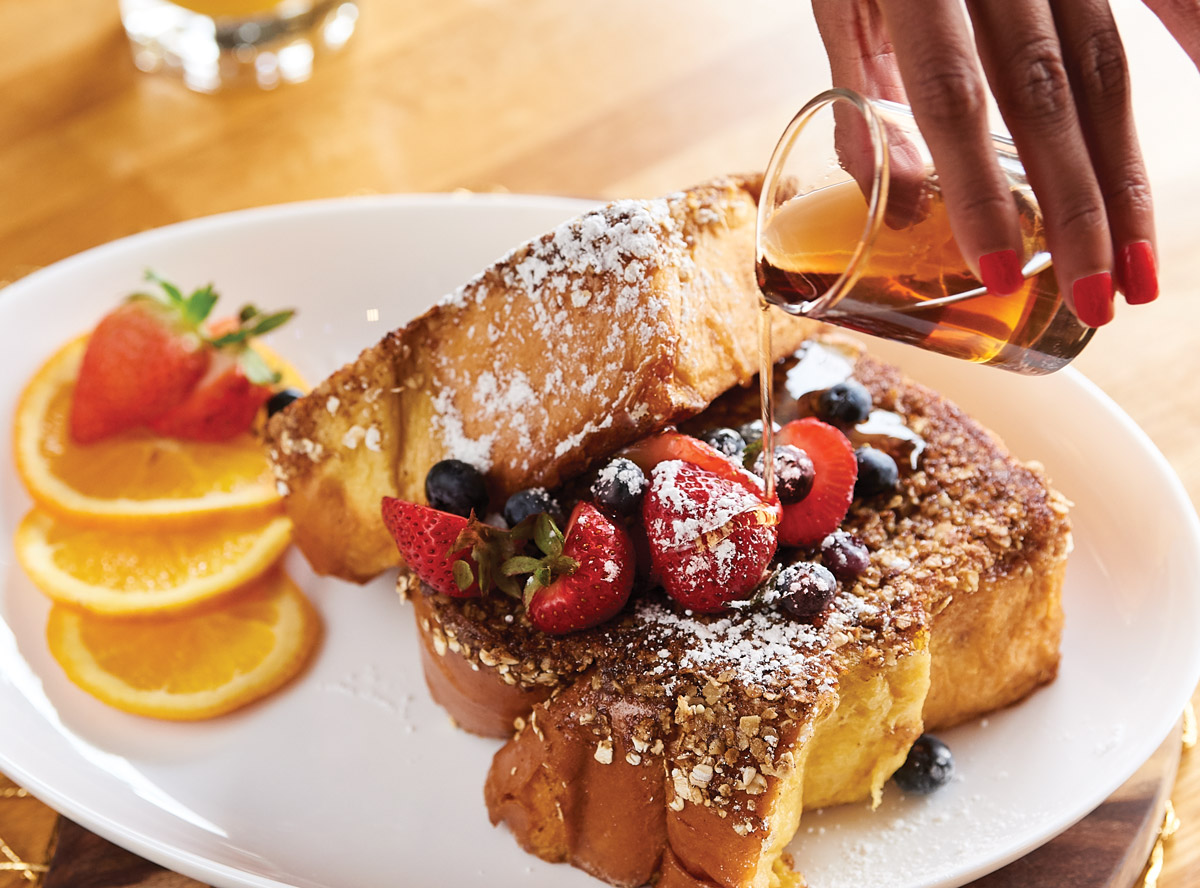 The Real Milk & Honey
At this all-day brunch spot from Chopped: Redemption–winning chef Sammy Davis and Monique Rose, you can chow down on Crown Royal peach cobbler French toast and Southern fried catfish with creamy grits—even for dinner. A valentine to Atlanta's iconic Black music scene, the interior features photos of music-industry icons, gold accents, a bar embedded with vintage vinyl, and a menu that also includes crab hash, Southern fried fish and grits, and lobster, egg, and cheese biscuits. 3719 Main Street, College Park, 404-458-5500

Slim & Husky's
This Westside pizza joint is the first of two Atlanta outposts from the hip-hop–minded Nashville minichain, which gained initial attention by opening in historically Black and underserved North Nashville. Atlanta is a logical next stop (Memphis and Chattanooga are next). But underserved the Westside is not; the chain's mission will resonate more strongly in Adair Park, its second Atlanta location. The pies have cracker-thin crusts and names evoking vintage hip-hop (Rony, Roni, Rone! or Got 5 On It), and they're made in front of you, assembly-line style, before being placed in a conveyor oven. What emerges on the other side is high on stoner-y fun. Go for the Cee No Green, loaded with ground beef, pepperoni, sausage, and two styles of bacon. 1016 Howell Mill Road, Westside, 404-458-3327, and 581 Metropolitan Parkway, Adair Park
Slutty Vegan
Bring a friend. Bring a book. Just be prepared to stand in line. This southwest Atlanta take-out–only burger stand serves plant-based patties to thousands of people every week, all of them willing to wait an hour (or more) for the experience. The Westview brick-and-mortar location of Pinky Cole's viral-sensation food truck serves cheekily named burgers—hello, One Night Stand and Menage a Trois—that have drawn orgasmic reviews from celebrities like Tyler Perry and Snoop Dogg. The 10 burger and sandwich options on the menu come with toppings including vegan bacon, vegan cheese, vegan shrimp, and caramelized onions (the $19 Menage a Trois has all of those atop an Impossible patty; perhaps it should've been called the Menage a Cinq), and all but one of them is doused with Slutty Sauce. Gloriously sloppy and convincingly meaty, these burgers are nearly indistinguishable from the classic ones you'll find at the best walk-up joints. A second location opened in Jonesboro in July. 1542 Ralph David Abernathy Boulevard, Westview, 678-732-3525; 164 North McDonough Street, Jonesboro
Tassili's Raw Reality
There are 40 ounces of kale packed into the Mandingo wrap at Tassili's Raw Reality, which since 2011 has occupied the colorful ground floor of a two-story duplex in West End. (Grab a table on the front porch.) Lest you scoff at its $25 price tag, note that this wrap could easily feed you for three days—and that it's so magical you'll actually want to spend three days eating it. What makes it so good? Superspicy, soy-marinated kale, sweet coconut corn, couscous flecked with raisins and goji berries, and the sticky-crunchy combo of hemp hearts, almonds, and agave. Fewer mouths to feed? Various normal-sized wraps run from $9 to $14. 1059 Ralph D. Abernathy Boulevard, West End, 404-343-6126

Thompson Brothers Barbeque
Though you won't see them all in the flesh, the five Thompson brothers can be found at this modest strip-mall joint just north of SunTrust Park—grinning at you from the large photo over the counter or beaming down from the snapshots lining the wall that collects their various honors (from culinary to military to athletic). Once you bite into a rib, you'll want to grin back. There's just the right amount of tug and chew comparative to soft flesh and fat, all of it bursting with straight-from-the-smoker fragrance. Those ribs might overshadow the chopped pork, but if you're going for a combo platter, that's your next best choice. Skip the underseasoned collards and lackluster mac and cheese for the piping-hot, perfectly tangy Brunswick stew. 2445 Cobb Parkway, Smyrna, 770-818-9098
Trederick's Seafood & Grill
The owners of the Blue Ivory NightClub on the fringe of Castleberry Hill opened the charming Trederick's next door in 2019. Southern-fried seafood is the specialty, and the catfish and whiting fillets in a light coating of cornmeal batter are especially splendid, though you might also be rightfully tempted by baskets of huge, sweet shrimp. In addition to its inexpensive fried offerings, Trederick's offers more decadent options such as crab clusters and lobster tails. Don't forget the crinkly fries, the thick homestyle chips, and the sweet coleslaw. 609 Whitehall Street, Castleberry Hill, 470-343-2175
Twisted Soul Cookhouse & Pours
Chef Deborah VanTrece is quick to share her unfiltered opinion on the state of soul food, Black restaurateurship, and any other social issue you care to discuss. She also artfully builds on culinary traditions of Black Southerners. And after reopening on Juneteenth, her restaurant's patio has become an ideal place to unwind. For brunch, order the "Sweetest Hangover" Chick, a fried chicken Benedict with crunchy Vidalia onion rings, arugula, and peach Hollandaise. 1133 Huff Road, Blandtown, 404-350-5500
Virgil's Gullah Kitchen and Bar
Gee and Juan Smalls, who debuted Virgil's last summer in College Park, are married business partners and first-time restaurant owners; they started out as event producers based in Midtown and rapidly became leaders in the Black LGBTQ community. It was Juan who suggested that Virgil's pay tribute to his late father-in-law, Virgil F. Smalls, and the Gullah-Geechee cuisine Gee grew up with on James Island, just outside Charleston. As chef, Gee looks to the traditional Gullah-Geechee kitchen as inspiration for dishes such as red rice, crab rice, okra soup, and shrimp and crab gravy. 3721 Main St, College Park, 404-228-4897
A version of this article appears in our August 2020 issue.