It's not only a new year, but a whole new decade. What does that mean for Atlanta's thriving culinary scene? New places to eat and drink, for one. Here's what we're most looking forward to this year:
Aftercar
Atlanta BeltLine visionary Ryan Gravel is behind this futuristic restaurant and bar along the Eastside Trail, originally set to open last year. Located in the basement of the Telephone Factory Lofts, Aftercar is designed to inspire ideas and conversation, Gravel says. Not much has been released about the food offerings, but there will be everything from pastries to dinner and late-night eats. 828 Ralph McGill Boulevard Northeast
Ama
Chefs Nhan Le and the late Angus Brown began working on this seafood-driven restaurant at least three years ago. After a December fire at Paris on Ponce, where Ama will reside, the restaurant was delayed yet again, but Le says he's still working on a way to satisfy the neighborhood's wood-fired oyster and pizza cravings soon. 716 Ponce de Leon Place
B's Cracklin BBQ
In early 2019, a fire closed owner and pitmaster Bryan Furman's award-winning Riverside restaurant. In October, Furman surprised and delighted Atlantans by opening an offshoot at the new BeltLine Kroger on Ponce de Leon Avenue. B's promises to rise again in standalone form, hopefully sometime in 2020.
Bellsmouth Cafe
From the team behind 8Arm comes Bellsmouth, an all-day cafe in the historic Pratt Pullman District, coming in late 2020. Located on the former railyard site, Bellsmouth will serve soups and sandwiches, as well as breakfast items. 3 Heart Coffee, which is also owned by Nhan Le and Skip Englebrecht, will relocate from Paris on Ponce to a new space near Bellsmouth. Rogers Street Northeast
Chattahoochee Food Works
Travel Channel host and chef Andrew Zimmern is curating this 16,000-square-foot market an 30-vendor food hall on the Westside. Participating restaurants have not been named, but Zimmern has promised international fare, a test kitchen, chef events, and more. Look for it in the first half of the year. 1295 Chattahoochee Avenue Northwest
D Boca N Boca
Summerhill's restaurant scene keeps growing, and D Boca N Boca's Helio Bernal is among the latest of the independent restaurateurs to sign on. The Mexican gastropub will be the permanent location of food truck the Real Mexican Vittles, which started making the rounds at festivals in 2017. Get ready for tamales, tacos, and seafood inspired by Bernal's Mexican Gulf Coast heritage, beginning in March or April. 39 Georgia Avenue
Eugene and Elizabeth's
After 15 years in Buckhead, Linton Hopkins's fine dining establishment Restaurant Eugene closed its door in August 2019 and will be replaced with a more casual, a la carte restaurant called Eugene and Elizabeth's. The interior will be renovated to convey a "lighter" feel, Hopkins says. 2277 Peachtree Road Northeast
Girl Diver
Char Korean Bar & Grill owner Richard Tang says his next restaurant will focus on "New Orleans-style seafood with Southeastern Asian spices." Located in the Madison Yards development in Reynoldstown, Girl Diver will serve crab legs, crawfish, and shrimp by the pound, starting in February. Damian Clark, of Establishment, will run the bar program. Tang is also working on an arcade, bar, and restaurant called Press Start in Summerhill, set to open in 2020. 905 Memorial Drive
Grana
The White Bull owner/chef Pat Pascarella is bringing southern Italian fare to Piedmont Heights. There will be pasta, pizza, even flights of meatballs. Still dreaming about the White Bull's polenta parties? Grana will offer a similar specialty, made with semolina instead of corn. Slated to open in January, Grana will have an Italian beverage program with aperol spritzes and negronis served on the rooftop patio. 1835 Piedmont Avenue Northeast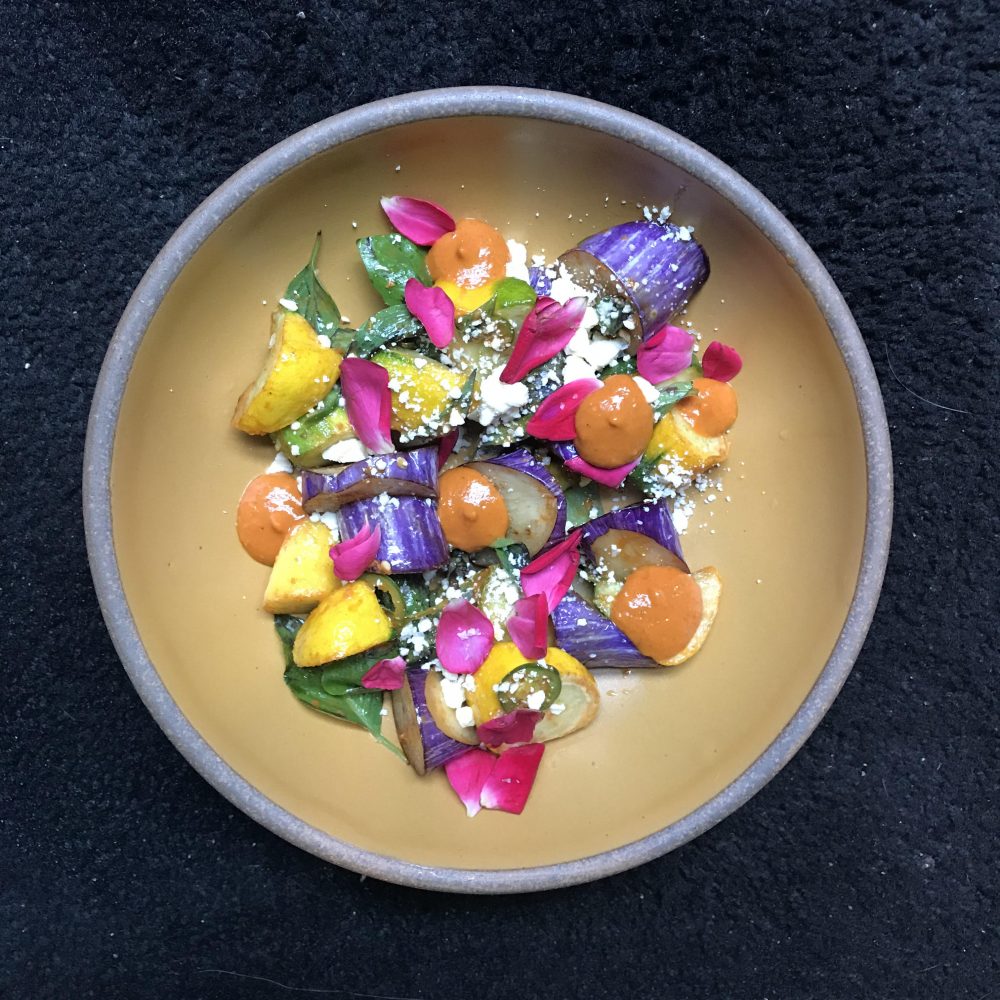 Little Bear
Chef Jarrett Stieber, of the long-running Eat Me Speak Me pop-up, is finally opening his own brick-and-mortar. Located in Summerhill, Little Bear promises more of the inventive small plates Stieber is known for, with inspiration from Asia, South America, and the Mediterranean. The intimate, 30-seat restaurant will offer two styles of tasting menus, in addition to a la carte options. Stieber says he's hoping Little Bear will be open by the end of February. 71-A Georgia Avenue Southeast
Nagomiya
A Japanese restaurant designed to evoke tranquility, Nagomiya will serve sushi, ramen, and rice bowls. Owned by Takashi Otsuka, of Chirori robatayaki and Wayaya ramen in Home Park, Nagomiya will feature a small interior garden with ginko trees. It's currently slated for a Spring opening. 1010 West Peachtree Street
Ph'east
Coming to the Battery Atlanta at SunTrust Park, Ph'east is a 5,000-square-foot Asian food hall featuring vendors like Snackboxe Bistro, Lifting Noodles Ramen, Fan T'Asia, and Poke Burri. There will be plenty of bubble tea and beer, too. Look for it to open in January. 925 Battery Avenue
Pizza By the Slice
Nina & Rafi pizzaiolo Anthony Spina is bringing Sicilian square slices to Virginia-Highland. Famous for his O4W Pizza Grandma Pie, Spina is taking over the part of the space formerly home to Goin' Coastal. His menu is still in the works. 1023 Virginia Avenue Northeast
Rina
Aziza and Bellina Alimentari owner Tal Baum's third restaurant is set to open on January 13. Located in the Ford Factory Lofts along the BeltLine's Eastside Trail, Rina will be more casual than her Israeli eatery Aziza but with a broader menu than her grab-and-go spot Falafel Nation. Expect salads, skewers, sandwiches, and falafel. 699 Ponce de Leon Avenue Northeast
Rodney Scott's Whole Hog BBQ
The James Beard Award-winning Charleston pitmaster is bringing his namesake barbecue to Southwest Atlanta with an eponymous restaurant in the MET development in April. Expect South Carolina-style whole hog barbecue cooked over live wood coals, along with chicken, ribs, and more. 680 Murphy Avenue Southwest
Ruby Chow's
Known for his now-shuttered Edgewood Avenue spot Miso Izakaya—as well as Le Fat and ramen spot Ton Ton—Guy Wong is taking over the former Gekko Sushi space across from Ponce City Market. He's not revealing many details yet, but promises an Asian fusion menu and a patio to dine on. It's slated to open in late January. 620 Glen Iris Drive
Saito
When Saito opens in the historic Department Building in early 2020, it will bring another fine dining option to downtown. Like By George, celebrity chef Hugh Acheson's new restaurant inside the Candler Hotel, Saito draws plenty of attention for its star chef, the renowned sushi master for which the restaurant is named. For his Atlanta restaurant, Saito is teaming up with local restaurateur Stephen de Haan, who is best known for Red Phone Booth and the Andrews Entertainment District. 19 Andrew International Boulevard Northeast
Slutty Vegan
Pinky Cole founded her vegan food company as a delivery business in 2018 and rapidly grew it to a viral sensation using social media, opening a flagship brick-and-mortar in Southwest Atlanta and an upcoming second location in Jonesboro. On April 1, she'll open her third brick-and-mortar location on Edgewood Avenue. Expect long lines, meatless burgers, and a lot of "slutty sauce." 482 Edgewood Avenue Southeast

Talat Market
Yet another addition to Summerhill, Talat Market will be the permanent home of chef Parnass Savang's beloved Thai pop-up that ran for two years and made Savang a James Beard semifinalist. It also earned Talat a spot on Bon Appétit's list of the country's 50 best new restaurants in 2018. The seasonally changing menu of 12-15 dishes will incorporate local ingredients whenever possible. Look for it to open in March. 112 Ormond Street Southeast
Woodward & Park
Robert Phalen's Larkin on Memorial restaurant was initially slated to open in 2018. After a number of permitting delays, the One Eared Stag chef plans to open his European-inspired bistro early this year. (He's hopeful for January.) 519 Memorial Drive