With most restaurant dining rooms still shuttered due to the pandemic, we've compiled a list below of all the restaurants from last year's 75 Best Restaurants issue that are offering takeout, curbside, or delivery. Be sure to check a restaurant's Instagram or website for its most up-to-date info. While none of these 50 restaurants are prepared to reopen their dining rooms at the current time, the more you're able to bring their food home now, the more likely they'll be around to serve you in those dining rooms later.
Miller Union
The restaurant that topped our list of 75 Best Restaurants had closed its doors to the public for several weeks, focusing on preparing meals for frontline medical workers. In the past few days, though, Miller Union has started to offer a limited number of prix-fixe takeout meals. A recent one included ‪field pea hummus with roasted peppers, crudites and lavash‬, a salad of spring vegetables‬, and marinated and grilled boneless chicken with new potatoes, spring peas, asparagus, herbs, and parm‬. Spring is perhaps our favorite time to experience chef Steven Satterfield's honest explorations of the modern South, and in this strangest of springs we're extra grateful to be able to find comfort in his food. 999 Brady Avenue, Westside, 678-733-8550
Masterpiece
The average human tongue has 10,000 tastebuds, and we have discovered a way to stimulate every one of them with just two bites of food. The first bite: Masterpiece's dry-fried eggplant (Eggplant with Chilli Powder and Pepper Ash Powder), which sits at the pinnacle of every iteration we've encountered of the beloved Sichuan dish. The exterior is crackly-crisp and salty, the interior creamy and sweet, the level of ma la (numbing spice) precisely calibrated with a liberal but not obnoxious dose of fragrant, crunchy Sichuan peppercorns. The second bite: Masterpiece's Dong Po Pork, a braised brick of pork belly lacquered in a mahogany-hued glaze that tastes as if it were a syrup extracted from a mythical tree. The first bite will blow your mind with its electric intensity. The second will transport you to another dimension of taste by simultaneously mellowing and somehow extending the pleasure of the first. Both dishes—along with the other 125 dishes on chef Rui Liu's extraordinary menu—are available for curbside pickup. 3940 Buford Highway, Duluth, 770-622-1191

Sushi Hayakawa
Atsushi "Art" Hayakawa is the most delightful character in Atlanta's food scene and a master of his craft. Though you currently can't enjoy his banter while perched at his sushi counter, splurging on his $185, 14-course, two-and-a-half-hour honkaku (authentic) omakase, you can order $39 bento boxes, $48 sake hotate ikura donburi (salmon, scallop, and seasoned salmon caviar over sushi rice), and private-cellar sake sets—all for curbside pickup. 5979 Buford Highway, Doraville, 770-986-0010

Bacchanalia
Like Miller Union, Bacchanalia was not cooking for the public for weeks following the COVID-19 outbreak—but in recent days started offering the type of takeout food that is quite capable of lifting you out of the deepest, most isolating funk. For $100, choose your four courses, ranging from Maine lobster with English pea and blood orange ponzu to Rohan duck with baby bok choy, hedgehog mushrooms and apricot. Don't despair: Though you can't select from the cheese cart, there's still a cheese course. In its 27 years of trailblazing fine-dining, Bacchanalia has repeatedly proven itself to be one of our most adaptable restaurants. Now is no different. 1460 Ellsworth Industrial Boulevard, Westside, 404-365-0410
BoccaLupo
Chef Bruce Logue is a new breed of pasta royalty. Instead of confining himself to narrow traditions, he creates cult favorites: black spaghetti with red shrimp, hot Calabrian sausage, and scallions; extruded fettuccine with wild mushrooms and kale kimchi; and Carolina gold risotto with lobster, white shrimp, and bronze fennel—all of which were on offer on a recent takeout menu. 753 Edgewood Avenue, Inman Park, 404-577-2332

B's Cracklin' BBQ
Every cloud has a silver lining, even the cloud of smoke that began billowing from the roof of B's Cracklin' last year, when a fire consumed Atlanta's best barbecue restaurant. For better or worse, smoke and fire are integral to pitmaster/proprietor Bryan Furman's success. In 2015, his first location in Savannah also burned down, and the amount of support he received back then allowed him to reopen in four months. Of course, both smoke and fire are critical to preparing his masterful, pecan wood–smoked ribs (cut from heritage-breed hogs raised in Georgia and South Carolina) and brisket. While Furman and his wife and co-owner, Nikki, still have a new location in the works, they opened a B's Cracklin' outpost in October in the new, BeltLine-adjacent Kroger on Ponce. Now, you can get your B's fix at the same time you try to score toilet paper. 725 Ponce de Leon Avenue, Old Fourth Ward, no phone

Kimball House
Yes, the oyster program is the best around—and though you can't order a dozen on the half shell, you can take a dozen home to shuck yourself. And, depending on the night, you can go all out with private-label caviar service and a 30-ounce ribeye (serves three) or go for the more modest (but just as delicious) eight-piece fried chicken dinner with biscuits and sides such as heirloom peas and braised greens. There will be a line, but it will be properly distanced, with highly sanitized pickup and payment conducted through a window of the historic depot. 303 East Howard Avenue, Decatur, 404-378-3502

Tiny Lou's
After putting its takeout program on a hiatus of several weeks, Tiny Lou's is resurrecting its to-go menu on May 14. If you didn't have takeout plans for Thursday, now you do. Chef Jeb Aldrich's classically French food possesses far more restraint than that style suggests, which is why Tiny Lou's quickly established itself as one of our very best new restaurants. Whatever you order, don't skip dessert. Claudia Martinez is the rare pastry chef who can fashion a brown-butter blondie that pays proper homage to Blondie herself, the downstairs lounge's most endearing star. (We miss her, and the Clermont Lounge, as much as we miss the restaurants on this list.) 789 Ponce de Leon Avenue, Poncey-Highland, 470-485-0085
Pizza Jeans (at Root Baking Co.)
As with its sister operation, Root Baking Co., Pizza Jeans does just a few things (three pizzas, a salad, a sandwich, breadsticks, a couple of sweets)—and does them exceedingly well. Formerly a Friday night pop-up that Root held in its second-floor Ponce City Market space, Pizza Jeans was about to permanently take over more of the space (with Root retaining a counter for selling its glorious breads, sandwiches, and salads) when COVID-19 hit. Made with Root's naturally leavened dough, Pizza Jeans' lightly charred, generously sized pies are some of the best in town. Order on Zifty for delivery or online for curbside pick-up (be sure to enter the Ponce City Market lot on North Avenue and park in front of Mountain High Outfitters; an employee will bring your order to your car). Bonus: You can order a loaf of Root's sourdough, too. 675 Ponce de Leon Avenue, Old Fourth Ward, 470-639-8046

Lazy Betty
Chef Ron Hsu is a man of juxtapositions. He's a Le Bernardin alum who came of age in his immigrant parents' straightforward Chinese restaurants. And though in 2019 he opened the most ambitious restaurant Atlanta has seen in several years, that doesn't mean his rarefied food is short on fun. The takeout operation he runs with chef de cuisine Aaron Phillips is a different beast than Lazy Betty's $125-and-up tasting menus, one that better suits the necessity to eat at home. It's also more accessibly priced and is generously portioned—think $48 for a two-person meal composed of bacon-crusted pork loin, apple-mushroom dressing, braised collards, roasted Yukon golds, and Madeira pork jus. The equally delightful vegetarian option costs $10 less (also for two) and recently featured roasted cauliflower with gremolata, spiced lentils, and charred broccoli. 1530 DeKalb Avenue, Candler Park, 404-975-3692

El Tesoro
This oasis in a dusty gravel lot across from a members-only biker bar and behind Rudy's Auto & Collision serves some of Atlanta's finest tacos, burritos, and tamales—and it now serves them curbside, where you can pick up your preorder or place your order and wait. "El Tesoro" means "the treasure," and the restaurant's owners have found one in Cristina Lugo Soto, a home cook who hails from the Mexican coastal state of Guerrero and runs the kitchen with her daughter, Mayra. Soto offers three tamale flavors—pork with green salsa, chicken with chipotle salsa, and rajas with mushroom and squash—and if there's a more craveable masa in existence, we've yet to find it. The tacos come as tacos are supposed to, with supremely flavorful meat that requires no embellishment aside from microdiced onion, a light shower of chopped cilantro, and a squeeze of lime. Make sure you ask for the three housemade salsas with your order. 1374 Arkwright Place, Edgewood, 470-440-5502

Taquería La Oaxaqueña
You can fight us, but you won't change our minds: Taquería La Oaxaqueña is the best Mexican restaurant in the metro area. Oaxaca is considered one of the culinary capitals of Mexico, and the Oaxacan specialty that eaters have raved about for years at this Jonesboro gem is the tlayuda: a large, grilled tortilla covered pizzalike with refritos, string cheese, avocado, lettuce, and your choice of meat (pork sluiced in chili is tops). You'll also discover some of the finest tacos in town here; handmade corn tortillas are folded around delicacies such as stewed beef cheeks, tripe, and pork al pastor. Chicken tamales, flavored either with mole or salsa verde, have a surprisingly delicate texture. Huaraches, the sandal-shaped boats of masa dough, are loaded with rich meat. Take all of it home, and eat the leftovers for days. 605 Mount Zion Road, Jonesboro, 770-960-3010

D92 Korean BBQ
Though it's not currently offering its namesake dish, this intown sister joint to Duluth's beloved 9292 is offering curbside pickup of kimchi stew, four different bento boxes, and full-blown dinners that serve two, three, or four people and include bulgogi, marinated pork neck, japchae, soy-glazed peanuts, kimchi, pickled radish wrap, and steamed rice. 225 East Trinity Place, Decatur, 404-514-6759

9292 Korean Barbecue
No, you can't take 9292's exemplary Korean barbecue experience home. But, even if you're not getting your meat charred tableside, the takeout menu is still a good time. The flagship of a growing mini-empire, including the almost-as-good D92 in Decatur, offers the same to-go menu as its intown counterpart. Soon enough, you'll be able to resume the joy of watching the servers navigate the labyrinth of semiprivate dining cubicles and arrive at just the right moment to flip whatever cut of meat is sizzling on your mini charcoal grill. 3360 Satellite Boulevard, Duluth, 770-680-2951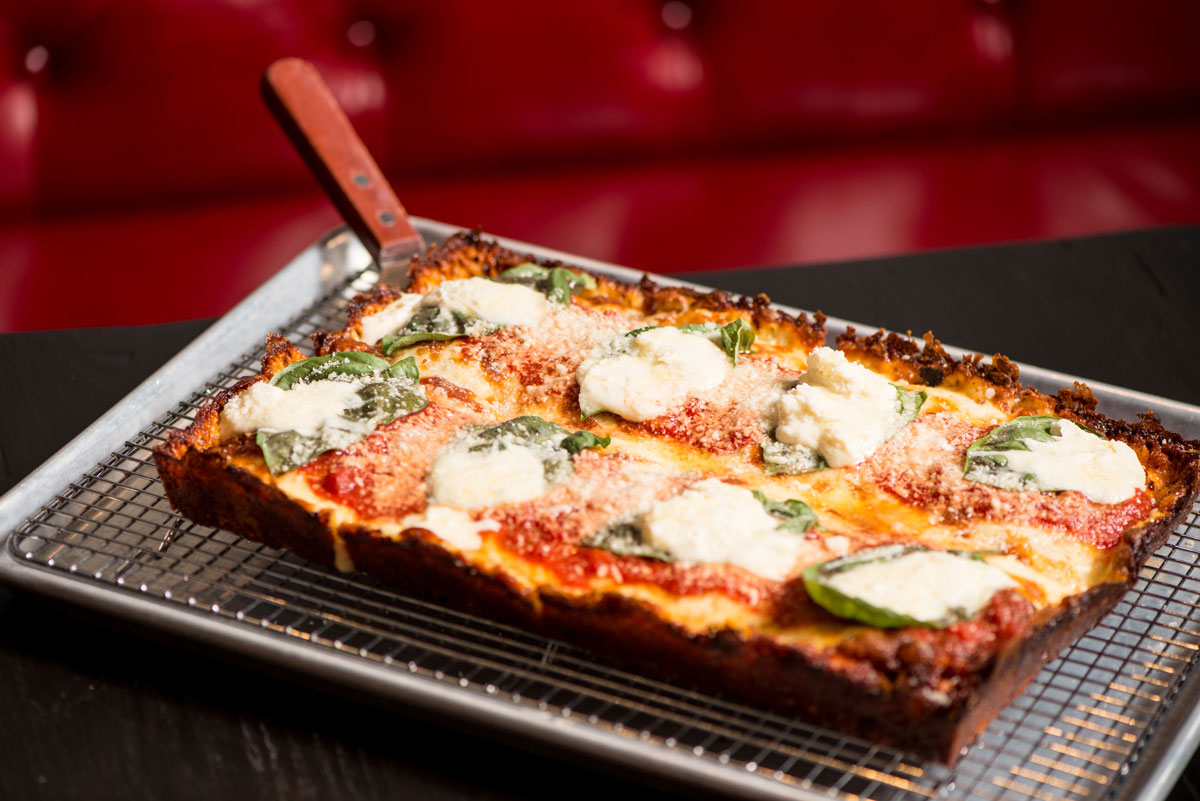 Nina & Rafi
In 2015, Atlantans fell hard for New Jersey native Anthony Spina's O4W Pizza—and his square, pan-cooked grandma pie in particular. When O4W moved to Duluth a year later, intowners went into mourning. Now, just steps away from the shuttered location, Spina has returned with Nina & Rafi, but grandma has stayed in Duluth. At Nina & Rafi, Spina's Detroit pie (thick and square but light and airy) and his Super Margherita (a classic round) are meant to grab the spotlight. The Detroit pie is actually the one that gives grandma a run for her money: The crust is like a cross between a Sicilian and a cloud, and at its edges, there's a raised lip of absurdly addictive, burnt-to-a-crisp cheese that will haunt you. It travels surprisingly well—though you'll probably eat at least one piece in the car. 661 Auburn Avenue, Old Fourth Ward, 404-549-8997

La Mixteca Tamale House
This fast-casual, family-run, Oaxacan joint brings serious foodie cred to its far-flung suburban location. Yes, La Mixteca is worth the drive to Suwanee. It specializes in all kinds of tamales (perfected by the owner's mother), some sweet and others filled with various meats and moles, as well as beautifully deconstructed tamale bowls. Note that the restaurant currently accepts preorders only, by 7 p.m. the day before pickup; send your order to the numbers below and pay via Cash App ($lamixtecatamalehouse) or over the phone. 1185 Old Peachtree Road, Suwanee, 678-253-4862 (text orders) 678-878-3483 (WhatsApp orders)

Canoe
If you haven't been to the 24-year-old riverfront restaurant in a while, you won't have forgotten the view of the Chattahoochee (a view that, unfortunately, is unavailable at the moment). But you might not recall how equally ravishing the food is. The special dinners on offer each night start at $40 for two ($75 for four) for such meals as a Classic Fish Fry of flounder, Georgia shrimp, calamari, and crab cakes, served with loaded tater tots, coleslaw, English pea and corn succotash, and chocolate mousse. You can even order a bottle of the suggested wine paring (all bottles are half price!), as well as a handful of a la carte apps, entrees, desserts, kid's meals—even a bagel and smoked salmon spread for the following morning. 4199 Paces Ferry Road, Vinings, 770-432-2663

Sotto Sotto
Riccardo Ullio's Inman Park stalwart turned 20 last fall, and there's a reason why Sotto Sotto reached that rare milestone: It's our most consistent and satisfying Italian spot. Classic pasta options—such as tortelli di Michelangelo Buonarroti, a 16th century recipe of veal, chicken, and pork ravioli in a butter-sage sauce—are the kind of thing you want to eat forever. And we still haven't found a risotto that can rival any of Ullio's four typically on offer. You can pick up that tortelli and those risottos, as well as most of the regular menu, in a seamless curbside transaction. This is the carb- and cream-loaded comfort a time like this demands. 313 North Highland Avenue, Inman Park, 404-523-6678

Kyma
The ocean-blue and gleaming-white temple known as Kyma, which means "wave" in Greek, is Buckhead Life Restaurant Group's brightest star. You can make a fabulous to-go feast out of chef Pano Karatassos's nearly two-dozen shareable meze plates—in particular, wood-grilled octopus with olives and capers, white beans stewed with tomatoes, and lamb pie. 3085 Piedmont Road, Buckhead, 404-262-0702

La Grotta Ristorante Italiano
In the basement of an unassuming south Buckhead apartment building sits one of Atlanta's oldest restaurants. La Grotta opened in 1978, and it's a welcome throwback to another time—when white tablecloths still graced tables and truffles were shaved onto your plate tableside. While you must currently forgo that regal service, La Grotta is embracing the times with an expansive curbside menu (order at least a day in advance, if possible) and deeply discounted wine to-go. 2637 Peachtree Road, Buckhead, 404-231-1368

Bon Ton
This relative newcomer to the Ponce corridor feels like it's been part of the street's eccentric culture forever, and that's a high compliment. Co-owner Eric Simpkins, a longtime denizen of Ponce, teamed up with Hieu Pham of Buford Highway's Crawfish Shack and Darren Carr of the former Top Flr to create the perfect concept to fill Top Flr's void. Bon Ton is no doubt as cool as its predecessor, and the Viet-Cajun menu is clever without being too much so: On its takeout and delivery menu, you'll find the Bon Ton Banh Mi (choose fried shrimp, blackened catfish, or cauliflower falafel), boiled and fried seafood platters, gumbo dinner for two, and zero-proof cocktails—to which you're welcome to add booze. 674 Myrtle Street, Midtown, 404-996-6177

Poor Hendrix
Blink and you might miss this small storefront on a mostly residential stretch in East Lake. But stylish, in-the-know neighbors have gravitated to this gem from chef Aaron Russell, whose career includes influential stints at fine-dining bastions Seeger's and Restaurant Eugene (RIP). Russell composes marvelous salads (recently, local lettuces, Manchego, peanuts, and pickled green beans) and elevates desserts (recently, an orange–black pepper cake)—but he isn't above serving wings and fries with ranch, all of which you're likely to find on his ever-changing takeout menu. 2371 Hosea L. Williams Drive, East Lake, 404-549-8756

Twisted Soul Cookhouse & Pours
Everything about Chef Deborah VanTrece, whose personality is the clear inspiration behind her restaurant's name, is original. She's quick to share her unfiltered opinion on the state of soul food, black restaurateurship, and any other social issue you care to discuss (read more on her COVID-19 survival strategy here). She also artfully builds on culinary traditions of black Southerners: Her takeout and delivery menu includes graham cracker–crusted salmon with creamy corn risotto. It's all twisted in the best possible way. 1133 Huff Road, Blandtown, 404-350-5500

Argosy
Argosy is the rare restaurant that does more than it needs to—and does all of it well. The gastropub's pizza might not be the most name-dropped in town, but the wood-fired crust and Spotted Trotter–sourced toppings make it one of Atlanta's best. Order one to-go, or choose from sandwiches, small plates, seasonal salads, snacks, house-made pickles, and a family meal that's 100-percent sourced from Georgia farms; $55 feeds four and includes a four-pack of beers from Argosy's sister brewpub, Sceptre Brewing Arts. There's also a rotating selection of take-home cans and bottles from Argosy's superb beer list. 470 Flat Shoals Avenue, East Atlanta Village, 404-577-0407

Busy Bee Cafe
Atlanta would be a lesser town without Busy Bee, which provided sustenance to Civil Rights leaders, including Martin Luther King Jr. Since 1947, the woman-owned institution has reliably served heaping helpings of soul food: smothered pork chops, oxtails, fried chicken, collards, and cornbread dressing. Currently, you won't see old-school politicos and R&B stars alike crammed into the tight quarters on the outskirts of Atlanta's HBCU complex—but you might see them lined up outside for their takeout orders. 810 Martin Luther King Drive, AUC, 404-525-9212
Tassili's Raw Reality
There are 40 ounces of kale packed into the Mandingo wrap at Tassili's Raw Reality, which has occupied the colorful ground floor of a two-story duplex in West End since 2011. Lest you scoff at its $25 price tag, take note that this wrap could easily feed you for three days—and that it's so magical you'll actually want to spend three days eating it. What makes it so good? Maybe it's the superspicy, soy-marinated kale. Maybe it's the sweet coconut corn and the couscous flecked with raisins and goji berries. Maybe it's the sticky-crunchy combination of hemp hearts, almonds, and agave. Fewer mouths to feed? Various normal-sized wraps run from $9 to $14. Order online for pick-up. 1059 Ralph D. Abernathy Boulevard, West End, 404-343-6126

Empire State South
After break of several weeks, Empire State South's takeout menu is back—this time offering weekend feasts for preorder. The $85 meal serves two, and if chef Hugh Acheson's green garlic agnolotti or pork osso bucco aren't convincing enough (they should be!), the option of supporting Acheson—who's been a strong voice for the restaurant community during the pandemic—is even more persuasive. Empire State South has challenged Atlanta's notion that Southern food is something preciously preserved in the past, and it's one of the restaurants we expect will lead the way in an uncertain future. 999 Peachtree Street, Midtown, 404-541-1105
The General Muir
There was once a time when you couldn't get a good matzo ball soup in town. Now, you can find a sublime version—and take a quart of it home for $15. The General Muir has become indispensable for its upscale Jewish deli–inspired menu: If you have a hankering for piled-high pastrami on rye, there is no better place. In addition to those must-orders, there are six family-sized meals on the takeout menu, priced between $27 to $39 and feeding three to six. And you can have it delivered via DoorDash, too. 1540 Avenue Place, Emory, 678-927-9131

One Eared Stag
When chef Robert Phalen opened One Eared Stag back in 2011, Inman Park was a far sleepier place. The neighborhood has since been transformed by an influx of restaurants, but One Eared Stag's quiet corner retains its subdued charm. A taxidermied deer (yes, with a missing ear) proudly looms over the handsome bar. The farmhouse-chic dining room has been converted to a walk-up bodega; order local produce, marinated olives, and even bloody mary mix for pickup to accompany your takeout meal, which should include the Dumpster Salad; Carolina Gold rice with kimchi, pastured chicken, and benne seeds; and the inimitable fried chicken sandwich. 1029 Edgewood Avenue, Inman Park, 404-525-4479

La Tavola
For two decades, La Tavola has humbly enchanted Virginia-Highlanders—who are perfectly happy keeping this underappreciated beauty all to themselves. If only every neighborhood could be home to a high-quality Italian spot that harbors such a creative streak. Whether you're in the mood for straightforward spaghetti and veal meatballs, classic saltimbocca, or take-and-bake lasagna for four, the to-go menu is a godsend. 992 Virginia Avenue, Virginia-Highland, 404-873-5430

No. 246
At this Ford Fry Italian spot, executive chef Drew Belline's textbook pasta runs the gamut from cacio e pepe (the ultimate exercise in simplicity) to a gut-warming rigatoni Bolognese, both of which are options on the family-style takeout menu. That menu includes seven pasta dinners, seven pizzas, and three salads. You can't go wrong with any of it. 129 East Ponce de Leon Avenue, Decatur, 678-399-8246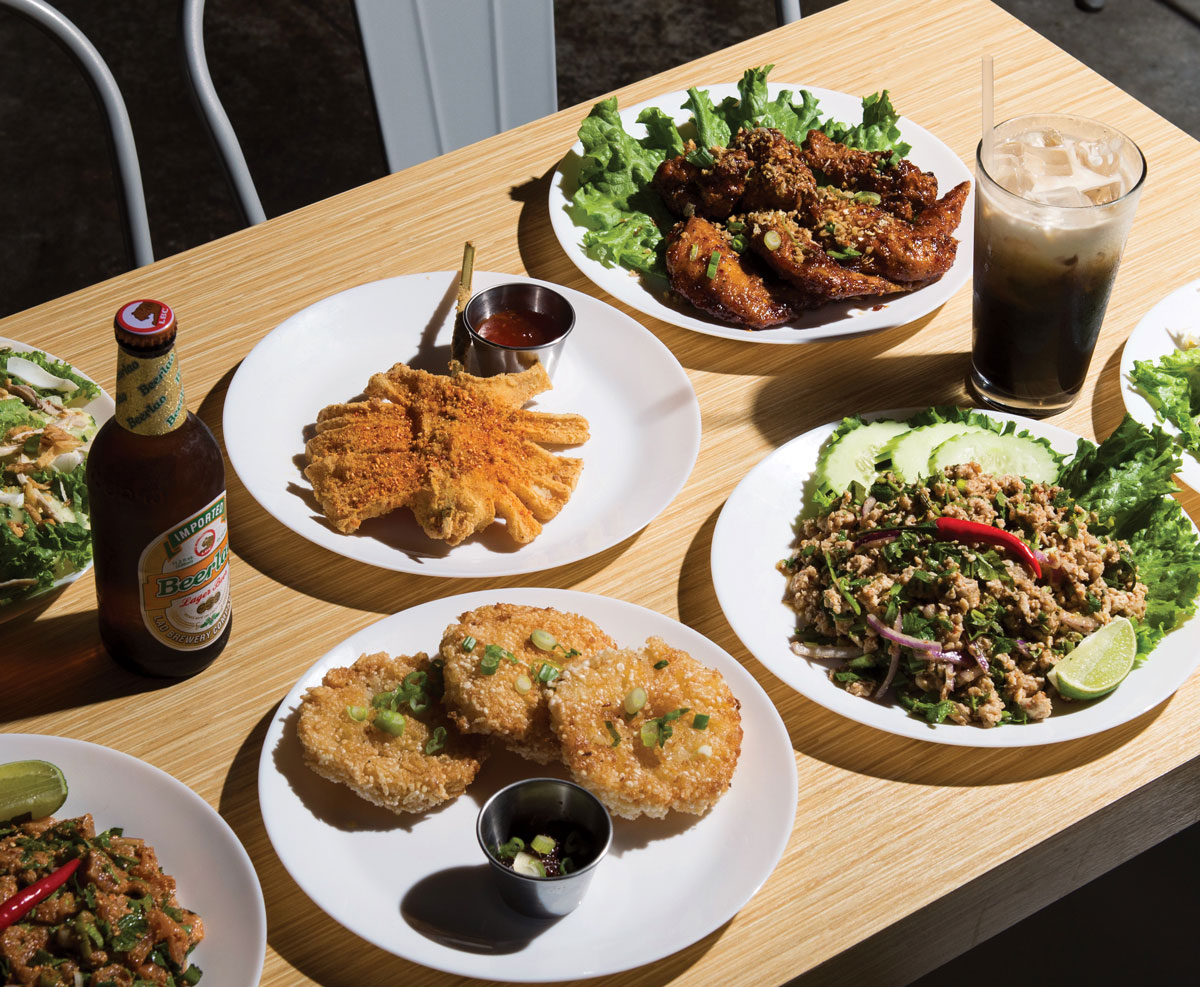 Snackboxe Bistro
Laotian food has long been overshadowed in Atlanta by the cuisine of neighboring Thailand. But with the early 2018 opening of insta-hit Snackboxe in Doraville, followed by a second location at the Battery, there's now an excellent representation of the cuisine right in our backyard. The street food–inspired dishes, all of which are available for takeout (and limited delivery), are vibrant with heat and acid, including a peerless laap, a spicy and tart meat salad more commonly known by its Thai name, larb. 6035 Peachtree Road, Doraville, 770-417-8082; 925 Battery Avenue, Cumberland, 678-324-1181

Heirloom Market BBQ
Heirloom is a love story—between its co-owners, wife and husband Jiyeon Lee and Cody Taylor, and between the homestyle Korean cooking of her childhood and the homestyle Texan cooking of his. The restaurant did not start out as an intentional crosscultural melange of cuisines. In its earliest days, Heirloom was mostly concerned with straightforward, Texas-style 'cue. As with all great love stories, the passion between miso paste and collard greens or kimchi and coleslaw was almost accidental at first, but these pairings were clearly meant to be. The mostly takeout operation has become even more efficient with curbside pickup, and you can order delivery on DoorDash. 2243 Akers Mill Road, Cumberland, 770-612-2502

Community Q
Dave Roberts left fine dining in the mid-aughts to study the finer points of barbecue. Back then, hoity-toity chefs hadn't begun to launch the kind of barbecue operations that source their meats extra carefully and support organic farms. Opened in 2009 with several partners in a tight little shopping center near Emory, Community Q offers moist and tender pulled pork that isn't obnoxiously smoky, reliably robust St. Louis ribs, and ridiculously rich and creamy three-cheese mac and cheese. It's best to place your takeout order a day in advance. 1361 Clairmont Road, North Decatur, 404-633-2080

Taqueria del Sol
Eddie Hernandez and Mike Klank opened the first Taqueria del Sol on the Westside in 2000, cranking out crowd-pleasing $2 tacos. Twenty years and four additional locations later, customers now line up to await pickup orders—for Hernandez's Southern-Mexican mashup cuisine: fried-chicken tacos with lime-jalapeño mayonnaise, refried-bean enchiladas with a side of turnip greens, and shrimp corn chowder. Want to learn how Hernandez does it? Pick up his cookbook, Turnip Greens & Tortillas, which was one of our favorites of 2018. Multiple locations

Rising Son
When Hudson Rouse, formerly of Home Grown, and his wife, Kathryn Fitzgerald Rouse, opened this creative meat-and-three for breakfast and lunch in 2016, the crowds flocked. They came to the adorable Avondale Estates storefront in part to order the vegetables—collards, kale, sweet potatoes—that Hudson grows himself. The restaurant now offers daytime and early-dinner pickup orders (recently fried chicken with black-eyed peas, collards, and mashed sweet potatoes). Get a biscuit on the side. 124 North Avondale Road, Avondale Estates

Fox Bros. Bar-B-Q
In 2007, twin brothers Jonathan and Justin Fox opened their DeKalb Avenue restaurant. Thirteen years later, the brothers' brisket is legendary, but just as epic are their over-the-top barbecue offerings: the camp classic Frito Pie served in the actual chip bag, hickory-smoked jumbo wings dressed in homemade sauce, and a nine-inch, smoked beef rib that looks like something a caveman might devour. The entire menu is available for pickup (best to order a day in advance; the crowds have hardly abated) and via DoorDash. The Fox brothers might be from Texas, but they're essential architects of Atlanta's barbecue scene. 1238 DeKalb Avenue, Candler Park, 404-577-4030

Desta Ethiopian Kitchen
Desta is one of three Ethiopian restaurants at the corner of Briarcliff and Clairmont roads—including the stylish and formidable Feedel Bistro. Despite the competition, it's still the best place in town to score kitfo (raw, minced beef seasoned with chili powder and spiced butter) and miser (red lentils stewed with cayenne, onion, garlic, and ginger), which is scooped up using soft, spongy, fermented injera bread. The menu, which allows you to make decisions based on how daring you are, demystifies Ethiopian cuisine, and it's available for takeout at both the original and a second location at Emory Point, as well as for delivery via UberEats, DoorDash, Grubhub, Postmates, and ChowNow. 3086 Briarcliff Road, Briarcliff Woods, 404-929-0011; 1520 Avenue Place, Emory, 404-835-2748

Taqueria Don Sige
Located behind a gas station in a tiny strip mall on the border of College Park and East Point, Don Sige isn't known for its decor. Blond-wood picnic benches, brown tile, and burnt-orange walls are what you get. The kitchen is pretty much a flat-top and a fryer, and they're happy to sell you a cheeseburger. But ignore any misinformed impulses because you're here for traditional tacos (chopped onion, cilantro, lime, and radish), irresistibly priced at $1.50 each (pollo is great, but chorizo, camarones, and lengua are phenomenal). The spicy salsa verde isn't complex and doesn't need to be, and the expertly wrapped burrito and liberally sauced steak fajita are as flavorful as they are unfancy. You'll have a hard time spending more than $15 on your takeout order, but that's not to say you won't enjoy the challenge. 1720 Vesta Avenue, College Park, 404-762-8084
Aria
Whether the occasion is prom, an anniversary, an engagement, or a pandemic, Aria is up to the challenge. Even if you can't visit the pewter-walled dining room, a modern and romantic evocation of ancient Rome, you can channel it with Aria's simple and elegant takeout menu. The food similarly updates the classics. Its nightly to-go dinner for two could include oven-roasted halibut in a clam and tomato broth with sweet peppers, potatoes, and lemon thyme. Get dressed up for the meal (or at least ditch the sweatpants). 490 East Paces Ferry Road, Buckhead, 404-233-7673

Tomo
The immensity of chef Tomohiro Naito's gift for Japanese cuisine is typically on full display for those lucky enough to snag one of five spots for Naito's omakase (tasting menu), which starts at $100. But you can also discover those gifts through Tomo's lunch and dinner takeout menus, which include monkfish liver terrine, a green tea soba soup bowl, plenty of rolls and nigiri, and even dry-aged Kobe ribeye. 3630 Peachtree Road, Buckhead, 404-835-2708

Mamak
Mamak's food manages to instantly transport you to the streets of Malaysia (and lord knows we can all use a vacation right now), where vendors serve near-identical versions of sambal okra, Hainanese chicken, wok-fried flat rice noodles, mustard green fish head soup, and curry laksa. These dishes are but a few of the many reasons Mamak has a rabid following. The real-deal cooking—along with the fact that most entrees are priced below $15, and only one of the lunch specials exceeds $8—makes it a place that demands repeat visits. Or repeat takeout orders. 5150 Buford Highway, Doraville, 678-395-3192

Woo Nam Jeong (Stone Bowl House)
From the moment the owner introduces herself as "Grandma," you know Woo Nam Jeong is a special place. As of press time, after a hiatus, that special place was scheduled to reopen for takeout in May. Grandma makes nearly every item at this Buford Highway homestyle Korean restaurant from scratch. Take as much of it home as you can, and don't forget to order the silky, water-boiled vegetable dumplings. 5953 Buford Highway, Doraville, 678-530-0844
El Rey del Taco
El Rey del Taco means "the king of the taco," and it lives up to its name. If you're feeling indecisive about the dozen takeout taco options—from steak to goat, cow's cheek to tongue, chorizo to al pastor—go for a bunch of $1.60 mini tacos (though we do prefer the full-priced $2.50 ones on a homemade tortilla). There are tons of other worthy things to take home from El Rey, including more than three dozen seafood dishes. 5288 Buford Highway, Doraville, 770-986-0032

Food Terminal
The menu looks like a highly stylized food magazine (and is about as long), and the well-oiled kitchen (at both the original Chamblee and the new Westside locations) cranks out clever takes on Malaysian food, a mix of Chinese, Indian, Singaporean, and Thai flavors. There's not a more craveable noodle dish in Atlanta than the Thai Chili Pan Mee, a bowl of silky flat noodles topped with dried anchovies, ground chicken, shiitakes, spinach, and a fried egg. But if you're not feeling that, you can choose from more than 60 other to-go entrees, not to mention bao, skewers, roti canai, and two dozen additional snacks. 5000 Buford Highway, Chamblee, 678-353-6110; 1000 Marietta Street, Westside, 404-500-2695
Rumi's Kitchen
Ali Mesghali's landmark Persian restaurant in Sandy Springs is big, brash, and beautiful. Among our favorite offerings on the takeout menu: kashk badenjoon (fried eggplant, cream of whey, crispy onion, mint) and charred lamb kebabs perfumed with citrus and saffron, atop buttery basmati rice flecked with orange zest and pistachios. A second location, which opened at Avalon in 2017, makes it easier for the northern suburban set to get a foot in the door—if only for a pickup order or limited-area delivery. 6112 Roswell Road, Sandy Springs, 404-477-2100; 7105 Avalon Boulevard, Alpharetta, 678-534-855

Osteria Mattone
Sister restaurant Table & Main gets more buzz, but we're partial to Osteria Mattone. Co-owners and siblings Ryan and Daniel Pernice imbue the cozy restaurant, housed in a bungalow in historic Roswell, with a familial vibe that feels as genuinely Italian as the menu's Roman staples. (They had planned to open the patio in May, after this magazine was printed.) But their takeout operation (as well as delivery via DoorDash) will continue, with options ranging from plump, braised short rib—stuffed ravioli to a family-sized meal of eggplant parm with tagliolini, cucumber salad, and brownies or chocolate chip cookies (serves six). 1095 Canton Street, Roswell, 678-878-3378

Porch Light Latin Kitchen
Rathbun Steak's former executive chef Andre Gomez draws on his Puerto Rican heritage at Porch Light, where he serves on his takeout menu such comforts as a half or whole citrus-brined, beer-can chicken; a guava-barbecue pork and bean burrito; and plantain empanadas. 300 Village Green Circle, Smyrna, 678-309-9858

Tasty China
Tasty China was the first restaurant in town to serve undiluted Sichuan cuisine. Back then, in 2006, the kitchen was helmed by the talented and elusive Peter Chang, who ignited a love of ma la (hot and numbing spice) that paved the way for Masterpiece and Gu's. Without Chang, who's drawn a cult following to restaurants across the South, the original Marietta location faltered at times and flourished at others. (There are also locations in Smyrna and Sandy Springs, and a Ponce City Market offshoot, Jia.) But Tasty China currently is in superb—if not quite Changian—form, churning out stellar dishes (available for takeout) including confit-like fish filets in chili oil and velvety, mild chicken with three types of mushrooms. 585 Franklin Gateway, Marietta, 770-419-9849

O4W Pizza
In 2015, the city fell hard for New Jersey native Anthony Spina's O4W Pizza—and his square, pan-cooked grandma pie in particular. The Old Fourth Ward location was short-lived (it closed in June 2016), but the concept was not. Spina relaunched a month later in Duluth, with an expanded menu that includes a chicken parm hero on housemade bread and handmade cavatelli. But the biggest draw remains the game-changing pizzas: classic round pies, thick-crust Sicilians, thick-yet-airy Detroit-style, and, of course, grandma. Thankfully for ITP-ers, you can find most of those pies (but, alas, no grandma) at Spina's new spot, Nina & Rafi, which opened on the BeltLine late last year. 3117 Main Street, Duluth, 678-587-5420

This article appears in our June 2020 issue.